All books regardless of release were listened to during 2018. This year I managed to listen to 113 audiobooks. I listened to new releases but also dug into my TBR (to-be-read) pile. If I listened to multiple audiobooks in the same series, I only selected one for the top ten list, even if I love two or more. I did this to give you a diverse list rather than a shrine to beloved authors and listens. Grab a cup of coffee and enjoy…

The Hollow of Fear
by Sherry Thomas
Series: Lady Sherlock #3
Narrator: Kate Reading
Length: 10 hours and 51 minutes
Genres: Historical Fiction, Mystery
Source: Purchase
Purchase*: Amazon | Audible *affiliate
Rating:

Narration: 5 cups
Charlotte Holmes, Lady Sherlock, returns in the Victorian-set mystery series from the USA Today bestselling author of A Conspiracy in Belgravia and A Study in Scarlet Women, an NPR Best Book of 2016.

Under the cover of Sherlock Holmes, consulting detective, Charlotte Holmes puts her extraordinary powers of deduction to good use. Aided by the capable Mrs. Watson, Charlotte draws those in need to her and makes it her business to know what other people don't.

Moriarty's shadow looms large. First, Charlotte's half brother disappears. Then, Lady Ingram, the estranged wife of Charlotte's close friend Lord Ingram, turns up dead on his estate. And all signs point to Lord Ingram as the murderer.

With Scotland Yard closing in, Charlotte goes under disguise to seek out the truth. But uncovering the truth could mean getting too close to Lord Ingram-and a number of malevolent forces.
I am still kicking myself for waiting to start this series. I had all three novels in the series sitting on my Audible account. Kate Reading did a smash up job narrating the series and I absolutely adore Charlotte Holmes. This gender-bending take on Sherlock Holmes is refreshing, addictive and a fantastic listen. You can see my review HERE and read all my reviews for the Lady Sherlock series HERE.
The Outsider
by Stephen King
Narrator: Will Patton
Length: 18 hours and 39 minutes
Genres: Horror, Mystery
Source: Publisher
Purchase*: Amazon | Audible *affiliate
Rating:

Narration: 5 cups
An unspeakable crime. A confounding investigation. At a time when the King brand has never been stronger, he has delivered one of his most unsettling and compulsively readable stories.

An eleven-year-old boy's violated corpse is found in a town park. Eyewitnesses and fingerprints point unmistakably to one of Flint City's most popular citizens. He is Terry Maitland, Little League coach, English teacher, husband, and father of two girls. Detective Ralph Anderson, whose son Maitland once coached, orders a quick and very public arrest. Maitland has an alibi, but Anderson and the district attorney soon add DNA evidence to go with the fingerprints and witnesses. Their case seems ironclad.

As the investigation expands and horrifying answers begin to emerge, King's propulsive story kicks into high gear, generating strong tension and almost unbearable suspense. Terry Maitland seems like a nice guy, but is he wearing another face? When the answer comes, it will shock you as only Stephen King can.
After a few let downs for me, Stephen King pulled out all the stops with this creeptastic tale that will leaving you thinking what if. Narrated by Will Patton this story is best read with the lights on. Check out my review HERE
All Systems Red
by Martha Wells
Series: The Murderbot Diaries #1
Narrator: Kevin R. Free
Length: 3 hours and 17 minutes
Genres: Science Fiction
Source: Publisher
Purchase*: Amazon | Audible *affiliate
Rating:

Narration: 5 cups
A murderous android discovers itself in All Systems Red, a tense science fiction adventure by Martha Wells that blends HBO's Westworld with Iain M. Banks' Culture books.

In a corporate-dominated spacefaring future, planetary missions must be approved and supplied by the Company. Exploratory teams are accompanied by Company-supplied security androids, for their own safety.

But in a society where contracts are awarded to the lowest bidder, safety isn't a primary concern.

On a distant planet, a team of scientists are conducting surface tests, shadowed by their Company-supplied 'droid — a self-aware SecUnit that has hacked its own governor module, and refers to itself (though never out loud) as "Murderbot." Scornful of humans, all it really wants is to be left alone long enough to figure out who it is.

But when a neighboring mission goes dark, it's up to the scientists and their Murderbot to get to the truth.
This off planet tale narrated by Kevin R. Free fed my inner nerd and had me reaching for the next audio in this science fiction tale about Murderbots. Read my thoughts HERE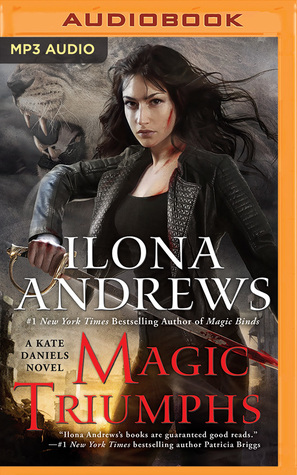 Magic Triumphs
by Ilona Andrews
Series: Kate Daniels #10
Narrator: Renée Raudman
Length: 12 hours and 6 minutes
Genres: Urban Fantasy
Source: Publisher
Purchase*: Amazon | Audible *affiliate
Rating:

Heat Level:

Narration: 5 ups
Mercenary Kate Daniels must risk all to protect everything she holds dear in this epic, can't-miss entry in the thrilling #1 New York Times bestselling urban fantasy series.

Kate has come a long way from her origins as a loner taking care of paranormal problems in post-Shift Atlanta. She's made friends and enemies. She's found love and started a family with Curran Lennart, the former Beast Lord. But her magic is too strong for the power players of the world to let her be.

Kate and her father, Roland, currently have an uneasy truce, but when he starts testing her defenses again, she knows that sooner or later, a confrontation is inevitable. The Witch Oracle has begun seeing visions of blood, fire, and human bones. And when a mysterious box is delivered to Kate's doorstep, a threat of war from the ancient enemy who nearly destroyed her family, she knows their time is up.

Kate Daniels sees no other choice but to combine forces with the unlikeliest of allies. She knows betrayal is inevitable. She knows she may not survive the coming battle. But she has to try.

For her child.

For Atlanta.

For the world.
While I hated to see this series come to an end it was everything I could have hoped for. If you've been waiting to binge it, I recommend listening to the rocking narration provided by Renée Raudman. Read my thoughts on Magic Triumphs HERE and the entire Kate Daniels series HERE.
As Bright as Heaven
by Susan Meissner
Narrator: Cassandra Morris, Tavia Gilbert, Jorjeana Marie, Abigail Revasch
Length: 13 hours and 28 minutes
Genres: Historical Fiction
Source: Publisher
Purchase*: Amazon | Audible *affiliate
Rating:

Narration: 5 cups
From the acclaimed author of Secrets of a Charmed Life and A Bridge Across the Ocean comes a new novel set in Philadelphia during the Spanish flu epidemic of 1918, which tells the story of a family reborn through loss and love.

In 1918, Philadelphia was a city teeming with promise. Even as its young men went off to fight in the Great War, there were opportunities for a fresh start on its cobblestone streets. Into this bustling town, came Pauline Bright and her husband, filled with hope that they could now give their three daughters--Evelyn, Maggie, and Willa--a chance at a better life.

But just months after they arrive, the Spanish Flu reaches the shores of America. As the pandemic claims more than twelve thousand victims in their adopted city, they find their lives left with a world that looks nothing like the one they knew. But even as they lose loved ones, they take in a baby orphaned by the disease who becomes their single source of hope. Amidst the tragedy and challenges, they learn what they cannot live without--and what they are willing to do about it.

As Bright as Heaven is the compelling story of a mother and her daughters who find themselves in a harsh world, not of their making, which will either crush their resolve to survive or purify it.
With a full cast of narrators this historical fiction takes us into the home of one family during the Spanish flu epidemic in Philadelphia. Check out my thoughts HERE.
The Impossible Girl
by Lydia Kang
Narrator: Saskia Maarleveld
Genres: Historical Fiction
Source: Publisher
Purchase*: Amazon | Audible *affiliate
Rating:

Heat Level:

Narration: 5 cups
Two hearts. Twice as vulnerable.

Manhattan, 1850. Born out of wedlock to a wealthy socialite and a nameless immigrant, Cora Lee can mingle with the rich just as easily as she can slip unnoticed into the slums and graveyards of the city. As the only female resurrectionist in New York, she's carved out a niche procuring bodies afflicted with the strangest of anomalies. Anatomists will pay exorbitant sums for such specimens—dissecting and displaying them for the eager public.

Cora's specialty is not only profitable, it's a means to keep a finger on the pulse of those searching for her. She's the girl born with two hearts—a legend among grave robbers and anatomists—sought after as an endangered prize.

Now, as a series of murders unfolds closer and closer to Cora, she can no longer trust those she holds dear, including the young medical student she's fallen for. Because someone has no intention of waiting for Cora to die a natural death.
This story had it all, twists, double twists, swoons and character growth.  All of which transported me as I dashed around the city with Cora. Read my review HERE.
Blackout
by Dannika Dark
Series: Crossbreed #5
Narrator: Nicole Poole
Length: 11 hours and 2 minutes
Genres: Urban Fantasy
Source: Publisher
Purchase*: Amazon | Audible *affiliate
Rating:

Heat Level:


Narration: 5 cups
The fate of millions rests on Keystone when they embark on their most important assignment of all…

After what was supposed to be a simple job, Raven and Christian uncover a sinister plot against the higher authority, and the stakes are as high as the body count. The assassins are merciless, with anyone who stands in their way becoming collateral damage. Meanwhile, Raven is still struggling to make sense of her feelings for Christian following a memory wipe.

During a blackout, the city erupts into chaos. With Breed on the brink of war, Keystone has only twenty-four hours to complete a secret mission. Raven seeks help from the most unlikely of places, but at what cost?

It's a race against time to save lives in this explosive installment of the Crossbreed series.
Blackout is the fifth book in the Crossbreed series by Dannika Dark who loves to rip my heart out and hand it to me with her twists. Fans of urban fantasy are missing out if they haven't devoured all of her books and series on audio. Narrated by Nicole Poole, this one left me craving the next audio. See my review HERE and my reviews for the Crossbreed series HERE.
Iron and Magic
by Ilona Andrews
Series: The Iron Covenant #1
Narrator: Steve West
Length: 12 hours and 51 minutes
Genres: Urban Fantasy
Source: Purchase
Purchase*: Amazon | Audible *affiliate
Rating:

Narration: 5 cups
No day is ordinary in a world where Technology and Magic compete for supremacy…But no matter which force is winning, in the apocalypse, a sword will always work.

Hugh d'Ambray, Preceptor of the Iron Dogs, Warlord of the Builder of Towers, served only one man. Now his immortal, nearly omnipotent master has cast him aside. Hugh is a shadow of the warrior he was, but when he learns that the Iron Dogs, soldiers who would follow him anywhere, are being hunted down and murdered, he must make a choice: to fade away or to be the leader he was born to be. Hugh knows he must carve a new place for himself and his people, but they have no money, no shelter, and no food, and the necromancers are coming. Fast.

Elara Harper is a creature who should not exist. Her enemies call her Abomination; her people call her White Lady. Tasked with their protection, she's trapped between the magical heavyweights about to collide and plunge the state of Kentucky into a war that humans have no power to stop. Desperate to shield her people and their simple way of life, she would accept help from the devil himself—and Hugh d'Ambray might qualify.

Hugh needs a base, Elara needs soldiers. Both are infamous for betraying their allies, so how can they create a believable alliance to meet the challenge of their enemies?

As the prophet says: "It is better to marry than to burn."

Hugh and Elara may do both.
They made me fall in love with Hugh. I always loved him as a villain …but now could he be a hero? Read my gushing HERE.
Dread Nation
by Justina Ireland
Series: Dread Nation #1
Narrator: Bahni Turpin
Length: 11 hours and 56 minutes
Genres: Horror, Historical Fiction
Source: Publisher
Purchase*: Amazon | Audible *affiliate
Rating:

Narration: 4 cups
Jane McKeene was born two days before the dead began to walk the battlefields of Gettysburg and Chancellorsville—derailing the War Between the States and changing America forever. In this new nation, safety for all depends on the work of a few, and laws like the Native and Negro Reeducation Act require certain children attend combat schools to learn to put down the dead. But there are also opportunities—and Jane is studying to become an Attendant, trained in both weaponry and etiquette to protect the well-to-do. It's a chance for a better life for Negro girls like Jane. After all, not even being the daughter of a wealthy white Southern woman could save her from society's expectations.

But that's not a life Jane wants. Almost finished with her education at Miss Preston's School of Combat in Baltimore, Jane is set on returning to her Kentucky home and doesn't pay much mind to the politics of the eastern cities, with their talk of returning America to the glory of its days before the dead rose. But when families around Baltimore County begin to go missing, Jane is caught in the middle of a conspiracy, one that finds her in a desperate fight for her life against some powerful enemies. And the restless dead, it would seem, are the least of her problems.
Zombies, an alternate history and rich characters. This one snuck in under the radar and blew me away! See my review HERE.
LIFEL1K3
by Jay Kristoff
Series: Lifelike #1
Narrator: Erin Spencer
Length: 12 Hours and 27 Minutes
Genres: Science Fiction
Source: Publisher
Purchase*: Amazon | Audible *affiliate
Rating:

Narration: 4.5 cups
From the coauthor of the New York Times bestselling Illuminae Files comes the first book in a new series that's part Romeo and Juliet, part Terminator, and all adrenaline.

On an island junkyard beneath a sky that glows with radiation, a deadly secret lies buried in the scrap. Seventeen-year-old Eve isn't looking for trouble--she's too busy looking over her shoulder. The robot gladiator she spent months building has been reduced to a smoking wreck, she's on the local gangster's wanted list, and the only thing keeping her grandpa alive is the money she just lost to the bookies. Worst of all, she's discovered she can somehow destroy machines with the power of her mind, and a bunch of puritanical fanatics are building a coffin her size because of it. If she's ever had a worse day, Eve can't remember it. The problem is, Eve has had a worse day--one that lingers in her nightmares and the cybernetic implant where her memories used to be. Her discovery of a handsome android named Ezekiel--called a "Lifelike" because they resemble humans--will bring her world crashing down and make her question whether her entire life is a lie. With her best friend Lemon Fresh and her robotic sidekick Cricket in tow, Eve will trek across deserts of glass, battle unkillable bots, and infiltrate towering megacities to save the ones she loves...and learn the truth about the bloody secrets of her past.
This post-apocalyptic young adult tale is filled with danger, robotic gladiators, kick-ass characters, a touch of romance and a mystery that must be solved. I fell in love with the characters and world. Narrated by Erin Spencer it is a world I cannot wait to return to. Read my thoughts HERE.

Honorable mentions: Head On By John Scalzi, the entire Iron Druid Chronicles and Oberon's Meaty Mysteries by Kevin Hearne, Wanderlust by Lauren Blakely and Lake Silence by Anne Bishop.
The choices had to be made and it wasn't easy. See what made Caffeinated's Top Ten Audio Listens and which series/books got honorable mentions. #iloveaudiobooks #mustlisten #topten
Click To Tweet
What Audiobooks Made Your Top Ten? Which of yours should I add to my TBR Audio Pile?