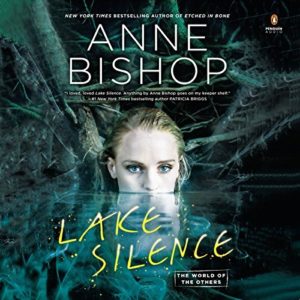 Lake Silence
by Anne Bishop
Narrator: Alexandra Harris
Length: 13 hours and 37 minutes
Genres: Urban Fantasy
Source: Publisher
Purchase*: Amazon | Audible *affiliate
Rating:

Narration: 5 cups
In this thrilling and suspenseful fantasy, set in the world of the New York Times bestselling Others series, Vicki DeVine and her lodger, the shapeshifter Aggie Crowe, stumble onto a dead body . . . and find themselves enmeshed in danger and dark secrets.

Human laws do not apply in the territory controlled by the Others–vampires, shapeshifters, and paranormal beings even more deadly. And this is a fact that humans should never, ever forget . . .

After her divorce, Vicki DeVine took over a rustic resort near Lake Silence, in a human town that is not human controlled. Towns like Vicki's have no distance from the Others, the dominant predators that rule most of the land and all of the water throughout the world. And when a place has no boundaries, you never really know what's out there watching you.

Vicki was hoping to find a new career and a new life. But when her lodger, Aggie Crowe–one of the shapeshifting Others–discovers a dead body, Vicki finds trouble instead. The detectives want to pin the man's death on her, despite the evidence that nothing human could have killed the victim. As Vicki and her friends search for answers, things get dangerous–and it'll take everything they have to stay alive.
Lake Silence by Anne Bishop is the sixth book in the Others series and one of my most anticipated books for 2018. I was nervous leaving beloved characters behind, but I was in good hands as Bishop transported me to the small rustic resort near Lake Silence and introduced me to a new heroine, humans, and others. Lake Silence was brilliant from beginning to end. I cannot wait for more.
Full Disclosure: I love the Others series and I do I mean LOVE them. I own all of the hardcovers, audiobooks, and eBooks for this series. If I know you personally I've recommended this series or gifted you book one. I have a bit of a ritual with each book. First, I listen because Alexandra Harris rocks my ears off and the story is epic on audio. After I've listened I do a reread when my hardcover copy arrives. I think I've read or re-read the series at least a dozen times. This time around, I received a digital ARC and early release of the Audio, so I listened and read at the same time. I devoured it over a weekend and it was freakin' bliss.
In the sixth book, we leave Meg and Simon behind and travel across Thaisa to a small rustic lakeside resort bordering the small-town of Sproing. The resort sits along the shore of Lake Silence. Here we meet Vicki DeVine. I liked Vicki, she is damaged but has a strong moral compass and inner strength. It will be interesting to see her grow and trust.  Vicki came by her little resort through a divorce settlement and it comes with some strict rules regarding the land, buildings, and lake. While Vicki owns the buildings it sits on land owned by the Others. I loved the premise and the little community with its quaint shops and bed and breakfast. I loved meeting the inhabitants and beginning to see Vicki build friendships and attachments.
Vicki befriends some of the crows and when trouble comes to the door, it is those crows who seek the help of Ilya Sanguinati, the vampire who lives across the lake. Murder, secret societies and people from Vicki's past, soon have Vicki, the town of Sproing and Officer Grimshaw realizing just how much influence the Others have in their little town. I loved every moment of it from the Elementals, Nahid's Teeth and Claw and the Crows. Bishop gave us a murder mystery, suspense, unexpected humor, justice and more. She is a masterful storyteller bringing both the landscape and characters to life.
If you have not read the previous five novels and are considering jumping in, I think Bishop did an excellent job of giving backstory and this is a great place to jump in. Of course, you'll want to go back and read/listen to the rest.
Alexandra Harris has been the voice of Meg for so long that it took me a minute to slip into Vicki's pov, but Harris is brilliant bringing the characters and the creatures of the Lake Silence community to life. I could not imagine Bishop without Harris, so I was delighted she will continue the series.
Lake Silence took me back to the beginning of the series which began with Written in Red, giving me all the feels and excitement of new beginnings but with a familiarity, I embraced.  I am excited to continue Vicki's journey. Already Bishop has shown us unique characters, dangled some interesting threads and brought me more Others to get to know.
Lake Silence by Anne Bishop was brilliant from beginning to end and Alexandra Harris rocked my ears off with her narration. #Mustlisten #urban #favseries #ownit #iloveaudiobooks #NewRelease
Click To Tweet
Reading this book contributed to these challenges:
Related Posts