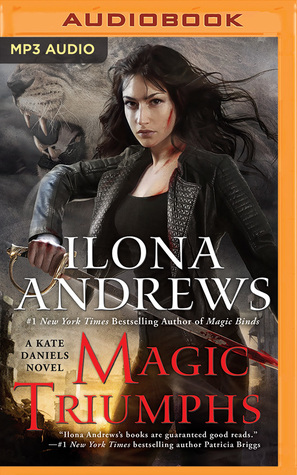 Magic Triumphs
by Ilona Andrews
Series: Kate Daniels #10
Narrator: Renée Raudman
Length: 12 hours and 6 minutes
Genres: Urban Fantasy
Source: Publisher
Purchase*: Amazon | Audible *affiliate
Rating:

Heat Level:

Narration: 5 ups
Mercenary Kate Daniels must risk all to protect everything she holds dear in this epic, can't-miss entry in the thrilling #1 New York Times bestselling urban fantasy series.

Kate has come a long way from her origins as a loner taking care of paranormal problems in post-Shift Atlanta. She's made friends and enemies. She's found love and started a family with Curran Lennart, the former Beast Lord. But her magic is too strong for the power players of the world to let her be.

Kate and her father, Roland, currently have an uneasy truce, but when he starts testing her defenses again, she knows that sooner or later, a confrontation is inevitable. The Witch Oracle has begun seeing visions of blood, fire, and human bones. And when a mysterious box is delivered to Kate's doorstep, a threat of war from the ancient enemy who nearly destroyed her family, she knows their time is up.

Kate Daniels sees no other choice but to combine forces with the unlikeliest of allies. She knows betrayal is inevitable. She knows she may not survive the coming battle. But she has to try.

For her child.

For Atlanta.

For the world.
Magic Triumphs by Ilona Andrews is the tenth and final audiobook in the Kate Daniels series. Folks, it was bloody brilliant and everything I dreamed and couldn't possibly imagine as a befitting ending to this fantastic journey. Andrews wrapped this up with plenty of action, a few twists, humor and undeniable heart.
This is another series where I do my weird ritual of listening to the wonderful narration performed by Renée Raudman before doing a reread of the hardcover. When Ace (Penguin Publishing) sent me a finished copy in early August, I carefully wrapped it and hid it in the closet. I was so tempted; it was awful. Like knowing there was a delicious box of Godiva chocolate you couldn't eat!  I am so grateful that I waited, because the audiobook delivered all the feels, emotions, squeals and heart-pounding moments one could ask for. Yes, the book is brilly too, but this series is magic on audio.
If you haven't yet listened to Iron and Magic, The Iron Covenant, #1, I recommend you do so before Magic Triumphs.  This story will spoil some of that book for you.
There are so many things I want to talk about, but alas spoilers darling. So instead I will tell you that part of the book focuses on Kate, Curran and their family life. That a new threat has arrived in Atlanta. That the Witch Oracles visions show a great battle and that Kate and Curran are each preparing in their own way for it. Gads, the feels in this from happiness to nail-biting suspense followed by tears. When I wasn't listening, I was thinking about the story. Until I stood with my headphones listening intently and holding my breath as the outside world slipped away.
Epic battles, unholy alliances, betrayals, sacrifices, and moments of humor and love made this one of the most addictive tales I have ever listened to. The Andrews continue to amaze me and my five cups of coffee feel wholly inadequate. Many beloved characters were present, and they treated us to another POV, one I loved and wouldn't mind more of. From, the pacing to the fully developed ending I could not find a single flaw. For me it couldn't have unfolded more perfectly.
Renée Raudman is one of my favorite narrators. She narrates almost all of Andrews books. Her ability to capture not only the emotions of the characters but to give voice to so many astounds me. She helps to bring the urgency of the battle scenes to life, and the emotions she pours into these characters is pure joy to the ears. She has taken this epic tale to the next level.
Fans of the series will find this a worthy ending. They tied storyline threads, but they left enough of a door open to leave this fan hoping for return visits to Atlanta.
Magic Triumphs by Ilona Andrews was bloody brilliant. Everything I dreamed and couldn't possibly imagine. A befitting ending to this fantastic journey #loveaudiobooks #mustlisten
Click To Tweet
Ilona Andrews says, "Hey, Hey, Don't Be Sad" More Kate? New series? Read and find out!
Reading this book contributed to these challenges:
Related Posts