In 2017 thus far I have listened to 95 audiobooks. My grand total for the Goodreads Challenge year to date is 259 making Audiobooks a large part of my reading experience. My listening was a mix of new to me authors, backlist titles and new additions to beloved series. Narrowing down my top ten was quite difficult. Grab a cup of coffee or hot cocoa and check out my favorites.
My favorite listens in 2017
Killman Creek
by Rachel Caine
Series: Stillhouse Lake #2
Narrator: Emily Sutton-Smith, Lauren Ezzo, Will Ropp, Dan John Miller
Length: 11 hours and 55 minutes
Genres: Psychological Thriller
Source: Publisher
Purchase*: Amazon | Audible *affiliate
Rating:

Narration: 4 cups
Every time Gwen closed her eyes, she saw him in her nightmares. Now her eyes are open, and he's not going away.

Gwen Proctor won the battle to save her kids from her ex-husband, serial killer Melvin Royal, and his league of psychotic accomplices. But the war isn't over. Not since Melvin broke out of prison. Not since she received a chilling text…

You're not safe anywhere now.

Her refuge at Stillhouse Lake has become a trap. Gwen leaves her children in the protective custody of a fortified, well-armed neighbor. Now, with the help of Sam Cade, brother of one of Melvin's victims, Gwen is going hunting. She's learned how from one of the sickest killers alive.

But what she's up against is beyond anything she feared—a sophisticated and savage mind game calculated to destroy her. As trust beyond her small circle of friends begins to vanish, Gwen has only fury and vengeance to believe in as she closes in on her prey. And sure as the night, one of them will die.
With four POVs, each with their own narrator, this thriller was brilliant on audio and kept me on edge from beginning to end. Follow Gwen Proctor as she tries to protect her children from her ex-husband and serial killer Melvin. Chilling and perfectly paced Killman Creek was made for audio. Emily Sutton-Smith is the voice of Gwen. Joining her are narrators: See my thoughts on book one Stillhouse Lake and Killman Creek.

A Man Called Ove
by Fredrik Backman
Narrator: George Newbern
Length: 9 hours and 9 minutes
Genres: Fiction
Source: Gifted
Purchase*: Amazon | Audible *affiliate
Rating:

Narration: 5 cups
Meet Ove. He's a curmudgeon - the kind of man who points at people he dislikes as if they were burglars caught outside his bedroom window. He has staunch principles, strict routines, and a short fuse. People call him "the bitter neighbor from hell". But behind the cranky exterior there is a story and a sadness. So when one November morning a chatty young couple with two chatty young daughters move in next door and accidentally flatten Ove's mailbox, it is the lead-in to a comical and heartwarming tale of unkempt cats, unexpected friendship, and the ancient art of backing up a U-Haul. All of which will change one cranky old man and a local residents' association to their very foundations.
I loved A Man Called Ove and knew from the moment I listened it would be a 2017 Fave. Brilliant, touching and memorable Backman captured the people in this little community and my heart. If you haven't tried the works of Fredrick Backman start here. Check out my gushings here: A Man Called Ove.

Little Fires Everywhere
by Celeste Ng
Narrator: Jennifer Lim
Length: 11 hours and 30 minutes
Genres: Literary Fiction
Source: Publisher
Purchase*: Amazon | Audible *affiliate
Rating:

Narration: 5 cups
From the bestselling author of Everything I Never Told You, the intertwined stories of the picture-perfect Richardson family and the mother and daughter who upend their lives

"I read LITTLE FIRES EVERYWHERE in a single, breathless sitting. With brilliance and beauty, Celeste Ng dissects a microcosm of American society just when we need to see it beneath the microscope..." - Jodi Picoult, NYT bestselling author of SMALL GREAT THINGS and LEAVING TIME
In Shaker Heights, a placid, progressive suburb of Cleveland, everything is planned - from the layout of the winding roads, to the colors of the houses, to the successful lives its residents will go on to lead. And no one embodies this spirit more than Elena Richardson, whose guiding principle is playing by the rules.

Enter Mia Warren - an enigmatic artist and single mother - who arrives in this idyllic bubble with her teenaged daughter Pearl, and rents a house from the Richardsons. Soon Mia and Pearl become more than tenants: all four Richardson children are drawn to the mother-daughter pair. But Mia carries with her a mysterious past and a disregard for the status quo that threatens to upend this carefully ordered community.

When old family friends of the Richardsons attempt to adopt a Chinese-American baby, a custody battle erupts that dramatically divides the town--and puts Mia and Elena on opposing sides. Suspicious of Mia and her motives, Elena is determined to uncover the secrets in Mia's past. But her obsession will come at unexpected and devastating costs.

Little Fires Everywhere explores the weight of secrets, the nature of art and identity, and the ferocious pull of motherhood - and the danger of believing that following the rules can avert disaster.
From the beautiful prose to the captivating look into the burbs Ng held me captivate as I became entangled in the lives of these characters. Jennifer Lim brings the characters to life as she narrates and offered a pleasing narration. Read my review here: Little Fires Everywhere

Deathtrap
by Dannika Dark
Series: Crossbreed #3
Narrator: Nicole Poole
Length: 10 hours and 37 minutes
Genres: Urban Fantasy
Source: Publisher
Purchase*: Amazon | Audible *affiliate
Rating:

Heat Level:

Narration: 5 cups
The explosive third installment in the Crossbreed Series by USA Today Bestselling author Dannika Dark.

For Raven Black, hunting criminals is second nature. So is denial. It's not easy moving forward with one foot stuck in the past. But a new case offers her a much-needed distraction when Keystone accepts their toughest assignment yet—to track down an elusive criminal who's selling children on the black market.

Their investigation leads them deep into the underbelly of the Breed world, a place both treacherous and enticing. With no room for mistakes, Raven makes a tough decision to lock the door to her past before it interferes with her job. The only trouble? Christian holds the key.

The stakes are high, and a shocking twist turns everything on its head. Will they catch this criminal before more lives are lost?
I devoured Dannika Dark's series on audio this year. I listened to the Seven series, Mageri series and started the new Crossbreed series. Deathtrap was fantastic from the world to the characters. It is her strongest series yet! Nicole Poole narrates and has become a personal favorite. See my thoughts on book one, Keystone, book two Ravenheart, and Deathtrap. I love Dark and encourage you to try one of her urban fantasy series!

The Garden of Small Beginnings
by Abbi Waxman
Narrator: Emily Rankin
Length: 9 hours and 51 minutes
Genres: Fiction
Source: Publisher
Purchase*: Amazon | Audible *affiliate
Rating:

Narration: 5 cups
Not since Good Grief has a book about a young widow been so poignant, funny, original, and utterly believable. A compelling debut novel about loss.
Give grief a chance . . .

Lilian Girvan has been a single mother for three years ever since her husband died in a car accident. One mental breakdown and some random suicidal thoughts later, she s just starting to get the hang of this widow thing. She can now get her two girls to school, show up to work, and watch TV like a pro. The only problem is she s becoming overwhelmed with being underwhelmed.

At least her textbook illustrating job has some perks like actually being called upon to draw whale genitalia. Oh, and there's that vegetable-gardening class her boss signed her up for. Apparently being the chosen illustrator for a series of boutique vegetable guides means getting your hands dirty, literally. Wallowing around in compost on a Saturday morning can t be much worse than wallowing around in pajamas and self-pity.

After recruiting her kids and insanely supportive sister to join her, Lilian shows up at the Los Angeles Botanical Garden feeling out of her element. But what she ll soon discover with the help of a patient instructor and a quirky group of gardeners is that into every life a little sun must shine, whether you want it to or not "
This book! Whether you read it or listen  The Garden of Small Beginnings was one of my favorites. I've gifted this book/audio several times and cannot wait for more from this author. Emily Rankin another new to me narrator brought the characters and their story to life, making this perfect for audio. Read my gushings here: The Garden of Small Beginnings.

The Night the Lights Went Out
by Karen White
Narrator: Carolyn Cook, Susan Larkin, Tiffany Morgan
Length: 15 hours and 18 minutes
Genres: Women's Fiction, Suspense
Source: Publisher
Purchase*: Amazon | Audible *affiliate
Rating:

Narration: 5 cups
From the New York Times bestselling author of the Tradd Street series comes a stunning new novel about a young single mother who discovers that the nature of friendship is never what it seems....

Recently divorced, Merilee Talbot Dunlap moves with her two children to the Atlanta suburb of Sweet Apple, Georgia. It's not her first time starting over, but her efforts at a new beginning aren't helped by an anonymous local blog that dishes about the scandalous events that caused her marriage to fail.
Merilee finds some measure of peace in the cottage she is renting from town matriarch Sugar Prescott. Though stubborn and irascible, Sugar sees something of herself in Merilee--something that allows her to open up about her own colorful past.
Sugar's stories give Merilee a different perspective on the town and its wealthy school moms in their tennis whites and shiny SUVs, and even on her new friendship with Heather Blackford. Merilee is charmed by the glamorous young mother's seemingly perfect life and finds herself drawn into Heather's world.
In a town like Sweet Apple, where sins and secrets are as likely to be found behind the walls of gated mansions as in the dark woods surrounding Merilee's house, appearance is everything. But just how dangerous that deception can be will shock all three women....
The Nights the Lights Went Out offered southern charm, vibrant characters and a twisty tale that surprised me. It had an unexpected thriller element that I enjoyed. Read my full review here: The Nights the Lights Went Out.

Etched in Bone
by Anne Bishop
Series: The Others #5
Narrator: Alexandra Harris
Length: 16 hours and 21 minutes
Genres: Urban Fantasy
Source: Publisher
Purchase*: Amazon | Audible *affiliate
Rating:

Narration: 5 cups
New York Times bestselling author Anne Bishop returns to her world of the Others, as humans struggle to survive in the shadow of shapeshifters and vampires far more powerful than themselves…

After a human uprising was brutally put down by the Elders—a primitive and lethal form of the Others—the few cities left under human control are far-flung. And the people within them now know to fear the no-man's-land beyond their borders—and the darkness…

As some communities struggle to rebuild, Lakeside Courtyard has emerged relatively unscathed, though Simon Wolfgard, its wolf shifter leader, and blood prophet Meg Corbyn must work with the human pack to maintain the fragile peace. But all their efforts are threatened when Lieutenant Montgomery's shady brother arrives, looking for a free ride and easy pickings.

With the humans on guard against one of their own, tensions rise, drawing the attention of the Elders, who are curious about the effect such an insignificant predator can have on a pack. But Meg knows the dangers, for she has seen in the cards how it will all end—with her standing beside a grave
The Others has long been a favorite here at Caffeinated. It is a series that I own on audio and in hardcover. Etched in Bone delivered an addictive tale as things wrapped up in the Lakeside Courtyard. The next book Lake Silence releases in 2018 and takes us to a new community controlled by the Others. While I own this series in different formats, my first read threw is always on audio and Alexandra Harris is brilliant as the series narrator. From her voices to her pleasant tones I am all ears. Read my reviews for this series here: Written in Red, Murder of Crows, Vision in Silver, Marked in Flesh, and Etched in Bone.

One Fell Sweep
by Ilona Andrews
Series: Innkeeper Chronicles #3
Narrator: Renée Raudman
Length: 10 hours and 40 minutes
Genres: Urban Fantasy
Source: Purchase
Purchase*: Amazon | Audible *affiliate
Rating:

Narration: 5 cups
Gertrude Hunt, the nicest Bed and Breakfast in Red Deer, Texas, is glad to have you. We cater to particular kind of guests, the ones most people don't know about. The older lady sipping her Mello Yello is called Caldenia, although she prefers Your Grace. She has a sizable bounty on her head, so if you hear kinetic or laser fire, try not to stand close to the target. Our chef is a Quillonian. The claws are a little unsettling, but he is a consummate professional and truly is the best chef in the Galaxy. If you see a dark shadow in the orchard late at night, don't worry. Someone is patrolling the grounds. Do beware of our dog.

Your safety and comfort is our first priority. The inn and your host, Dina Demille, will defend you at all costs. We ask only that you mind other guests and conduct yourself in a polite manner.
Ilona Andrews is one of my favorite authors and I love slipping into the world of the Innkeepers Chronicles. One Fell Sweep brought answers, tension and humor as only Andrews can deliver. You can check on my ramblings on the series here: Clean Sweep, Sweep in Peace and One Fell Sweep.  Renée Raudman narrates for Andrews and makes the story pop on audio. Her ability with different voices enhances an already stellar story.

Alex, Approximately
by Jenn Bennett
Narrator: Amy Melissa Bentley
Length: 9 hours and 58 minutes
Genres: Contemporary Romance
Source: Publisher
Purchase*: Amazon | Audible *affiliate
Rating:

Heat Level:


Narration: 5 cups

* Caffeinated Warning: I personally recommend NOT reading the synopsis. In my opinion, it gives too much away. *

Classic movie buff Bailey "Mink" Rydell has spent months crushing on a witty film geek she only knows online by "Alex." Two coasts separate the teens until Bailey moves in with her dad, who lives in the same California surfing town as her online crush. Faced with doubts (what if he's a creep in real life-or worse?), Bailey doesn't tell Alex she's moved to his hometown. Or that she's landed a job at the local tourist-trap museum. Or that she's being heckled daily by the irritatingly hot museum security guard, Porter Roth-a.k.a. her new arch-nemesis. But life is a whole lot messier than the movies, especially when Bailey discovers that tricky fine line between hate, love, and whatever-it-is she's starting to feel for Porter . . . And as the summer months go by, Bailey must choose whether to cling to a dreamy online fantasy in Alex or take a risk on an imperfect reality with Porter. The choice is both simpler and more complicated than she realizes because Porter Roth is hiding a secret of his own: Porter is Alex . . . Approximately.
Most of you know I rarely dabble in Young Adult and I can count on one hand the contemporary romances I have read. This was my first YA contemporary audio and it was brilly. Alex, Approximately was refreshing, entertaining and one I will gift to my nieces. Witty and realistic with friendships and romances that were messy and beautiful. Grab it, whether you are young or young at heart. Amy Melissa Bentley did a wonderful job of capturing Alex's voice and only enhanced my enjoyment of this charming tale. Read my thoughts on Alex, Approximately.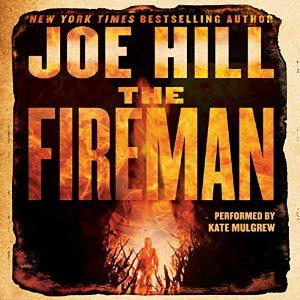 The Fireman
by Joe Hill
Narrator: Kate Mulgrew
Length: 22 hours and 20 minutes
Genres: Horror
Source: Purchase
Purchase*: Amazon | Audible *affiliate
Rating:

Narration: 5 cups
No one knows exactly when it began or where it originated. A terrifying new plague is spreading like wildfire across the country, striking cities one by one: Boston, Detroit, Seattle. The doctors call it Draco Incendia Trychophyton. To everyone else it's Dragonscale, a highly contagious, deadly spore that marks its hosts with beautiful black and gold marks across their bodies—before causing them to burst into flames. Millions are infected; blazes erupt everywhere. There is no antidote. No one is safe.

Harper Grayson, a compassionate, dedicated nurse as pragmatic as Mary Poppins, treated hundreds of infected patients before her hospital burned to the ground. Now she's discovered the telltale gold-flecked marks on her skin. When the outbreak first began, she and her husband, Jakob, had made a pact: they would take matters into their own hands if they became infected. To Jakob's dismay, Harper wants to live—at least until the fetus she is carrying comes to term. At the hospital, she witnessed infected mothers give birth to healthy babies and believes hers will be fine too. . . if she can live long enough to deliver the child.

Convinced that his do-gooding wife has made him sick, Jakob becomes unhinged, and eventually abandons her as their placid New England community collapses in terror. The chaos gives rise to ruthless Cremation Squads—armed, self-appointed posses roaming the streets and woods to exterminate those who they believe carry the spore. But Harper isn't as alone as she fears: a mysterious and compelling stranger she briefly met at the hospital, a man in a dirty yellow fire fighter's jacket, carrying a hooked iron bar, straddles the abyss between insanity and death. Known as The Fireman, he strolls the ruins of New Hampshire, a madman afflicted with Dragonscale who has learned to control the fire within himself, using it as a shield to protect the hunted . . . and as a weapon to avenge the wronged.

In the desperate season to come, as the world burns out of control, Harper must learn the Fireman's secrets before her life—and that of her unborn child—goes up in smoke
Holy smokes The Fireman was HOT. Joe Hill combines horror and fantasy in this post-apocalyptic tale that will give you chills. Narrated by Kate Mulgrew it is easy to see why this won A Goodreads Readers Choice Award in 2016. At almost 800 pages or in my case 22 hours long, I never wanted the story to end. Hill is a brilliant storyteller and had me enthralled by the world he created to the quirky characters.  Check out my thoughts on The Fireman.
Audios worth a mention: The Seven and Mageri series by Dannika Dark, The Immortal After Dark series by Kesley Cole, and The Gifted Ones by Dianne Duvall.
What were some of your favorite audios in 2017? 
Caffeinated 2017 Top Ten Audio Listens #loveaudiobooks #mustlisten
Click To Tweet
Stay Caffeinated!
Never miss a post by adding Caffeinated to your Inbox
Your email is not shared and you can unsubscribe at any time.