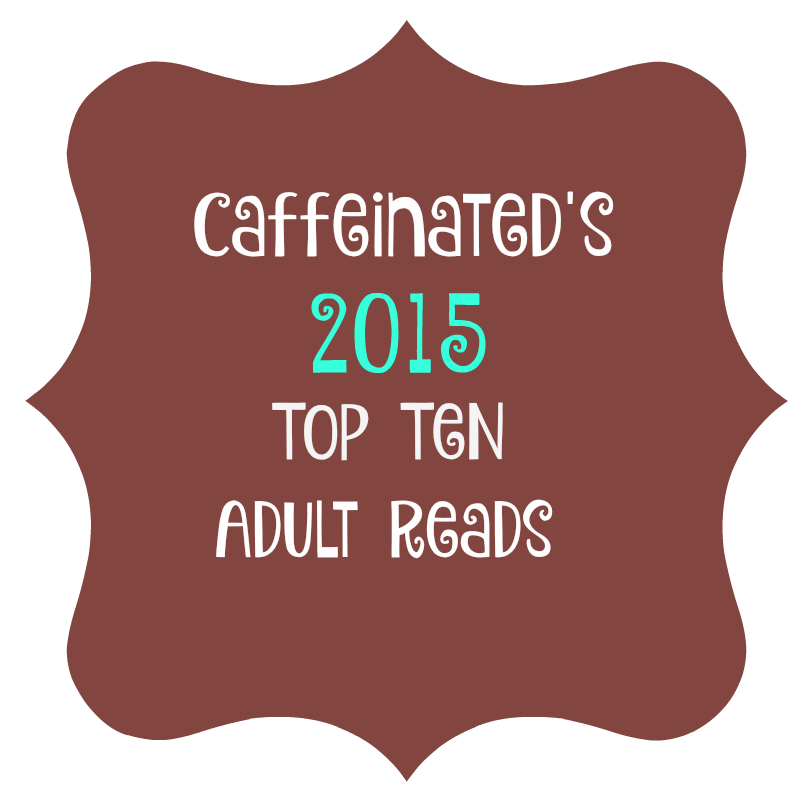 If you noticed, this year I also did a top favorite romance post. I felt the romances were overlooked due to the awesomeness of my Adult Top Ten Reads in 2015. As you can see Urban Fantasy, Fantasy and Paranormal ruled this year. I had such a good time reading all of these books, and hope you find your next favorite read below. Grab a cup of coffee and enjoy!
In no particular order my Top Ten Adult Reads in 2015
Owl and the Japanese Circus
by Kristi Charish
Series: The Adventures of Owl #1
Genres: Urban Fantasy
Source: Publisher
Purchase*: Amazon *affiliate
Rating:
Ex-archaeology grad student turned international antiquities thief, Alix—better known now as Owl—has one rule. No supernatural jobs. Ever. Until she crosses paths with Mr. Kurosawa, a red dragon who owns and runs the Japanese Circus Casino in Las Vegas. He insists Owl retrieve an artifact stolen three thousand years ago, and makes her an offer she can't refuse: he'll get rid of a pack of vampires that want her dead. A dragon is about the only entity on the planet that can deliver on Owl's vampire problem – and let's face it, dragons are known to eat the odd thief. Owl retraces the steps of Mr. Kurosawa's ancient thief from Japan to Bali with the help of her best friend, Nadya, and an attractive mercenary. As it turns out though, finding the scroll is the least of her worries. When she figures out one of Mr. Kurosawa's trusted advisers is orchestrating a plan to use a weapon powerful enough to wipe out a city, things go to hell in a hand basket fast…and Owl has to pick sides.
Original with supernatural creatures of all kinds, this Indiana Jane urban fantasy is fun, suspenseful and engaging. Owl and the Japanese Circus introduces us to thief extraordinaire Owl and her sidekick a vampire hunting cat. Read my review of Owl and the Japanese Circus
Magic Shifts
by Ilona Andrews
Series: Kate Daniels #8
Narrator: Renée Raudman
Length: 14 hrs and 10 mins
Genres: Urban Fantasy
Source: Publisher
Purchase*: Amazon | Audible *affiliate
Rating:

Heat Level:


Narration: 5 cups
After breaking from life with the Pack, mercenary Kate Daniels and her mate—former Beast Lord Curran Lennart—are adjusting to a very different pace. While they're thrilled to escape all the infighting, Curran misses the constant challenges of leading the shapeshifters. So when the Pack offers him its stake in the Mercenary Guild, Curran seizes the opportunity—too bad the Guild wants nothing to do with him and Kate. Luckily, as a veteran merc, Kate can take over any of the Guild's unfinished jobs in order to bring in money and build their reputation. But what Kate and Curran don't realize is that the odd jobs they've been working are all connected. An ancient enemy has arisen, and Kate and Curran are the only ones who can stop it—before it takes their city apart piece by piece.…
Ilona Andrews is a must read author writing team. I cannot get enough of the Kate Daniels series and Magic Shift was no exception. Brilliant and suspenseful I love the characters and world they have created. Read my thoughts on Magic Shifts
Vision in Silver
by Anne Bishop
Series: The Others #3
Length: 16 hrs and 9 mins
Genres: Urban Fantasy
Source: Publisher
Purchase*: Amazon | Audible *affiliate
Rating:
The Others freed the  cassandra sangue  to protect the blood prophets from exploitation, not realizing their actions would have dire consequences. Now the fragile seers are in greater danger than ever before—both from their own weaknesses and from those who seek to control their divinations for wicked purposes. In desperate need of answers, Simon Wolfgard, a shape-shifter leader among the Others, has no choice but to enlist blood prophet Meg Corbyn's help, regardless of the risks she faces by aiding him. Meg is still deep in the throes of her addiction to the euphoria she feels when she cuts and speaks prophecy. She knows each slice of her blade tempts death. But Others and humans alike need answers, and her visions may be Simon's only hope of ending the conflict. For the shadows of war are deepening across the Atlantik, and the prejudice of a fanatic faction is threatening to bring the battle right to Meg and Simon's doorstep…
The Others series is a personal favorite. It is a series that I own in every format. My favorite is the audio version. Vision in Silver is the third book in this vivid, captivating urban fantasy. Anne Bishop brings both the world and the characters within to life. Check out my gushing fangirl review of Vision in Silver
Visions
by Kelley Armstrong
Series: Cainsville #2
Genres: Urban Fantasy
Source: Purchase
Purchase*: Amazon *affiliate
Rating:

Heat Level:
Omens, the first installment in Kelley Armstrong's exciting new series, introduced Olivia Taylor-Jones, daughter of notorious serial killers, and Gabriel Walsh, the self-serving, morally ambiguous lawyer who became her unlikely ally. Together, they chased down a devious killer and partially cleared her parents of their horrifying crimes. Their success, however, is short-lived. While Olivia takes refuge in the old, secluded town of Cainsville, Gabriel's past mistakes have come to light, creating a rift between the pair just when she needs his help the most. Olivia finds a dead woman in her car, dressed to look like her, but the body vanishes before anyone else sees it. Olivia's convinced it's another omen, a sign of impending danger. But then she learns that a troubled young woman went missing just days ago—the same woman Olivia found dead in her car. Someone has gone to great lengths to kill and leave this young woman as a warning. But why? And what role has her new home played in this disturbing murder? Olivia's effort to uncover the truth places her in the crosshairs of old and powerful forces, forces that have their own agenda, and closely guarded secrets they don't want revealed.
Old school suspense and mythology held me captive in the newest installment in the Cainsville series by Kelley Armstrong. Visions was a story I devoured from the murder mystery to character development I cannot wait for more. Check out my review of Visions
The Bourbon Kings
by J.R. Ward
Series: The Bourbon Kings #1
Genres: Contemporary Romance
Source: Publisher
Purchase*: Amazon *affiliate
Rating:

Heat Level:
For generations, the Bradford family has worn the mantle of kings of the bourbon capital of the world. Their sustained wealth has afforded them prestige and privilege—as well as a hard-won division of class on their sprawling estate, Easterly. Upstairs, a dynasty that by all appearances plays by the rules of good fortune and good taste. Downstairs, the staff who work tirelessly to maintain the impeccable Bradford facade. And never the twain shall meet. For Lizzie King, Easterly's head gardener, crossing that divide nearly ruined her life. Falling in love with Tulane, the prodigal son of the bourbon dynasty, was nothing that she intended or wanted—and their bitter breakup only served to prove her instincts were right. Now, after two years of staying away, Tulane is finally coming home again, and he is bringing the past with him. No one will be left unmarked: not Tulane's beautiful and ruthless wife; not his older brother, whose bitterness and bad blood know no bounds; and especially not the ironfisted Bradford patriarch, a man with few morals, fewer scruples, and many, many terrible secrets. As family tensions—professional and intimately private—ignite, Easterly and all its inhabitants are thrown into the grips of an irrevocable transformation, and only the cunning will survive.
In The Bourbon Kings, Ward takes us into the lives of one of the south's most privileged families. The Bradford family may be the king of bourbon but behind the glamour and facade lie secrets, sadness, and hatred. All carefully held in check and never spoken of but things are about to change. Captivating, filled with drama and broken characters I found myself swept up in their lives. Read my thoughts on The Bourbon Kings
Black-Eyed Susans
by Julia Heaberlin
Genres: Thriller
Source: Publisher
Purchase*: Amazon *affiliate
Rating:
I am the star of screaming headlines and campfire ghost stories. I am one of the four Black-Eyed Susans. The lucky one. As a sixteen-year-old, Tessa Cartwright was found in a Texas field, barely alive amid a scattering of bones, with only fragments of memory as to how she got there. Ever since, the press has pursued her as the lone surviving "Black-Eyed Susan," the nickname given to the murder victims because of the yellow carpet of wildflowers that flourished above their shared grave. Tessa's testimony about those tragic hours put a man on death row. Now, almost two decades later, Tessa is an artist and single mother. In the desolate cold of February, she is shocked to discover a freshly planted patch of black-eyed susans—a summertime bloom—just outside her bedroom window. Terrified at the implications—that she sent the wrong man to prison and the real killer remains at large—Tessa turns to the lawyers working to exonerate the man awaiting execution. But the flowers alone are not proof enough, and the forensic investigation of the still-unidentified bones is progressing too slowly. An innocent life hangs in the balance. The legal team appeals to Tessa to undergo hypnosis to retrieve lost memories—and to share the drawings she produced as part of an experimental therapy shortly after her rescue. What they don't know is that Tessa and the scared, fragile girl she was have built a fortress of secrets. As the clock ticks toward the execution, Tessa fears for her sanity, but even more for the safety of her teenaged daughter. Is a serial killer still roaming free, taunting Tessa with a trail of clues? She has no choice but to confront old ghosts and lingering nightmares to finally discover what really happened that night. Shocking, intense, and utterly original, Black-Eyed Susans is a dazzling psychological thriller, seamlessly weaving past and present in a searing tale of a young woman whose harrowing memories remain in a field of flowers—as a killer makes a chilling return to his garden.
Black-Eyed Susans by Julia Heaberlin was an intense, fascinating psychological thriller with twists and turns to keep the reader guessing. Told in alternating chapters in the past and present this suspenseful murder mystery held me in its web. See my review of Black-Eyed Susans
Energized
by Mary Behre
Series: Tidewater #3
Genres: Romantic Suspense, Paranormal
Source: Publisher
Purchase*: Amazon *affiliate
Rating:

Heat Level:

In the new Tidewater novel by the author of Guarded, a kiss between strangers draws both into unexpected danger and unforgettable desire... She's searching for a sign... Hannah Halloran has always believed in her gift. The things she sees through her psychic touch have never led her wrong before. Not when they led her to an unforgettable night with a sexy marine at a bar. Not when she felt a need to leave her home and find the sisters she barely knows. And not now, when she is an unwilling witness to a brutal murder... He's ready to show her... All Niall Graham wants is some peace. He's recovering from the horrors of war, struggling to save his family's restaurant, and desperate to forget Hannah, the beautiful woman who left him with memories of a mind-blowing night together and a bogus phone number. But a quiet life is hard to manage—especially when Hannah strides back into his restaurant with the news that a serial killer is on the loose and lurking closer than anyone could have guessed...
I love the Tidewater series by Mary Behre and totally recommend all of them. Energized the third novel was one of my favorites. Behre delivered suspense, a second chance romance and took us into the mind of a killer. If you like romantic suspense with paranormal woo-woo the Tidewater series offers lovable characters and suspenseful tales. Read my review of Energized
The Drafter
by Kim Harrison
Series: The Peri Reed Chronicles #1
Genres: Urban Fantasy
Source: Publisher
Purchase*: Amazon *affiliate
Rating:
Detroit 2030. Double-crossed by the person she loved and betrayed by the covert government organization that trained her to use her body as a weapon, Peri Reed is a renegade on the run. Don't forgive and never forget has always been Peri's creed. But her day job makes it difficult: she is a drafter, possessed of a rare, invaluable skill for altering time, yet destined to forget both the history she changed and the history she rewrote. When Peri discovers her name on a list of corrupt operatives, she realizes that her own life has been manipulated by the agency. She joins forces with a mysterious rogue soldier in a deadly race to piece together the truth about her final task, unable to trust even herself.
A brand new series by Kim Harrison! The Drafter is a science fiction suspense thriller filled with gadgets and covert agencies set against the backdrop of Detroit in the year 2030. It offers a cat and mouse game where Peri Reed must decide whom to trust. Read my review of The Drafter
The Aeronaut's Windlass
by Jim Butcher
Series: The Cinder Spires #1
Genres: Fantasy, Steampunk
Source: Publisher
Purchase*: Amazon *affiliate
Rating:
Jim Butcher, the #1 New York Times bestselling author of The Dresden Files and the Codex Alera novels, conjures up a new series set in a fantastic world of noble families, steam-powered technology, and magic-wielding warriors…Since time immemorial, the Spires have sheltered humanity, towering for miles over the mist-shrouded surface of the world. Within their halls, aristocratic houses have ruled for generations, developing scientific marvels, fostering trade alliances, and building fleets of airships to keep the peace. Captain Grimm commands the merchant ship, Predator. Fiercely loyal to Spire Albion, he has taken their side in the cold war with Spire Aurora, disrupting the enemy's shipping lines by attacking their cargo vessels. But when the Predator is severely damaged in combat, leaving captain and crew grounded, Grimm is offered a proposition from the Spirearch of Albion—to join a team of agents on a vital mission in exchange for fully restoring Predator to its fighting glory. And even as Grimm undertakes this dangerous task, he will learn that the conflict between the Spires is merely a premonition of things to come. Humanity's ancient enemy, silent for more than ten thousand years, has begun to stir once more. And death will follow in its wake
A must read and brand new series from Jim Butcher. The Aeronaut's Windlass with its steampunk goodness and colorful character was an excellent beginning to this new series. Things are not completely revealed to us, but Butcher drop hints about characters, the past, of darkness to come. Read my review of The Aeronaut's Windlass
Chimera
by Mira Grant
Series: Parasitology #3
Genres: Horror, Science Fiction
Source: Publisher
Purchase*: Amazon *affiliate
Rating:
The final book in Mira Grant's terrifying Parasitology trilogy. The outbreak has spread, tearing apart the foundations of society, as implanted tapeworms have turned their human hosts into a seemingly mindless mob. Sal and her family are trapped between bad and worse, and must find a way to compromise between the two sides of their nature before the battle becomes large enough to destroy humanity, and everything that humanity has built...including the chimera. The broken doors are closing. Can Sal make it home?
Chimera was the exciting conclusion to the Parasitology trilogy. Grant made me care for tapeworms in this dystopian horror. From its rich characters to the intense impossible plot I devoured and loved every minute of this tale. Read my full review of Chimera
What were some of Your Favorite Adult Reads of 2015?
Stay Caffeinated!
Never miss a post by adding Caffeinated to your Inbox
Your email is not shared and you can unsubscribe at any time.
Related Posts