It's time once again to share my favorite audiobook listens for the year. 2019 was a mix of audiobooks from my TBR pile and new releases. I devoured 119 audiobooks both old and new releases.
In no particular order, here are my top ten listens and recommendations from 2019. I hope you add them to your audio TBR pile. Grab a cup of peppermint mocha and enjoy!
---
A Madness of Sunshine
by Nalini Singh
Narrator: Saskia Maarleveld
Length: 10 hours and 59 minutes
Genres: Suspense Thriller
Source: Publisher
Purchase*: Amazon | Audible *affiliate
Rating:

Heat Level:

Narration: 5 cups Speed: 1.3x

New York Times bestselling author Nalini Singh welcomes you to a remote town on the edge of the world where even the blinding brightness of the sun can't mask the darkness that lies deep within a killer…

On the rugged West Coast of New Zealand, Golden Cove is more than just a town where people live. The adults are more than neighbors; the children, more than schoolmates.

That is until one fateful summer—and several vanished bodies—shatters the trust holding Golden Cove together. All that's left are whispers behind closed doors, broken friendships, and a silent agreement not to look back. But they can't run from the past forever.

Eight years later, a beautiful young woman disappears without a trace, and the residents of Golden Cove wonder if their home shelters something far more dangerous than an unforgiving landscape.

It's not long before the dark past collides with the haunting present and deadly secrets come to light.
Nalini Singh, delivered a seasoned character driven suspense thriller that was rich, well plotted, entertaining, intriguing and addictive. Saskia Maarleveld was the perfect narrator for this tale from her accents to tone she enhanced this atmospheric tale.
---
My Oxford Year
by Julia Whelan
Narrator: Julia Whelan
Length: 9 hours and 58 minutes
Genres: Women's Fiction
Source: Purchase
Purchase*: Amazon | Audible *affiliate
Rating:

Narration: 5 cups Speed: 1.3x

Set amidst the breathtaking beauty of Oxford, this sparkling debut novel tells the unforgettable story about a determined young woman eager to make her mark in the world and the handsome man who introduces her to an incredible love that will irrevocably alter her future—perfect for fans of JoJo Moyes and Nicholas Sparks.

American Ella Durran has had the same plan for her life since she was thirteen: Study at Oxford. At 24, she's finally made it to England on a Rhodes Scholarship when she's offered an unbelievable position in a rising political star's presidential campaign. With the promise that she'll work remotely and return to DC at the end of her Oxford year, she's free to enjoy her Once in a Lifetime Experience. That is, until a smart-mouthed local who is too quick with his tongue and his car ruins her shirt and her first day.

When Ella discovers that her English literature course will be taught by none other than that same local, Jamie Davenport, she thinks for the first time that Oxford might not be all she's envisioned. But a late-night drink reveals a connection she wasn't anticipating finding and what begins as a casual fling soon develops into something much more when Ella learns Jamie has a life-changing secret.

Immediately, Ella is faced with a seemingly impossible decision: turn her back on the man she's falling in love with to follow her political dreams or be there for him during a trial neither are truly prepared for. As the end of her year in Oxford rapidly approaches, Ella must decide if the dreams she's always wanted are the same ones she's now yearning for.
I love stories that pulled you in and stay with you. My Oxford Year did exactly that. This is the kind of story that stays with you, that offers life lessons for those starting out and even for those caught up in the mundane. Narrated and written by Julia Whelan, it was beautiful, relevant, heartbreaking and hopeful.
---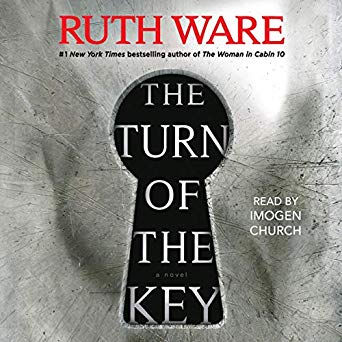 The Turn of the Key
by Ruth Ware
Narrator: Imogen Church
Length: 12 hours and 13 minutes
Genres: Thriller, Mystery
Source: Publisher
Purchase*: Amazon | Audible *affiliate
Rating:

Narration: 5 cups Speed: 1.3x

When Rowan stumbles across an ad for a live-in nanny, she's looking for something else completely. But it seems like too good an opportunity to miss—with a staggeringly generous salary. And when she arrives at Heatherbrae House, she is smitten—by the luxurious "smart" house fitted out with all modern conveniences, by the beautiful Scottish Highlands, and by this picture-perfect family.

What Rowan doesn't know is that she's stepping into a nightmare—one that will end with a child dead and Rowan in prison awaiting trial for murder.

Writing to her lawyer from prison, Rowan struggles to explain the unravelling events that have led to her incarceration. It wasn't just the constant surveillance from the cameras installed around the house, or the malfunctioning technology that woke the household with booming music, or turned the lights off at the worst possible time. It wasn't just the children, who turned out to be a far cry from the immaculately behaved model children she met at her interview. It wasn't even the way she was left alone for weeks at a time, with no adults around apart from the enigmatic handyman, Jack Grant.

It was everything.

Rowan knows she's made mistakes. She admits that she lied to obtain the post, and that her behavior toward the children wasn't always ideal. She's not innocent, by any means. But, she maintains, she's not guilty—at least not of murder. Which means someone else is.

Full of spellbinding menace and told in Ruth Ware's signature suspenseful style, this is an unputdownable thriller from the Agatha Christie of our time.
This tale will hook you from the beginning. It felt so surreal and with each twist and reveal I became further ensnared. Gads it was addictive. One of the best listens of 2019. Imogen Church takes Ware's story to the next level with her narration. I can still hear her groaning, "creak, creak."
---
Phoenix Unbound
by Grace Draven
Series: Fallen Empire #1
Narrator: Katharine Lee McEwan
Length: 14 Hours and 3 Minutes
Genres: Fantasy, Romance
Source: Purchase
Purchase*: Amazon | Audible *affiliate
Rating:

Heat Level:


Narration: 5 cups Speed: 1.4x

A woman with power over fire and illusion and an enslaved son of a chieftain battle a corrupt empire in this powerful and deeply emotional romantic fantasy from the USA Today bestselling author of Radiance.

Every year, each village is required to send a young woman to the Empire's capital--her fate to be burned alive for the entertainment of the masses. For the last five years, one small village's tithe has been the same woman. Gilene's sacrifice protects all the other young women of her village, and her secret to staying alive lies with the magic only she possesses.

But this year is different.

Azarion, the Empire's most famous gladiator, has somehow seen through her illusion--and is set on blackmailing Gilene into using her abilities to help him escape his life of slavery. Unknown to Gilene, he also wants to reclaim the birthright of his clan.

To protect her family and village, she will abandon everything to return to the Empire--and burn once more.
Phoenix Unbound by Grace Draven delivered an epic romance, nail-biting suspense, brutality, magic and more leaving me screaming for more! Katharine McEwan delivered a superb narration that was a pleasure to listen to. I didn't want this one to end!
---
Aurora Rising
by Amie Kaufman, Jay Kristoff
Series: The Aurora Cycle #1
Narrator: Kim Mai Guest, Johnathan McClain, Candice Moll, Lincoln Hoppe, Steve West, Erin Spencer
Length: 14 hours 4 minutes
Genres: Science Fiction
Source: Publisher
Purchase*: Amazon | Audible *affiliate
Rating:

Narration: 5 cups Speed: 1.3x

The year is 2380, and the graduating cadets of Aurora Academy are being assigned their first missions. Star pupil Tyler Jones is ready to recruit the squad of his dreams, but his own boneheaded heroism sees him stuck with the dregs nobody else in the Academy would touch…

A cocky diplomat with a black belt in sarcasm
A sociopath scientist with a fondness for shooting her bunkmates
A smart-ass techwiz with the galaxy's biggest chip on his shoulder
An alien warrior with anger management issues
A tomboy pilot who's totally not into him, in case you were wondering

And Ty's squad isn't even his biggest problem—that'd be Aurora Jie-Lin O'Malley, the girl he's just rescued from interdimensional space. Trapped in cryo-sleep for two centuries, Auri is a girl out of time and out of her depth. But she could be the catalyst that starts a war millions of years in the making, and Tyler's squad of losers, discipline-cases and misfits might just be the last hope for the entire galaxy.

Nobody panic.
From the fast-paced action scenes to intergalactic discoveries and beginning series arc was tight, well-paced and took me as the listener through a gamut of emotions. The audiobook is narrated by a full cast. It had added sound effects that heightened our experience. It was brilliant, seamless and a delight to behold.
---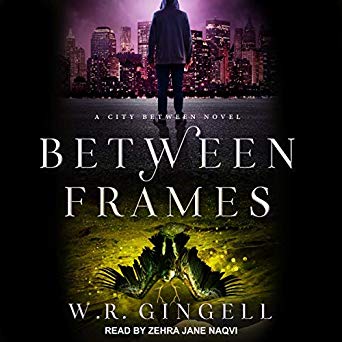 Between Frames
by W.R. Gingell
Series: The City Between #4
Narrator: Zehra Jane Naqvi
Length: 7 hours and 7 minutes
Genres: Urban Fantasy
Source: Publisher
Purchase*: Amazon | Audible *affiliate
Rating:

Narration: 5 cups Speed: 1.3x

Two fae is company, but a company of fae is trouble.

Which is exactly what we've got. Trouble, I mean. Well, and fae. Lots of fae.

Something or someone is stalking and killing high-level fae around Hobart—tearing out hearts and leaving a trail of bloody bodies behind. Fae don't like it when they're the ones getting killed, so of course they came to hire my owners.

Owners, you ask?

Hi. I'm Pet. No, that's not my name. I am a pet.

My owners? They're fae. Well, two fae and one stroppy vampire.

Welcome to the world Between.
Now Between Frames is the fourth audiobook in The City Between series, but it was my favorite. If you love urban fantasy and are looking for something unique and refreshing with snark, fantastic characters and a tale set down under then this is for you! Narrated by Zehra Jane Naqvi, the audios are brilliant and funny. Her accents and ability to capture the characters tones enhanced an already delightful tale.
---
Sweep of the Blade
by Ilona Andrews
Series: Innkeeper Chronicles #4
Narrator: Natalie Naudus
Length: 8 hours and 53 minutes
Genres: Urban Fantasy
Source: Purchase
Purchase*: Amazon | Audible *affiliate
Rating:

Narration: 4 cups Speed: 1.1x

Maud Demille was a daughter of Innkeepers. She knew that a simple life wasn't in the cards, but she never anticipated what Fate would throw at her.

Once a wife to a powerful vampire knight, Maud and her daughter, Helen, had been exiled for the sins of her husband to the desolate planet of Karhari. Karhari killed her husband, and Maud had spent a year and a half avenging his debts. But now all the debts are paid. Rescued by her sister Dina, Maud had swore off all things vampire. Except she met Arland, the Marshal of House Krahr. One thing led to another and he asked for her hand in marriage. She declined.

Try as she might, she can't just walk away from Arland. It doesn't help that being human is a lot harder for Maud than being a vampire.

To sort it all out, she accepts his invitation to visit his home planet. House Krahr is a powerful vampire House, and Maud knows that a woman who turned down the proposal from its most beloved son wouldn't get a warm reception. But Maud Demille never shied from a fight and House Krahr may soon discover that there is more to this human woman than they ever thought possible.
I loved Maud. Absolutely adored her, and this tale had it all. Snark, swoons, action, scary Queens you name it! Natalie Naudus narrated and did a stellar job, captured the characters' personalities and delivering an addictive listen. This audio is part of the Innkeepers Chronicles and is one of my favorites.
---
Where the Crawdads Sing
by Delia Owens
Narrator: Cassandra Campbell
Length: 12 hours and 12 minutes
Genres: Historical Fiction
Source: Library
Purchase*: Amazon | Audible *affiliate
Rating:

Narration: 5 cups Speed: 1.3x

How long can you protect your heart?

For years, rumors of the "Marsh Girl" have haunted Barkley Cove, a quiet town on the North Carolina coast. So in late 1969, when handsome Chase Andrews is found dead, the locals immediately suspect Kya Clark, the so-called Marsh Girl. But Kya is not what they say. Sensitive and intelligent, she has survived for years alone in the marsh that she calls home, finding friends in the gulls and lessons in the sand. Then the time comes when she yearns to be touched and loved. When two young men from town become intrigued by her wild beauty, Kya opens herself to a new life - until the unthinkable happens.

Perfect for fans of Barbara Kingsolver and Karen Russell, Where the Crawdads Sing is at once an exquisite ode to the natural world, a heartbreaking coming-of-age story, and a surprising tale of possible murder. Owens reminds us that we are forever shaped by the children we once were, and that we are all subject to the beautiful and violent secrets that nature keeps.
I may have waited 145 days to listen to this from my local library but it was completely worth the wait and is one I will gift to friends this Christmas. Beautiful, thought provoking and relevant, Owens transported me, pulled me in and still carries back to those coastal marshes. Cassandra Campbell narrates and her southern lilt enhanced this atmospheric tale.
---
Dark Age
by Pierce Brown
Series: Red Rising #5
Narrator: Tim Gerard Reynolds, John Curless, Moira Quirk, James Langton, Rendah Heywood
Length: 33 hours and 58 minutes
Genres: Fantasy
Source: Purchase
Purchase*: Amazon | Audible *affiliate
Rating:

Narration: 5 cups Speed: 1.5x

For a decade Darrow led a revolution against the corrupt color-coded Society. Now, outlawed by the very Republic he founded, he wages a rogue war on Mercury in hopes that he can still salvage the dream of Eo. But as he leaves death and destruction in his wake, is he still the hero who broke the chains? Or will another legend rise to take his place?

Lysander au Lune, the heir in exile, has returned to the Core. Determined to bring peace back to mankind at the edge of his sword, he must overcome or unite the treacherous Gold families of the Core and face down Darrow over the skies of war-torn Mercury.

But theirs are not the only fates hanging in the balance.

On Luna, Mustang, Sovereign of the Republic, campaigns to unite the Republic behind her husband. Beset by political and criminal enemies, can she outwit her opponents in time to save him?

Once a Red refugee, young Lyria now stands accused of treason, and her only hope is a desperate escape with unlikely new allies.

Abducted by a new threat to the Republic, Pax and Electra, the children of Darrow and Sevro, must trust in Ephraim, a thief, for their salvation—and Ephraim must look to them for his chance at redemption.

As alliances shift, break, and re-form—and power is seized, lost, and reclaimed—every player is at risk in a game of conquest that could turn the Rising into a new Dark Age.
I have not yet recovered. I listened to all thirty-five hours of Dark Ages whilst reading along, something I completely recommend as it was a superb treat. Bloody, brilliant, dark, WAR, epic are just a few words to describe this massive tome. I've long been a fan of Brown and watching him evolve and progress as a writer has been one heck of a ride. The Red Rising Saga is one of my fandoms. The audiobooks for the series are amazing. Tim Gerard Reynolds is phenomenal. John Curless, Moira Quirk, James Langton and Rendah Heywood all brought their characters to life. Listening was an absolute treat.
---
Heidi's Guide to Four Letter Words
by Andi Arndt, Tara Sivec
Narrator: Andi Arndt
Length: 6 hours and 15 minutes
Genres: Contemporary Romance
Source: Publisher
Purchase*: Amazon | Audible *affiliate
Rating:

Heat Level:

Narration: 5 cups Speed: 1.3x

Cowritten by USA Today best-selling author Tara Sivec and award-winning narrator Andi Arndt, a hysterically funny, heartfelt romance about starting over and taking chances.

Nothing good ever comes from drinking a box of wine alone. So when I decided to entertain my drunken self by setting up some hand-me-down podcasting equipment and reading the steamy parts from romance novels, I never thought anyone would actually listen. The fact that I admitted my huge crush on my sexy next door neighbor made the whole thing even more mortifying. But sometimes life surprises you, and that's how my podcast, Heidi's Discount Erotica, was born.

Now I, Heidi Larsen, a sweet former kindergarten teacher in Waconia, Minnesota, lead a scandalous double life reading erotic novels to the listening world. And with each episode, I find myself embracing my new alter ego more and more. Now I'm starting to feel more comfortable in my own skin and do things I never would have dreamed of - like kissing my neighbor.

Look out, Waconia, because Heidi's on the loose! She's in your ears, in your hearts, and down your pants...wait, that didn't sound as good as it did in my head. Well, you get the picture, don'tcha know!
Thinking back over my list of audiobooks, this one made me laugh. I listened in a single evening, stayed up waaaay past my bedtime. I even woke my husband up a few times giggling into my pillow! Andi Arndt narrated and as a Minnesotan beautifully captured the accents. I love her as a narrator and adored her debut as a writer.
---
Caffeinated Reviewer listened to 119 #audiobooks and selected her Top Ten 2019 Audiobook Listens #Fantasy #Thriller #RomCom #HistoricalFiction #ScienceFiction #WomensFiction
Click To Tweet