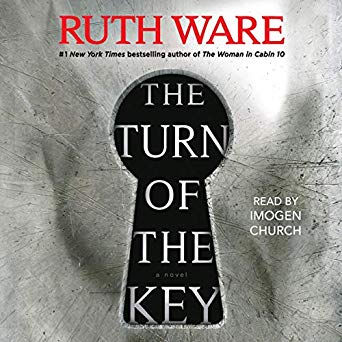 The Turn of the Key
by Ruth Ware
Narrator: Imogen Church
Length: 12 hours and 13 minutes
Genres: Thriller, Mystery
Source: Publisher
Purchase*: Amazon | Audible *affiliate
Rating:

Narration: 5 cups Speed: 1.3x

When Rowan stumbles across an ad for a live-in nanny, she's looking for something else completely. But it seems like too good an opportunity to miss—with a staggeringly generous salary. And when she arrives at Heatherbrae House, she is smitten—by the luxurious "smart" house fitted out with all modern conveniences, by the beautiful Scottish Highlands, and by this picture-perfect family.

What Rowan doesn't know is that she's stepping into a nightmare—one that will end with a child dead and Rowan in prison awaiting trial for murder.

Writing to her lawyer from prison, Rowan struggles to explain the unravelling events that have led to her incarceration. It wasn't just the constant surveillance from the cameras installed around the house, or the malfunctioning technology that woke the household with booming music, or turned the lights off at the worst possible time. It wasn't just the children, who turned out to be a far cry from the immaculately behaved model children she met at her interview. It wasn't even the way she was left alone for weeks at a time, with no adults around apart from the enigmatic handyman, Jack Grant.

It was everything.

Rowan knows she's made mistakes. She admits that she lied to obtain the post, and that her behavior toward the children wasn't always ideal. She's not innocent, by any means. But, she maintains, she's not guilty—at least not of murder. Which means someone else is.

Full of spellbinding menace and told in Ruth Ware's signature suspenseful style, this is an unputdownable thriller from the Agatha Christie of our time.
The Turn of the Key by Ruth Ware narrated by the wickedly talented Imogen Church was twisted, suspenseful, scary and completely addictive. I could not stop listening! Brilliant.
I've always enjoyed Ware and while I have loved some titles more than others, this book, No This AUDIO, is now at the top of my favorite list. It had all the elements from the remote atmospheric setting to the creepy noises and mysterious caretakers.
This twistedly shocking tale will hook you from the beginning. It felt so surreal and with each twist and reveal I became further ensnared. Gads it was addictive. One of the best listens of 2019.
I think the synopsis says more than enough, so I will not recap. In all honesty I went into this blind as I do most books in this genre. The Nanny, the smart house, the quirky children, the removed parents it was all so atmospheric, and brilliantly executed.
While I am sure those who read, The Turn of the Key,  will be equally spellbound, Imogen Church takes Ware's story to the next level with her narration. She allowed me to connect with Rowan Caine who is a far cry from Mary Poppins, but not a bad sort either, and while I didn't always identify with her, I sure as heck felt her emotions, tasted her fears and questioned everything right along with her. The hair on my arms stood on end when darkness fell as, Imogen muttered, "creak, creak" Good lord!
As we neared the end, I began to sweat thinking how is this going to wrap up. What the hell is happened!! Am I going to tell Ware to sod off? LOL It was so nerve-wracking. I had guesses but nothing is as it seems. Let's just say I removed my headphones and declared Ware, bloody brilliant. Enjoy!
Reading this book contributed to these challenges:
Related Posts