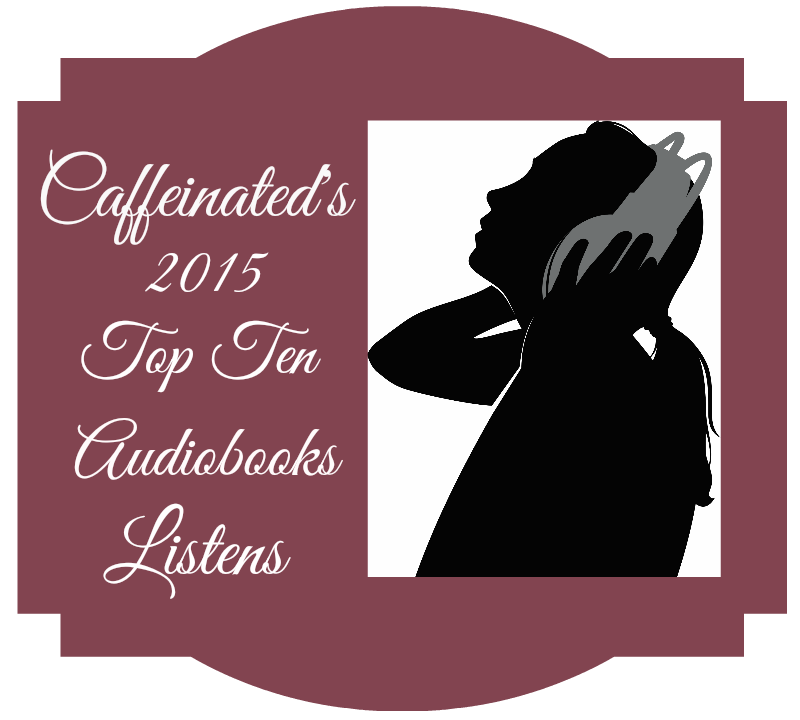 I love listening to audiobooks and always have one queued up on my smartphone to listen at a moment's notice. A few years ago I thought audios were a waste..why listen when you can read in less time. However, blogger friends insisted and then I listened to Written in Red by Anne Bishop narrated by Alexandra Harris. I discovered that with wireless earbuds I could listen when it was impossible to read. Mundane chores and activity suddenly seemed like opportunities to listen. Nowadays I always have an audiobook queued up and ready for listening. I listened to over 50 audiobooks in 2015 and listed below are my Top Ten Audiobook Listens for 2015. Grab a cup of cocoa and check them out. Just maybe your next listen is waiting here for you…..
The Martian
by Andy Weir
Narrator: R.C. Bray
Length: 10 hrs and 53 mins
Genres: Science Fiction
Source: Purchase
Purchase*: Amazon | Audible *affiliate
Rating:

Narration: 5 cups
Six days ago, astronaut Mark Watney became one of the first people to walk on Mars. Now, he's sure he'll be the first person to die there. After a dust storm nearly kills him and forces his crew to evacuate while thinking him dead, Mark finds himself stranded and completely alone with no way to even signal Earth that he's alive - and even if he could get word out, his supplies would be gone long before a rescue could arrive. Chances are, though, he won't have time to starve to death. The damaged machinery, unforgiving environment, or plain old "human error" are much more likely to kill him first. But Mark isn't ready to give up yet. Drawing on his ingenuity, his engineering skills - and a relentless, dogged refusal to quit - he steadfastly confronts one seemingly insurmountable obstacle after the next. Will his resourcefulness be enough to overcome the impossible odds against him?"
Loved The Martian on audio. It was hilarious, suspenseful, rocked my geek and made me smile, hold my breath and yell "yes"
Misconduct
by Penelope Douglas
Narrator: Carrie Brach, Guy Locke
Length: 11 hours and 1 minute
Genres: Contemporary Romance
Source: Publisher
Purchase*: Amazon | Audible *affiliate
Rating:

Heat Level:


Narration: 3.5 cups
Former tennis player Easton Bradbury is trying to be the best teacher she can be, trying to reach her bored students, and trying to forget her past. What brought her to this stage in her life isn't important. She can't let it be. But now one parent-teacher meeting may be her undoing . . .Meeting Tyler Marek for the first time makes it easy for Easton to see why his son is having trouble in school. The man knows how to manage businesses and wealth, not a living, breathing teenage boy. Or a young teacher, for that matter, though he tries to. And yet there is something about him that draws Easton in-a hint of vulnerability, a flash of attraction, a spark that might burn.Wanting him is taboo. Needing him is undeniable. And his long-awaited touch will weaken Easton's resolve-and reveal what should stay hidden.Contains mature themes
Sexy and engaging with wicked banter, this tale of two flawed characters finding romances in New Orleans left me breathless.
Clean Sweep
by Ilona Andrews
Series: Innkeeper Chronicles #1
Narrator: Renée Raudman
Length: 7 hrs and 55 mins
Genres: Urban Fantasy
Source: Purchase
Purchase*: Amazon | Audible *affiliate
Rating:

Narration: 5 cups
On the outside, Dina Demille is the epitome of normal. She runs a quaint Victorian Bed and Breakfast in a small Texas town, owns a Shih Tzu named Beast, and is a perfect neighbor, whose biggest problem should be what to serve her guests for breakfast. But Dina is...different: Her broom is a deadly weapon; her Inn is magic and thinks for itself. Meant to be a lodging for otherworldly visitors, the only permanent guest is a retired Galactic aristocrat who can't leave the grounds because she's responsible for the deaths of millions and someone might shoot her on sight. Under the circumstances, "normal" is a bit of a stretch for Dina. And now, something with wicked claws and deepwater teeth has begun to hunt at night....Feeling responsible for her neighbors, Dina decides to get involved. Before long, she has to juggle dealing with the annoyingly attractive, ex-military, new neighbor, Sean Evans - an alpha-strain werewolf - and the equally arresting cosmic vampire soldier, Arland, while trying to keep her inn and its guests safe. But the enemy she's facing is unlike anything she's ever encountered before. It's smart, vicious, and lethal, and putting herself between this creature and her neighbors might just cost her everything.
Psst..I will tell you a secret. The writing team of Ilona Andrews and narrator Renée Raudman are like caffeine. I. Am. Totally. Addicted. Clean Sweep had so many elements I enjoyed from the magical inn to the snarky heroine. I need more!
My Life as a White Trash Zombie
by Diana Rowland
Series: White Trash Zombie #1
Narrator: Allison McLemore
Length: 8 hrs and 44 mins
Genres: Urban Fantasy
Source: Purchase
Purchase*: Amazon | Audible *affiliate
Rating:

Narration: 4.5 cups
Teenage delinquent Angel Crawford lives with her redneck father in the swamps of southern Louisiana. She's a high school dropout, addicted to drugs and alcohol, and has a police record a mile long. But when she's made into a zombie after a car crash, her addictions disappear, except for her all-consuming need to stay "alive".
Diana Rowland writes magic with this series. I listened to all of the audios in this series in 2015 and Angel Crawford is one crazy, trash-talking, loveable zombie.
Fated
by Sarah Fine
Series: Servants of Fate #3
Narrator: Emily Foster
Length: 10 hours and 18 minutes
Genres: Urban Fantasy
Source: Purchase
Purchase*: Amazon | Audible *affiliate
Rating:

Heat Level:


Narration: 4 stars
Aislin Ferry and Jason Moros have only days until they will be called to account before the Keepers of the Afterlife. Yet as they race to restore order and make their case, their worlds fall into total disarray. Mutiny within the fractured Ferry family threatens Aislin's hold on power and role as Charon. Meanwhile, the fearsome Lord of the Kere has family trouble of his own. Someone is unraveling the fabric of fate, and Moros suspects one of his supernatural siblings is behind the terrible bid to unleash Chaos. Now unlikely allies, Aislin and Moros each need the other to escape the wrath of the Keepers. As the stakes rise, it becomes clear that protecting their respective empires is not the endgame. With the fate of all humanity dangling by a thread, Aislin and Moros must surrender completely to one another if they are to fight their common enemy. And as time runs out, someone must make the ultimate sacrifice.
The Servants of Fate series was my first experience with Sarah Fine. I loved Fated and its action-packed, romance filled tale involving the Fates.
Magic Shifts
by Ilona Andrews
Series: Kate Daniels #8
Narrator: Renée Raudman
Length: 14 hrs and 10 mins
Genres: Urban Fantasy
Source: Publisher
Purchase*: Amazon | Audible *affiliate
Rating:

Heat Level:


Narration: 5 cups
After breaking from life with the Pack, mercenary Kate Daniels and her mate—former Beast Lord Curran Lennart—are adjusting to a very different pace. While they're thrilled to escape all the infighting, Curran misses the constant challenges of leading the shapeshifters. So when the Pack offers him its stake in the Mercenary Guild, Curran seizes the opportunity—too bad the Guild wants nothing to do with him and Kate. Luckily, as a veteran merc, Kate can take over any of the Guild's unfinished jobs in order to bring in money and build their reputation. But what Kate and Curran don't realize is that the odd jobs they've been working are all connected. An ancient enemy has arisen, and Kate and Curran are the only ones who can stop it—before it takes their city apart piece by piece.…
The Kate Daniels series is one of my favorite audio series. Ilona Andrews brings their game every time they share a new installation. Magic Shifts takes the series in a new direction but still brings the action, snark, giggles and awesomeness I have come to expect from these characters and their world.
Vision in Silver
by Anne Bishop
Series: The Others #3
Length: 16 hrs and 9 mins
Genres: Urban Fantasy
Source: Publisher
Purchase*: Amazon | Audible *affiliate
Rating:
The Others freed the  cassandra sangue  to protect the blood prophets from exploitation, not realizing their actions would have dire consequences. Now the fragile seers are in greater danger than ever before—both from their own weaknesses and from those who seek to control their divinations for wicked purposes. In desperate need of answers, Simon Wolfgard, a shape-shifter leader among the Others, has no choice but to enlist blood prophet Meg Corbyn's help, regardless of the risks she faces by aiding him. Meg is still deep in the throes of her addiction to the euphoria she feels when she cuts and speaks prophecy. She knows each slice of her blade tempts death. But Others and humans alike need answers, and her visions may be Simon's only hope of ending the conflict. For the shadows of war are deepening across the Atlantik, and the prejudice of a fanatic faction is threatening to bring the battle right to Meg and Simon's doorstep…
The Others is a series that I own on every format available but my favorite is audio. I love this well crafted world and the characters within the court. I laugh, lose time, hold my breath and never want them to end. Vision in Silver brought danger, revelations and character growth.
The Girl on the Train
by Paula Hawkins
Narrator: Clare Corbett, India Fisher, Louise Brealey
Length: 10 hrs and 59 mins
Genres: Thriller
Source: Publisher
Purchase*: Amazon | Audible *affiliate
Rating:

Narration: 4.5
A debut psychological thriller about a woman who becomes emotionally entangled in a murder investigation because of something she witnesses on her daily commute. Rachel takes the same commuter train every morning and every night. Every day she rattles over the same track junctions, flashes past the same stretch of cozy suburban homes. And every day she stops at the same signal and she sees the same couple, breakfasting on their roof deck, living the perfect life that Rachel craves for herself—a lifestyle she recently lost. She looks forward to observing this household every morning, even makes up names and narratives for its residents. Then one day Rachel sees someone new in their garden, and soon after, the woman who lived there disappears. Unable to keep this information to herself, Rachel offers what she knows to the police, and in the process is drawn into the lives of the couple she thought of as Jason and Jess but whose names—she has learned from the news—are really Megan and Scott Hipwell. But the police accuse Rachel of being unreliable, and it's true that her memories can't always be trusted. Plus there are the stories that her ex-husband's new wife has been spreading about her. By the time Megan's body is found, Rachel is in over her head, intricately entangled in the details of the investigation, as well as in the lives of everyone involved. Has she put others in danger? Has she done more harm than good? A compulsively readable, emotionally immersive, Hitchcockian thriller that draws comparisons to Gone Girl, The Silent Wife, or Before I Go to Sleep, this is an electrifying debut embraced by readers across markets and categories.
The Girl on the Train delivered a twisted, suspenseful tale that held me captive. Clare Corbett, India Fisher and Louise Brealey all did a wonderful job with the characters adding an extra layer of enjoyment to the tale.
The Accident Season
by Moïra Fowley-Doyle
Narrator: Colby Minifie
Length: 7 hours and 24 minutes
Genres: Magical Realism, Paranormal
Source: Publisher
Purchase*: Amazon | Audible *affiliate
Rating:

Narration: 5 cups
Every October Cara and her family become inexplicably and unavoidably accident-prone. Some years it's bad, like the season when her father died, and some years it's just a lot of cuts and scrapes. This accident season--when Cara, her ex-stepbrother, Sam, and her best friend, Bea, are 17--is going to be a bad one. But not for the reasons they think. Cara is about to learn that not all the scars left by the accident season are physical: There's a long-hidden family secret underneath the bumps and bruises. This is the year Cara will finally fall desperately in love, when she'll start discovering the painful truth about the adults in her life, and when she'll uncover the dark origins of the accident season--whether she's ready or not.
Freaky, unique and lyrical the Accident Season held me spellbound. This was such an original story and one I recommend to all age groups.
Succubus Heat
by Richelle Mead
Series: Georgina Kincaid #4
Narrator: Elisabeth Rodgers
Length: 11 hrs and 37 mins
Genres: Urban Fantasy
Source: Purchase
Purchase*: Amazon | Audible *affiliate
Rating:

Heat Level:

Georgina Kincaid has been a bad, bad succubus, which should be a good thing. But lately, thanks to her foul mood over breaking up with best-selling writer Seth Mortensen, she's been so wicked that Seattle's uber-demon Jerome, decides to "outsource" Georgina to a rival--and have her spy for him in the process. Being exiled to the frozen north--okay, Vancouver--and leaving Seth in the cozy clutches of his new girlfriend is unpleasant enough. Then Jerome is kidnapped, and all immortals under his control mysteriously lose their powers. One bright spot: with her life-sucking ability gone, there's nothing to keep Georgina from getting down and dirty with Seth--nothing apart from his girlfriend that is. Now, as the supernatural population starts turning on itself, a newly mortal Georgina must rescue her boss and figure out who's been playing them--or all hell will break loose.
I listened to the entire series this year and Succubus Heat put me through the wringer. The series wrapped up wonderfully with Succubus Revealed and I cannot recommend this series enough on audio. You will fall in love with these characters.
Share your favorite Audiobook Listens for 2015?
Stay Caffeinated!
Never miss a post by adding Caffeinated to your Inbox
Your email is not shared and you can unsubscribe at any time.
Related Posts