It's that time of year where I share my top ten favorite Young Adult Reads for 2015. When it comes to the young adult genre I tend to prefer fantasy, science fiction, horror, paranormal, urban fantasy and dystopian/post-apocalyptic. Grab a cup of mocha coffee, hot cocoa or peppermint tea and check out my list. Were any of these your favorites?
Compulsion
by Martina Boone
Series: Heirs of Watson Island #1
Narrator: Joell A. Jacob
Length: 11 hours and 29 minutes
Genres: Paranormal
Source: Publisher
Purchase*: Amazon | Audible *affiliate
Rating:

Narration: 4 cups
Three plantations. Two wishes. One ancient curse. All her life, Barrie Watson has been a virtual prisoner in the house where she lives with her shut-in mother. When her mother dies, Barrie promises to put some mileage on her stiletto heels. But she finds a new kind of prison at her aunt's South Carolina plantation instead--a prison guarded by an ancient spirit who long ago cursed one of the three founding families of Watson Island and gave the others magical gifts that became compulsions. Stuck with the ghosts of a generations-old feud and hunted by forces she cannot see, Barrie must find a way to break free of the family legacy. With the help of sun-kissed Eight Beaufort, who knows what Barrie wants before she knows herself, the last Watson heir starts to unravel her family's twisted secrets. What she finds is dangerous: a love she never expected, a river that turns to fire at midnight, a gorgeous cousin who isn't what she seems, and very real enemies who want both Eight and Barrie dead.
Magical, creepy and beautifully crafted Compulsion by Martina Boone drew me in with its southern gothic charm and captivating story of the families on Watson Island. Read my thoughts on Compulsion.
Cold Burn of Magic
by Jennifer Estep
Series: Black Blade #1
Genres: Urban Fantasy
Source: Publisher
Purchase*: Amazon *affiliate
Rating:
There Be Monsters Here. . .It's not as great as you'd think, living in a tourist town that's known as "the most magical place in America." Same boring high school, just twice as many monsters under the bridges and rival Families killing each other for power. I try to keep out of it. I've got my mom's bloodiron sword and my slightly illegal home in the basement of the municipal library. And a couple of Talents I try to keep quiet, including very light fingers and a way with a lock pick. But then some nasty characters bring their Family feud into my friend's pawn shop, and I have to make a call--get involved, or watch a cute guy die because I didn't. I guess I made the wrong choice, because now I'm stuck putting everything on the line for Devon Sinclair. My mom was murdered because of the Families, and it looks like I'm going to end up just like her. . .
Jennifer Estep drew me into her world with Cold Burn of Magic. Strong characters, interesting supernatural creatures, and danger had me packing my bags and heading off to this unique town. See my full review of Cold Burn of Magic
Ink and Bone
by Rachel Caine
Series: The Great Library #1
Genres: Dystopian
Source: Publisher
Purchase*: Amazon *affiliate
Rating:
In an exhilarating new series, New York Times bestselling author Rachel Caine rewrites history, creating a dangerous world where the Great Library of Alexandria has survived the test of time.…Ruthless and supremely powerful, the Great Library is now a presence in every major city, governing the flow of knowledge to the masses. Alchemy allows the Library to deliver the content of the greatest works of history instantly—but the personal ownership of books is expressly forbidden. Jess Brightwell believes in the value of the Library, but the majority of his knowledge comes from illegal books obtained by his family, who are involved in the thriving black market. Jess has been sent to be his family's spy, but his loyalties are tested in the final months of his training to enter the Library's service. When he inadvertently commits heresy by creating a device that could change the world, Jess discovers that those who control the Great Library believe that knowledge is more valuable than any human life—and soon both heretics and books will burn.…
The concept of Ink and Bone gave me chills. Unlike, other dystopian novels whose society's downfall was a virus or war, knowledge was the catalysts here and thus the Great Library was formed. Knowledge is infectious and must be controlled and contained. Eek gads is that not scary? Wait, it gets worse. In fact, you may want to sit down. Owning a book is illegal! Check out my review of Ink and Bone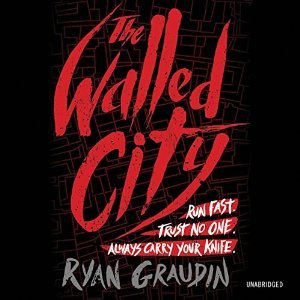 The Walled City
by Ryan Graudin
Narrator: Eugene Kim, Janet Song, Kim Mai
Length: 10 hrs and 28 mins
Genres: Dystopian, Science Fiction
Source: Publisher
Purchase*: Amazon | Audible *affiliate
Rating:

Narration: 4.5 cups
There are three rules in the Walled City: Run fast. Trust no one. Always carry your knife. Right now, my life depends completely on the first. Run, run, run. Jin, Mei Yee, and Dai all live in the Walled City, a lawless labyrinth run by crime lords and overrun by street gangs. Teens there traffic drugs or work in brothels - or, like Jin, hide under the radar. But when Dai offers Jin a chance to find her lost sister, Mei Yee, she begins a breathtaking race against the clock to escape the Walled City itself.
The Walled City is a modern day dystopian thriller based in part on the actual "walled city" of Kowloon. While, the author has taken some liberties she beautifully captured this dark city in Hong Kong. The writing is beautiful despite the darkness and at times almost lyrical. Graudin turns words into music, check out my full review of The Walled City
Queen of Always
by Sherry D. Ficklin
Series: Stolen Empire #3
Genres: Historical Fiction
Source: Publisher
Purchase*: Amazon *affiliate
Rating:
LONG LIVE THE QUEEN If her time at court has taught Catherine anything, it's that there is no room for weakness in Imperial Russia. With the Empress' health failing and rumors of a change in the line of succession, her place in the royal line is once more in jeopardy. Tormented by her sadistic husband and his venomous mistress, Catherine must once more walk the fine line between pleasure and politics—between scandal and survival. When her young son becomes the target of those rebelling against Peter's reign, Catherine will have to rise up to protect herself, her child, and her nation from his unstable and potentially catastrophic rule. This means putting herself at odds with the most dangerous man she's ever known, trusting those who once proved to be her enemies, and turning a nation against its sovereign. In the ultimate battle for the crown, new alliances will be forged, loyalties will be tested, and blood will be shed.
Set in Imperial Russia, Sherry D. Ficklin shared her impression of Catherine the Great in Queen of Always. This was the final book in the Stolen Empire trilogy and I loved the darkness and detail. Ficklin is a favorite, read my full review of Queen of Always
All the Rage
by Courtney Summers
Genres: Realistic Fiction
Source: Publisher
Purchase*: Amazon *affiliate
Rating:
The sheriff's son, Kellan Turner, is not the golden boy everyone thinks he is, and Romy Grey knows that for a fact. Because no one wants to believe a girl from the wrong side of town, the truth about him has cost her everything—friends, family, and her community. Branded a liar and bullied relentlessly by a group of kids she used to hang out with, Romy's only refuge is the diner where she works outside of town. No one knows her name or her past there; she can finally be anonymous. But when a girl with ties to both Romy and Kellan goes missing after a party, and news of him assaulting another girl in a town close by gets out, Romy must decide whether she wants to fight or carry the burden of knowing more girls could get hurt if she doesn't speak up. Nobody believed her the first time—and they certainly won't now — but the cost of her silence might be more than she can bear. With a shocking conclusion and writing that will absolutely knock you out,All the Rage examines the shame and silence inflicted upon young women after an act of sexual violence, forcing us to ask ourselves: In a culture that refuses to protect its young girls, how can they survive?
All the Rage examines the powerful impact of rape, and social pressures in a rural town. Summers is a favorite and anything she touches turns to gold. Summer is brilliant! See my thoughts on All the Rage
Winter
by Marissa Meyer
Series: Lunar Chronicles #4
Genres: Fantasy
Source: Purchase
Purchase*: Amazon *affiliate
Rating:

Heat Level:

Princess Winter is admired by the Lunar people for her grace and kindness, and despite the scars that mar her face, her beauty is said to be even more breathtaking than that of her stepmother, Queen Levana.
Winter despises her stepmother, and knows Levana won't approve of her feelings for her childhood friend—the handsome palace guard, Jacin. But Winter isn't as weak as Levana believes her to be and she's been undermining her stepmother's wishes for years. Together with the cyborg mechanic, Cinder, and her allies, Winter might even have the power to launch a revolution and win a war that's been raging for far too long. Can Cinder, Scarlet, Cress, and Winter defeat Levana and find their happily ever afters?
Winter is the last book in the Lunar Chronicles by Marissa Meyer and at over eight hundred pages; Meyer took readers on one heck of a ride as we faced down Queen Levana. It was brutal, intense and frustrating. Winterwas epic, beautifully written and a brilliant retelling. Read my review of Winter
Wolf by Wolf
by Ryan Graudin
Series: Wolf by Wolf, #1
Narrator: Christa Lewis
Length: 10 hours and 31 minutes
Genres: Historical Fiction, Fantasy
Source: Publisher
Purchase*: Amazon | Audible *affiliate
Rating:

Narration: 4.5 cups
Code Name Verity meets Inglourious Basterds in this fast-paced novel from the author of The Walled City.

The year is 1956, and the Axis powers of the Third Reich and Imperial Japan rule the world. To commemorate their Great Victory over Britain and Russia, Hitler and Emperor Hirohito host the Axis Tour: an annual motorcycle race across their conjoined continents. The victor is awarded an audience with the highly reclusive Adolf Hitler at the Victor's ball. Yael, who escaped from a death camp, has one goal: Win the race and kill Hitler. A survivor of painful human experimentation, Yael has the power to skinshift and must complete her mission by impersonating last year's only female victor, Adele Wolfe. This deception becomes more difficult when Felix, Adele twin's brother, and Luka, her former love interest, enter the race and watch Yael's every move. But as Yael begins to get closer to the other competitors, can she bring herself to be as ruthless as she needs to be to avoid discovery and complete her mission?
A fantastic alternate history fantasy. Wolf by Wolf blew me away from its beautiful, dark prose to the strong characters. Once again Graudin's world building was brilliant. See my full review of Wolf by Wolf
Illuminae
by Amie Kaufman, Jay Kristoff
Series: The Illuminae Files #1
Genres: Science Fiction
Source: Publisher
Purchase*: Amazon *affiliate
Rating:
This morning, Kady thought breaking up with Ezra was the hardest thing she'd have to do. This afternoon, her planet was invaded. The year is 2575, and two rival megacorporations are at war over a planet that's little more than an ice-covered speck at the edge of the universe. Too bad nobody thought to warn the people living on it. With enemy fire raining down on them, Kady and Ezra—who are barely even talking to each other—are forced to fight their way onto an evacuating fleet, with an enemy warship in hot pursuit. But their problems are just getting started. A deadly plague has broken out and is mutating, with terrifying results; the fleet's AI, which should be protecting them, may actually be their enemy; and nobody in charge will say what's really going on. As Kady hacks into a tangled web of data to find the truth, it's clear only one person can help her bring it all to light: the ex-boyfriend she swore she'd never speak to again. Told through a fascinating dossier of hacked documents—including emails, schematics, military files, IMs, medical reports, interviews, and more—Illuminae is the first book in a heart-stopping, high-octane trilogy about lives interrupted, the price of truth, and the courage of everyday heroes.
Brilliant, unique and riveting Illuminae by Amie Kaufman and Jay Kristoff held me captive. This science-fiction off planet tale was intense and offered some unique formats. This writing duo impressed me, see my thoughts on Illuminae
Golden Son
by Pierce Brown
Series: Red Rising #2
Genres: Dystopian, Fantasy
Source: Publisher
Purchase*: Amazon *affiliate
Rating:
Debut author Pierce Brown's genre-defying epic Red Rising hit the ground running and wasted no time becoming a sensation. Golden Son continues the stunning saga of Darrow, a rebel forged by tragedy, battling to lead his oppressed people to freedom from the overlords of a brutal elitist future built on lies. Now fully embedded among the Gold ruling class, Darrow continues his work to bring down Society from within. A life-or-death tale of vengeance with an unforgettable hero at its heart,Golden Son guarantees Pierce Brown's continuing status as one of fiction's most exciting new voices.
I have mad love for this trilogy and its hero Darrow. Last year Red Rising made my list, and this year Pierce Brown blew my mind with his incredible world-building and unique, fleshed out characters in Golden Son. The Red Rising trilogy is one for all ages and I encourage you to add them to your list. Now is the time to try this trilogy, read my full review of Golden Son
What were some of your Favorite Young Adult Reads for 2015?
Stay Caffeinated!
Never miss a post by adding Caffeinated to your Inbox
Your email is not shared and you can unsubscribe at any time.
Related Posts