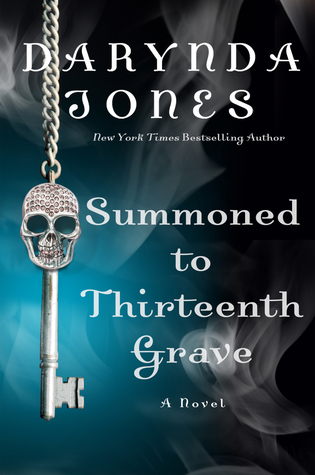 Summoned to Thirteenth Grave
by Darynda Jones
Series: Charley Davidson #13
Genres: Urban Fantasy
Source: Publisher
Purchase*: Amazon | Audible *affiliate
Rating:

Heat Level:
Grim Reaper Charley Davidson is back in the final installment of Darynda Jones' New York Times bestselling paranormal series!

Charley Davidson, Grim Reaper extraordinaire, is pissed. She's been kicked off the earthly plain for eternity – which is the appropriate amount of time to make a person stark-raving mad. But someone's looking out for her, and she's allowed to return after a mere hundred years in exile. Is it too much to hope for that not much has changed? Apparently it is. Bummer.

She's missed Reyes and her daughter, Beep, but now that she's back on earth, it's time to put to rest burning questions that need answers. What happened to her mother? How did she really die? Who killed her? And are cupcakes or coffee the best medicine? It all comes to a head in an epic showdown between good and evil in this final smart and hilarious novel.
Do you have a favorite series? Ya know the one where EVERY DANG THING stops on release day and you consume the newest release only to suffer a book hangover and cry because you have to wait another year for the next book? A series you quote, whose fandom you belong to? Yes, I am a card carrying GRIMLET!
Summoned to Thirteenth Grave by Darynda Jones is the final book in the Charley Davidson series featuring a coffee loving, Grim Reaping god who collects friends, named her tits and loves a Demon who happens to be the son of Lucifer. These are my people. Osh, Cookie, Garret, Uncle Bob, the kids and so many more from the living to the non-living. I have loved every minute of this series, even the killer last paragraphs that left me hanging to the next release.
The only reason I am not curled in a fetal position somewhere is because I have it on good authority we will see more from this world pertaining to Beep.
Jones took me on one heck of an emotional ride and made me experience all the feels from laughter to tears as we said goodbye to some, made startling revelations, learned the fate of some, battled demons and spent time with our favorite couples.
An apocalyptic event is happening in Albuquerque because of events in the previous books. The CDC and national news are reporting illness, followed by violent changes in behavior to those affected. Think..zombie apocalypse..but no one is eating brains. Oh, and there are demons from a hell dimension. You must read the book to discover more but Charley and her army of misfits have mere days to save the world.
Summoned to Thirteenth Grave was epic!! If you haven't begun the series now is the time to binge. If you've read all the books, but have final book phobia (trust me it is a thing), do not be afraid. I repeat. Do not be afraid….it is safe to go into the light!
On and Ms. Jones, that last paragraph was a killer.
Reading this book contributed to these challenges:
Related Posts