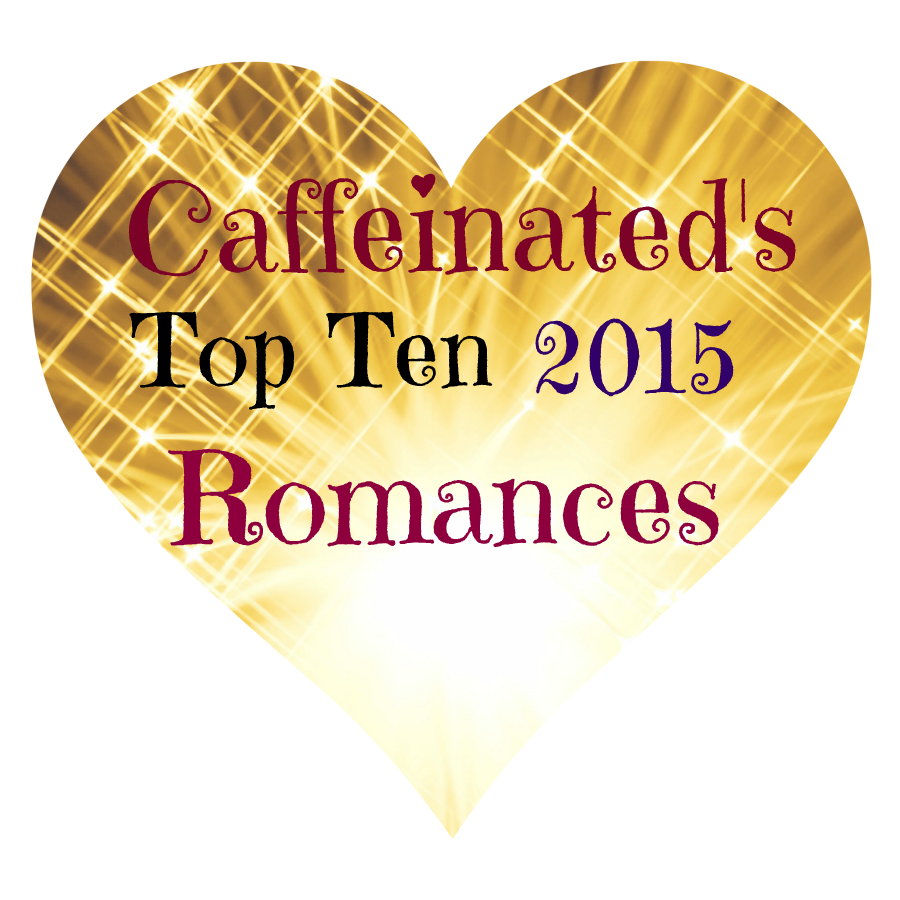 In 2015 I read quite a few romances. Everything from straight-up contemporaries to those wrapped in a little paranormal woo-woo or  suspense. My list features romances that stood out, made me smile and allowed me to laugh, sigh and slip away for a while. Grab a cup of hazelnut coffee or mocha cocoa and check out my top ten romances for 2015.
In no particular order- here are my Top Ten Romances read in 2015.
(note if I selected an author who writes series, or whose books I read multiple books of in 2015..I  selected my favorite book)
Sustained


by Emma Chase
Series: The Legal Briefs #2
Genres: Contemporary Romance
Source: Publisher
Purchase: Amazon
Rating:
Heat Level:

A knight in tarnished armor is still a knight. When you're a defense attorney in Washington, DC, you see firsthand how hard life can be, and that sometimes the only way to survive is to be harder. I, Jake Becker, have a reputation for being cold, callous, and intimidating—and that suits me just fine. In fact, it's necessary when I'm breaking down a witness on the stand. Complications don't work for me—I'm a "need-to-know" type of man. If you're my client, tell me the basic facts. If you're my date, stick to what will turn you on. I'm not a therapist or Prince Charming—and I don't pretend to be. Then Chelsea McQuaid and her six orphaned nieces and nephews came along and complicated the ever-loving hell out of my life. Now I'm going to Mommy & Me classes, One Direction concerts, the emergency room, and arguing cases in the principal's office. Chelsea's too sweet, too innocent, and too gorgeous for her own good. She tries to be tough, but she's not. She needs someone to help her, defend her…and the kids. And that — that, I know how to do.
I consumed Sustained in one sitting. I love the way Chase shares her male POV's. If you loved Drew Evans in Tangled sexy Jake Becker might just knock him off your favorite book boyfriend list.
The Name of the Game


by Jennifer Dawson
Series: Something New #3
Genres: Contemporary Romance
Source: Publisher
Purchase: Amazon
Rating:
Heat Level:

Some people follow the rules. . . A professor of forensic anthropology, James Donovan is the reasonable sibling among the passionate, impulsive Donovans. But there's nothing reasonable about his reaction to baker Gracie Roberts. She's all wild curls and mouth-watering curves, as deliciously tempting as the sugary treats she's famous for--and twice as irritating. But before long, James decides that getting a taste of her is one indulgence he can't pass up. . .
Some people play to win. . .Independent, smart, and sexy, Gracie's year-long dry spell has her itching for a man. Responsible, health-obsessed James? Not in a million years! She needs a guy who knows how to let loose! But when James sets out to show her just how satisfying a disciplined man can be when pleasure is at stake, she learns just how sweet--and spicy--he really is. Have James and Gracie found the recipe for love?
Gracie and James have a haters to lovers romance that just made me giggle and swoon. If you haven't tried Dawson's Something New series treat yourself to an early Christmas present. If you like your romances  little darker and edgier than add her Undone series to your shopping list.
When a Scot Ties the Knot


by Tessa Dare
Series: Castles Ever After #3
Genres: Historical Romance
Source: Publisher
Purchase: Amazon
Rating:
Heat Level:
On the cusp of her first London season, Miss Madeline Gracechurch was shyly pretty and talented with a drawing pencil, but hopelessly awkward with gentlemen. She was certain to be a dismal failure on the London marriage mart. So Maddie did what generations of shy, awkward young ladies have done: she invented a sweetheart. A Scottish sweetheart. One who was handsome and honorable and devoted to her, but conveniently never around. Maddie poured her heart into writing the imaginary Captain MacKenzie letter after letter … and by pretending to be devastated when he was (not really) killed in battle, she managed to avoid the pressures of London society entirely. Until years later, when this kilted Highland lover of her imaginings shows up in the flesh. The real Captain Logan MacKenzie arrives on her doorstep—handsome as anything, but not entirely honorable. He's wounded, jaded, in possession of her letters… and ready to make good on every promise Maddie never expected to keep.
Perfection. I laughed, cried and swooned. The man read Jane Austen and Dare's set up for this romance was such fun. Read my full review of When A Scot Ties the Knot
Rescuing the Bad Boy


by Jessica Lemmon
Series: Second Chance #2
Genres: Contemporary Romance
Source: Publisher
Purchase: Amazon
Rating:
Heat Level:

NOT ALL SCARS HEAL...For Donovan Pate, the lake town of Evergreen Cove is a minefield of tough memories—including the day he had to let go of Sofie Martin. Years later, he still can't forget the taste of her lips and the feel of her killer curves. He knows he's too damaged, that he should stay away for her own good. But what the head says and the heart wants are two very different things… Seven years ago, Donovan broke Sofie's heart. Now her career depends on playing nice in order to pull off the charity fundraiser of the decade. She vows to keep things professional…yet working by his side every day doesn't make it easy to fight temptation, and it isn't long before she finds herself falling for this bad boy all over again. But loving Donovan means helping him face his past–so they can fight for a future together.
Jessica Lemmon can do no wrong and her Bad Boys make me smile. She mixes heat and heart delivering  stories that make my toes curl.  Her Second Chance series is not to be missed. Here is my review of Rescuing the Bad Boy
Misconduct


by Penelope Douglas
Narrator: Carrie Brach, Guy Locke
Length: 11 hours and 1 minute
Genres: Contemporary Romance
Source: Publisher
Purchase: Amazon | Audible
Rating:
Heat Level:


Narration: 3.5 cups
Former tennis player Easton Bradbury is trying to be the best teacher she can be, trying to reach her bored students, and trying to forget her past. What brought her to this stage in her life isn't important. She can't let it be. But now one parent-teacher meeting may be her undoing . . .Meeting Tyler Marek for the first time makes it easy for Easton to see why his son is having trouble in school. The man knows how to manage businesses and wealth, not a living, breathing teenage boy. Or a young teacher, for that matter, though he tries to. And yet there is something about him that draws Easton in-a hint of vulnerability, a flash of attraction, a spark that might burn.Wanting him is taboo. Needing him is undeniable. And his long-awaited touch will weaken Easton's resolve-and reveal what should stay hidden.Contains mature themes
Misconduct set in NOLA, held me captive with its witty banter, delicious heat and a storyline that kept me listening. Read my review of Misconduct
November 9


by Colleen Hoover
Genres: Contemporary Romance
Source: Purchase
Purchase: Amazon
Rating:
Heat Level:
Beloved #1 New York Times bestselling author Colleen Hoover returns with an unforgettable love story between a writer and his unexpected muse. Fallon meets Ben, an aspiring novelist, the day of her scheduled cross-country move. Their untimely attraction leads them to spend Fallon's last day in L.A. together, and her eventful life becomes the creative inspiration Ben has always sought for his novel. Over time and amidst the various relationships and tribulations of their own separate lives, they continue to meet on the same date every year. Until one day Fallon becomes unsure if Ben has been telling her the truth or fabricating a perfect reality for the sake of the ultimate plot twist.
It is Colleen Hoover…need I say more? *raises eyebrow* Read my review of November 9
Just Say Yes


by Alyssa Goodnight
Genres: Contemporary Romance, Magical Realism
Source: Author
Purchase: Amazon
Rating:
Heat Level:

He's just what she needs...Single mom Jade Moran isn't ready for any big changes in either her horrible '70s kitchen or her romantic life. Her ex did a number on her, and she isn't interested in getting hurt again. But when she meets a super-hot contractor, she wonders if avocado appliances are on the way out and romance is on the way in. Max Gianopoulis doesn't have a clue why he's so enchanted by Jade. She's almost as big a mess as her kitchen, and he's a guy who likes to keep things simple. He let himself get involved with a previous client, and he's not interested in repeating the experience. But Jade has turned up the flirty heat - and he can't keep his hands off her. With everything moving too fast and coming too easy, Jade's insecurities kick into high gear. She's not sure she can trust another man again - and she definitely doesn't believe in magic.
Goodnight delivers fresh, funny, sweet romances wrapped in realistic tales with a touch of magical realism. Read my thoughts on Just Say Yes
Shadows Strike


by Dianne Duvall
Series: Immortal Guardians #6
Genres: Paranormal Romance
Source: Publisher
Purchase: Amazon
Rating:
Heat Level:

The Immortal Guardians protect the innocent in secret. Sometimes the secret gets out... U.S. law enforcement agent Heather Lane can read minds. But not the future. The dream of battle and blood that recurs every night must be a fluke, some obscure terror from her own mind. What its significance might be, she can't guess: an attack from seven psychotic vampires at once, only separated from nightmare by an eighth very different immortal. A handsome, brave man fighting at her side, a man she misses when she wakes. Then the dream comes true. Heather is flung into a war between predators and protectors of humanity, the man from her dreams beside her again. Except now that she's awake, she isn't sure she can trust Ethan, or the shadow organization he represents. The U.S. military doesn't trust either of them. But against an onslaught of evil like the one that's coming, it will take everything they have just to survive..
Yum-o If you are looking for a paranormal romance with heat, action and heart Duvall knows how to write it. I loved the genuine chemistry between Ethan and Heather. Read my review of Shadow Strikes
When It's Right


by Jennifer Ryan
Series: Montana Men #2
Genres: Contemporary Romance, Romantic Suspense
Source: Publisher
Purchase: Amazon
Rating:
Everything's bigger in Big Sky country, including the hearts of the Montana Men -Wide open sky, rolling green hills . . . Gillian Tucker could get used to life in the country—one far from the violence she left behind in San Francisco. Warily accepting an invitation to the Montana ranch that belongs to her grandfather, a man she's never met, Gillian hopes this is the haven she seeks. A sexy, overbearing cowboy who shines a light on her well-hidden dreams is not at all part of her plans.  Blake Bowden's reckless past is far behind him, and as a newly named co-owner of Three Peaks Ranch, he's not taking any chances. Until a beautiful, haunted woman arrives, igniting a desire he shouldn't feel. His partner's granddaughter is strictly off limits. But the longer Gillian's there, the stronger the pull grows between them. And when a new danger surfaces, Blake will do anything to keep her safe…even if it means risking everything for her heart.
Ryan writes the most delicious romantic suspense stories set in big sky country. Whenever I open one of her books the world slips away.
The Rogue Not Taken


by Sarah MacLean
Series: Scandal and Scoundrel #1
Genres: Historical Romance
Source: Publisher
Purchase: Amazon
Rating:
Heat Level:
LADY SOPHIE'S SOCIETY SPLASHThe youngest of the infamous Talbot sisters scandalized society at the Liverpool Summer Soiree, striking her sister's notoriously philandering husband and landing him backside-first in a goldfish pond. And we thought Sophie was the quiet one… When she finds herself the target of very public aristocratic scorn, Sophie Talbot does what she must to escape the city and its judgment—she flees on the back of a carriage, vowing never to return to London…or to society. But the carriage isn't saving her from ruin. It's filled with it. ROYAL ROGUE'S REIGN OF RAVISHMENT! The Marquess of Eversley was espied descending a rose trellis—escaping an irate Earl and his once-future countess. No lady is safe from Eversley's Engagement Ending Escapades! Kingscote, the Marquess of Eversley, has never met a woman he couldn't charm, a quality that results in a reputation far worse than the truth, a furious summons home, and a long, boring trip to the Scottish border. When King discovers stowaway Sophie, however, the trip becomes anything but boring. WAR? OR MORE? He thinks she's trying to trick him into marriage. She wouldn't have him if he were the last man on earth. But carriages bring close quarters, dark secrets, and unbearable temptation, and suddenly opposites are altogether too attractive…
Perhaps my favorite MacLean book to date, The Rogue Not Taken had all of the elements I love from witty banter to character growth and all of the swoons in-between. Read my full review of The Rogue Not Taken
What are a few of your favorite romances in 2015?
Stay Caffeinated!
Never miss a post by adding Caffeinated to your Inbox
Your email is not shared and you can unsubscribe at any time.