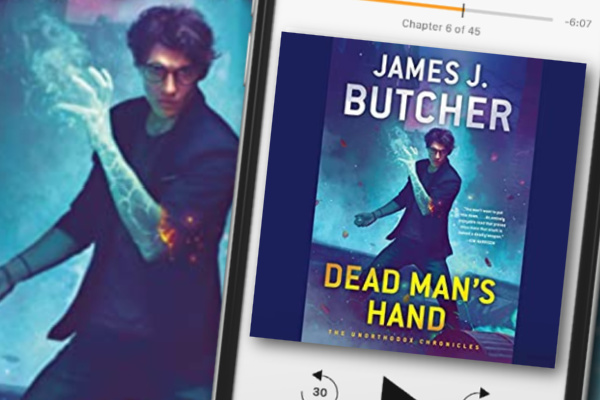 Dead Man's Hand is the first novel in the Unorthodox Chronicles urban fantasy series set in Boston. Written by James J. Butcher and narrated by James Patrick Cronin, I quickly found myself pulled into the world of Grimshaw Griswald Grimsby, a down on his luck witch who finds himself at the center of a high-profile murder investigation. Suspense, a little snark and characters I cannot wait to spend more time with …
Dead Man's Hand
by James J. Butcher
Series: The Unorthodox Chronicles #1
Narrator: James Patrick Cronin
Length: 11 hours and 10 minutes
Genres: Urban Fantasy
Source: Publisher, Purchase
Purchase*: Amazon | Audible *affiliate
Rating:

Narration: 5 cups Speed: 1.2x

In the tradition of his renowned father, James J. Butcher's debut novel is a brilliant urban fantasy about a young man who must throw out the magical rule book to solve the murder of his former mentor.

On the streets of Boston, the world is divided into the ordinary Usuals, and the paranormal Unorthodox. And in the Department of Unorthodox Affairs, the Auditors are the magical elite, government-sanctioned witches with spells at their command and all the power and prestige that comes with it. Grimshaw Griswald Grimsby is...not one of those witches.

After flunking out of the Auditor training program and being dismissed as "not Department material," Grimsby tried to resign himself to life as a mediocre witch. But he can't help hoping he'll somehow, someway, get another chance to prove his skill. That opportunity comes with a price when his former mentor, aka the most dangerous witch alive, is murdered down the street from where he works, and Grimsby is the Auditors' number one suspect.

Proving his innocence will require more than a little legwork, and after forming a strange alliance with the retired legend known as the Huntsman and a mysterious being from Elsewhere, Grimsby is abruptly thrown into a life of adventure, whether he wants it or not. Now all he has to do is find the real killer, avoid the Auditors on his trail, and most importantly, stay alive.
Indeed, fans of the Dresden Files and Alex Verus will find themselves cozying up to the Unorthodox Chronicles. It stands on its own and was a fantastic debut. This first in series has me excited about the stories to come.
I love urban fantasy particularly in audio format as was delighted to listen. James Patrick Cronin did a splendid job giving voice to our protagonist Grimsby, as well as Mayflower, known as the Huntsman. This narrator was new to me, but I am looking forward to hearing more from him.
We are introduced to the world filled with ordinary Usuals, and the paranormal Unorthodox, who live among humans and the governing body that polices them. The Department of Unorthodox Affairs whose Auditors; magically elite, government-sanctioned witches who have spells at their command, power, and prestige. There were some unique elements, such as the glasses Grimsby wore, I found fascinating.
When a powerful witch is murdered, Mayflower, the Huntsman who retired from the business, is called in. He does so because the witch was his friend. A note at the scene leads them to Grimsby. He's a disabled usual who works at a human pizza joint that hosts birthday parties for children, complete with a castle, knights and a mote. Grimsby soon finds himself in danger and joins up with Mayflower. The tale that unfolds held me captive and entertained as auditors, familiars and danger come to call.
The pacing was well done as the world-building was woven throughout the tale. Magic lairs, strange creatures, deadly battles and character growth formed our hero. I have to say; I loved seeing the growth in Grimsby. He started out as this down on your luck dude with a solid moral code. He was flawed, noble, vulnerable and transformed out of necessity. The creature he unwittingly befriends was a favorite.
The story ended on a high note, but also dangled some knowledge that has me eager for the next audio in the series. While I received an advanced copy, I also grabbed a copy with a credit so I can listen again.
Dead Man's Hand by James J. Butcher, narrated by James Patrick Cronin, delivered an exciting start to the Unorthodox Chronicles. #urbanfantasy #NewRelease #audiobookreview
Click To Tweet
Reading this book contributed to these challenges:
Related Posts