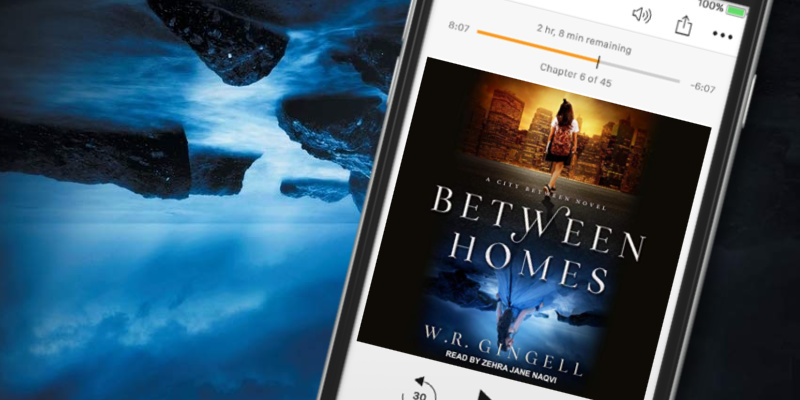 We are back again with Pet in the fifth audiobook in the City Between with Between Homes. Pet is out of the house and staying with lycanthrope Daniel, and her new friend Morgana. The house is strange, as you'll soon see. Filled with great character interactions, it was fantastic to be back in this world.
Between Homes
by W.R. Gingell
Series: The City Between #5
Narrator: Zehra Jane Naqvi
Length: 7 hours and 52 minutes
Genres: Urban Fantasy
Source: Publisher
Purchase*: Amazon | Audible *affiliate
Rating:

Narration: 4.5 cups Speed: 1.3x

G'day. I'm Pet. Not, not Pet--I am a pet.

Well, I was a pet: I used to belong to two fae and a stroppy vampire. Now I'm homeless. I mean, I was always technically homeless, but this time it's different.

I just got used to having some kind of family, and now we're back to everyone wanting to kill each other--and guess who the weak link is?

I'll give you a hint: it's not the vampire, and it's sure as heck not the fae.
Despite not being at home, the behindkind have no difficulty finding Pet and seeking her help. A new client by the name of North (aka North Wind). North wants Pets help to dissolve a contract between a human girl and a behindkind. It turns out Zero and Altheas are also working the case. Of course both approach the case a different way. The tale that unfolds was well written with delightful interactions ad unexpected aid from someone in the house.
The story has a little romance but its subtle. Pet's interactions with Jin Yeong have me hoping for more, but what's up between Pet and Zero. I laughed at how Altheas and Zero clearly want Pet to return home, but neither has the nerve to ask her!
The characters drive the story and each has their own unique personality, even secondary characters like our client and the human detective, Tuatu. He is one of my favorites. Daniel's home was a curiosity and added to the tale. Gingell has a wonderful imagination and I love the worlds and cases.
This series is best listened to in the order of its release. You can find the ebooks in Kindle Unlimited and upgrade to audio. Zehra Jane Naqvi narrates the series and has brought these characters to life. She captures the tone and mannerism of Pet to perfection.
I love this series from the world to the characters and look forward to more adventures with Pet.
*The series is available in Kindle Unlimited and you can upgrade to audio at a reduced cost.

Stay Caffeinated!
Never miss a post by adding Caffeinated to your Inbox
Reading this book contributed to these challenges:
Related Posts