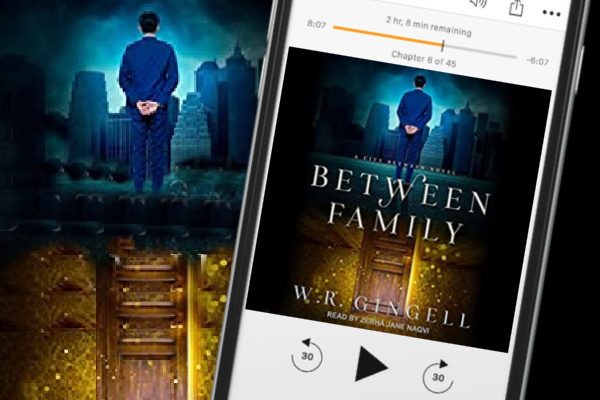 Narrated by Zehra Jane Naqvi, Between Family by W.R. Gingell is the ninth audiobook in the City Between urban fantasy series. The Heirling Trials have begun and things are about to get deadly…
Between Family
by W.R. Gingell
Series: The City Between #9
Narrator: Zehra Jane Naqvi
Length: 8 hours and 49 minutes
Genres: Urban Fantasy
Source: Publisher
Purchase*: Amazon | Audible *affiliate
Rating:

Narration: 5 cups Speed: 1.35x

When someone tries to threaten me by telling me they know my name, I take that personally.

G'day. I'm not really a pet anymore, but you might as well keep calling me Pet. It's not like I'm gunna tell you my name anyway. And if I sound stroppy, well, I am. First, I was threatened. Now, someone has cut off my house from the human world and left my emotional support vampire on the human side. On the inside, it's just me and an emotionally compromised fae; outside, a closed arena in the world Behind, where everyone is out to kill us and a few of that everyone might actually be capable of it.

Yep. The Heirling Trials have begun, and it seems like it's either be king or be dead when it comes to the world Behind…
When someone tries to threaten me by telling me they know my name, I take that personally... Pet
We are drawing closer to the conclusion of this series and as you might image things have become very addictive. Things go all topsy-turvy when the house is trapped in the Behind and cut off from the human world. To make matters worse, Jin Yeong is stuck in the human world and Zero has feelings he doesn't know what to do with.
The Heirling Trials have become, and it's kill or be killed. Oh, this was so good with non-stop actions. Pet is quite clever. The girl has spunk and with only one book left; we learn some things and face the King… well, sort of. Pet amazed me with her skills and when she exposed someone, I was thrilled.
I am still firmly team "emotional support vampire* but Zero got some things sorted. Despite all the action, this was a reprieve from the last novel and the final. I adore the world and characters and will sorely miss them.
Zehra Jane Naqvi continues to narrate and truly has become the voices of these characters. Even If I decide to re-read the series, it is her voices I will hear. She has brought Pet to life from her sarcasm to her emotions. Her voice for Jin Yeong, Zero and the others have enhanced the overall story and brought these characters to life.
I cheered as Pet continues to blossom, navigates love and comes into her powers. To think she once hid in her bedroom. The entire series is brilliant. If you are looking for a fresh, well developed and entertaining series with a cast of characters you'll fall in love with. You'll find mystery, suspense, magic and unique creatures.
Between Family by W.R. Gingell has Pet and the others trapped in the Between as the Heirling Trials begin. #urbanfantasy #TheCityBetween #Audiobook #ZehraJaneNaqvi #audiobookreview
Click To Tweet

Stay Caffeinated!
Never miss a post by adding Caffeinated to your Inbox
Reading this book contributed to these challenges:
Related Posts