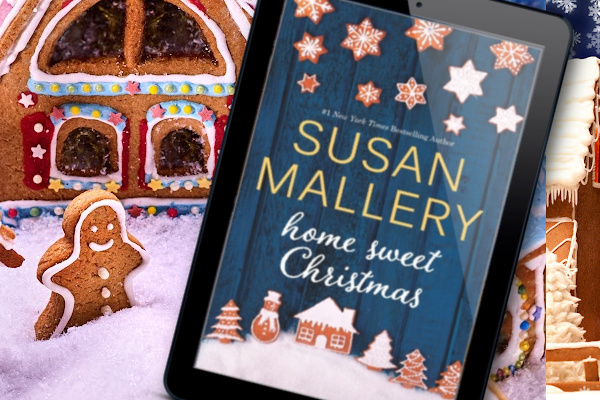 Susan Mallery takes us back to Wishing Tree in this standalone contemporary holiday romance. Filled with meddling mothers, dogs, Christmas cookie bake-offs and unexpected romance you won't want to miss. Home Sweet Christmas is the perfect read for a cold winter's night.
Home Sweet Christmas
by Susan Mallery
Series: Wishing Tree #2
Genres: Contemporary Romance
Source: Publisher
Purchase*: Amazon | Audible *affiliate
Rating:

Heat Level:
With twinkling humor and heartfelt Christmas spirit, two friends find love in a town called Wishing Tree…

Until Camryn Neff can return to her "real" life in Chicago, she's in Wishing Tree to care for her twin sisters. She's not looking for forever love, not here. But handsome hotelier Jake Crane is a temptation she can't resist, so she suggests they pair up for the season. No golden rings, no broken hearts. At his side, she sees her hometown through Christmas-colored eyes. The cheer is cheerier, the joy more joyful. She thought she had put her future on hold…but maybe her real life was here all along, waiting for her to come home.

New in town, River Best is charmed by Wishing Tree's homespun traditions and warmhearted people. When she's crowned Snow Queen, she's honored but wary. Dylan Tucker, her king, seems like the stuff of sugarplum dreams, but she can't shake the feeling that he's hiding something big. As they perform their "royal" duties—tasting cookies, lighting trees—Dylan's good humor and melty kisses draw her to the brink of love. But she can't let herself fall until she uncovers his secret, even if her lack of faith means losing him forever.
Yesterday, I shared the first novel, The Christmas Wedding Guest, and I was excited to return to this quaint town and its holiday festivals. Our tale begins right before Thanksgiving and takes us through the holiday season.
Camryn Neff has been back in Wishing Tree for two years now. She cares for her teenage sisters after their mother died and runs the family business. Last year the holidays were hard, and she is hoping to make wonderful memories for Lily & Victoria this year.
Meanwhile, Jake Crane is the head of his family's hotel. After past mistakes, he's not looking for romance. However, his mother, who recently lost her spouse, is lonely and wants grandchildren. She is determined to find Jake a bride. I love meddling grandmothers and laughed from the start.
The story that unfolds is filled with wonderful moments, holiday treats and character growth as Jake and Camryn navigate romance, the teens, a dog and his mother. Oh, his mother! The woman is relentless and adorably ornery.
We get a second romance featuring River & Dylan. River is a newcomer and has her own business overtop of Camryn's shop. She is hoping to make friends in Wishing Tree if she doesn't freeze to death first. Dylan is Jake's best friend, and in fact, lived with his family as a teen. Jake's mom has plans for Dylan, too. He will be this year's Snow King.
We see characters from the first novel and get updates, but you can read Home Sweet Christmas on its own. You'll love the town with its holiday street names and town wreath. The romances were sweet and filled with character growth, tender moments, and more.
No one does holiday romance and small-town charm quite like Susan Mallery. I loved every moment spent in Wishing Tree as I cheered for these characters. From the cute little dog to the problems they had to resolve, I found myself all in.
Home Sweet Christmas by Susan Mallery takes us back to Wishing Tree with romances, holiday activities and a meddling mother. #NewRelease #RomanceNovels #HolidayReads #bookreview
Click To Tweet

Stay Caffeinated!
Never miss a post by adding Caffeinated to your Inbox
Related Posts