I grabbed The Christmas Wedding Guest by Susan Mallery from my library and was enchanted. This is the first novel in the Wishing Tree series. It's a delightful tale about second chances, scared dogs, friends, family, and new beginnings. You'll want to grab some hot cocoa and curl up by the fire as you travel to Wishing Tree this holiday season….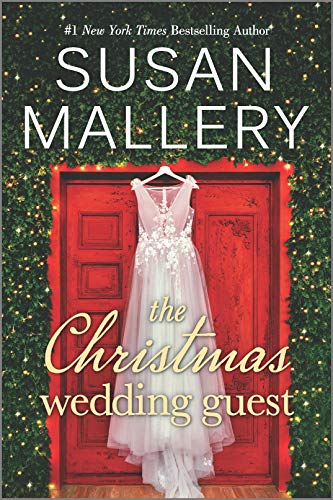 The Christmas Wedding Guest
by Susan Mallery
Series: Wishing Tree #1
Genres: Romance, Women's Fiction
Source: Library
Purchase*: Amazon | Audible *affiliate
Rating:

Heat Level:
Susan Mallery, author of the Fool's Gold romances, cheerfully invites you to Wishing Tree, where Christmas comes to life…

The Somerville sisters believe in love, but they've lost faith it will happen for them. Reggie hasn't been home since the end of the world's shortest engagement. When her parents decide to renew their vows, she buffs up her twinkle to help with the Christmas wedding. Unexpectedly, Toby, her first love, is back too, and the spark between them shines as brightly as ever. In the spirit of the season, will they let go of past hurts and greet the New Year together?

Done waiting for the one, Dena is pregnant and on her own—on purpose. But then a gorgeous, sad-eyed songwriter checks in to a room at her inn. Micah, unable to write since he lost his wife, finds inspiration in Dena's determination to be a mom. One snowflake-speckled kiss and he's a goner. But Dena is afraid to believe that a rock star could fall for a cookie-cutter small-town girl like her.

As the Christmas wedding draws closer, these two sisters just might unwrap the most treasured gift of all—love.
What a delightful tale. The town of Wishing Tree is a quiet town a few hours from Seattle. The town does Christmas in a big way, from streets named after reindeer to events at the town circle dubbed "the Wreath".
The Christmas Wedding Guest gives us two romances surrounding sisters Dena and Regina (Reggie) Somerville. Dena is a schoolteacher and owner of the local B&B. She recently decided to have a child through artificial insemination and is in the morning sickness phase. Regina lives in Seattle with her adorable Great Dane Bella. When their parents plan to renew their vows, Regina comes home and plans to stay through the holidays. She'll help her mom with the wedding plans and assist Dena with all the holiday events and crafts she does with her students.
I loved the small-town and immediately connected with both Reggie and Dena. Mallery will soon have you dreaming of snow men, festivals and wine hour at the B&B. The town of Wishing Tree is wonderful with old Victorian homes, tree-lined streets and quant shops on the main. It's the town where everyone knows you kissed your old flame on the front porch before you've even closed the door.
Dena has given up on finding Mr. Right, even if she still dreams of it. Her romance involves a widower who's a guest at her inn. Swoons, miscommunications, and ballads await you in this tug at your heartstrings romance. I loved every moment.
Reggie hasn't been back in town since her previous boyfriend proposed and dumped her all on the same weekend. But her job allows her to work from home and her family needs her. So here she is. What she didn't expect was to learn that her high school sweetheart has moved home and has a son. I loved learning about their history and their breakup. It's obvious the two still share a connection, but Toby has vowed to protect his son and has no intentions of ever marrying. Fate might just have other plans, or at least Reggie's mom and the town do. Prepare for meddling.
Harrison, Toby's son and Belle stole the show more than once. Secondary characters have me curious to learn their stories.
The Christmas Wedding Guest is the perfect feel-good, holiday packed novel to get you in the spirit. I cannot wait to return to the Wishing Tree with the next novel, Home Sweet Christmas. Look for my review on the blog tomorrow.
The Christmas Wedding Guest by Susan Mallery is the perfect feel-good, holiday packed novel to get you in the spirit. Grab some hot cocoa and curl up with it tonight. #WishingTree #HolidayRomance
Click To Tweet

Stay Caffeinated!
Never miss a post by adding Caffeinated to your Inbox
Related Posts