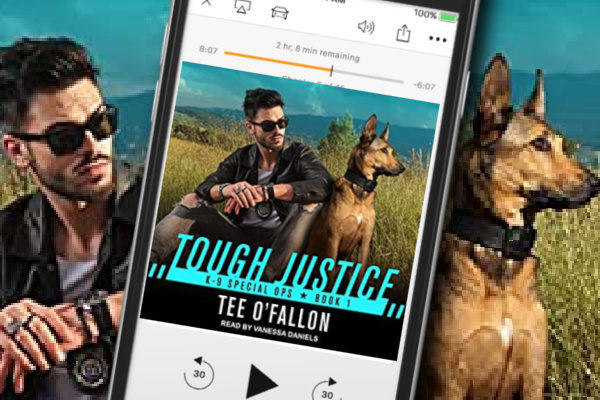 A hater to lovers romance with plenty of swoons, suspense and more await you in Tough Justice by Tee O'Fallon, the first in a new series narrated by Vanessa Daniels. Grab your earbuds and an iced coffee to cool you down….
Tough Justice
by Tee O'Fallon
Series: K-9 Special Ops #1
Narrator: Vanessa Daniels
Length: 10 hours and 20 minutes
Genres: Romantic Suspense
Source: Publisher
Purchase*: Amazon | Audible *affiliate
Rating:

Heat Level:


Narration: 4 cups Speed: 1.35x

It should have been a routine investigation. Instead, DEA K-9 agent Adam "Deck" Decker watches in horror as one Denver hospital seems to be ground zero for overdoses of a new drug. Now Deck can only hope a certain icy, green-eyed ER doctor will help him and his canine partner track down the deadly source.

Dr. Tori Sampson has her reasons for not trusting federal agents, especially ones working for the DEA. But the rash of overdoses—including a heartbreaking case involving a teen—is alarmingly high. And the new opioid is not only extremely dangerous, it defies all the usual medical treatments. So Tori has a choice: work with the big, brawny, and annoyingly hot DEA agent . . . or watch more innocent people die.

Tori's the only person who can help Deck break the case, and they'll need to trust each other, no matter how high the tension and attraction sizzling between them run. But with every question answered, they realize there's something more behind these typical teen overdoses. There's a pattern here, and a pattern can only suggest one thing. There's a killer on the loose.
I am a sucker for romantic suspense and all things K9. In Tough Justice, our hero Adam "Deck" Decker and his dog, Thor. Deck is DEA, and when one of his own almost dies from exposure to a street drug known as Gray Death, it is Dr. Tori Sampson, who saves him. While she isn't a fan of the DEA for personal reasons, she is concerned about the number of patients dying from this new drug. The two end up working together. Only the danger is closer than they think.
O'Fallon delivered a suspense storyline that provided foreshadowing and red herrings as she slowly built up the suspense. This war on drugs story with its deadly body counts felt like it was ripped from current headlines. The villain and their story were twisted and felt authentic.
This combined with the haters to lovers slow-building romance (until it burst into flames) made for an addictive listen. I loved the banter, the building of trust, and the undeniable chemistry.
Vanessa Daniels narrates and provided both the voice of Tori and Deck. She enhanced the tale from their chemistry to the growing danger. Her tone, vocal range and pacing were top-notch.
Fans of romantic suspense will want to grab their earbuds and enjoy this first in a new series.
Tough Justice by Tee O'Fallon delivered a suspenseful tale with a side of romance perfect for fans of the haters to lovers trope. #K9SpecialOps #RomanticSuspense #VanessaDaniels #audiobookreview
Click To Tweet

Stay Caffeinated!
Never miss a post by adding Caffeinated to your Inbox
Reading this book contributed to these challenges:
Related Posts