Honor 'N' Duty by Tee O'Fallon is the sixth novel in the Federal K-9 series. Narrated by Vanessa Daniels, this standalone romantic suspense shares the story of Department of Homeland Security K-9 Officer Kade Sampson and Laia Velez, a widowed mother of a five-year-old who loves pineapple pizza. Swoons, suspense and more await you….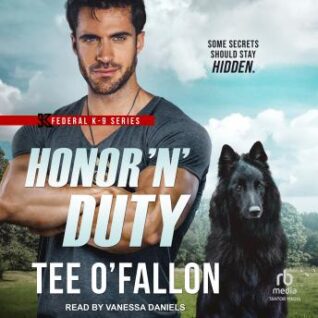 Honor 'N' Duty
by Tee O'Fallon
Series: Federal K-9 #6
Narrator: Vanessa Daniels
Length: 10 hours and 24 minutes
Genres: Romantic Suspense
Source: Publisher
Purchase*: Amazon | Audible *affiliate
Rating:

Heat Level:


Narration: 4.5 cups Speed: 1.35x

Two years after his brother's murder in jail, Department of Homeland Security K-9 Officer Kade Sampson is still haunted by guilt. No man should ever have to arrest his own brother, even if he is laundering money for a drug cartel.

Fortunately, Laia Velez—his brother's gorgeous widow—never learned the truth about Kade's involvement. But when she asks him for help, he knows that trouble with the cartel is far from over ... .

Kade is the last person Laia wants to call. But between her house being thoroughly trashed and the uneasy sense that she and her young daughter are being watched, Laia isn't taking any chances. The cartel wants something from her. And Kade and his K-9 partner, Smoke, are her only chance to survive whatever fresh hell is coming their way . . .

Now Laia and Kade are trying to stay one step ahead in a game that's growing more deadly by the minute. But what the cartel wants, the cartel gets. And Kade is running out of time to save the woman he loves from the same fate that killed his brother . .
The overall series arc shares cases and the romance of friends who are in the K-9 officers' unit of various branches in the US. Each can easily be read/listened to as a standalone, but they're so good, you'll want to read them all.
Laia and Kade meet on the day his brother announced Laia is his fiancee'. Despite a sizzling attraction, Kade wishes them well and stays away. He befriends their daughter at his parents' house. Fast forward, and Laia is a widow living alone with her daughter when someone breaks into their home. She reaches out to Kade. The story that unfolds has suspense, plenty of swoons and a slow burning romance as they stumble with miscommunication, duty and her deceased husband.
Rosa (Laia's daughter) and Smoke (Kade' K-9) stole the show a few times, and I adored it. The story, while suspenseful, had some fun moments.
The romantic premise deals with love at first sight and duty. As we get to know more about Laia's marriage and the events that led up to her becoming a widow, my heart broke. We learn about Kade's role and it was well done. The suspense centers on the cartel and something they believe Laia has.
A solid romance with plenty of build up, character growth and tender moments. I laughed, held my breath, and swooned.
Vanessa Daniels did a wonderful job of providing both characters' point of view and capturing the tone of the tale. Her pacing and delivery enhanced the story and made listening a pleasure.

Stay Caffeinated!
Never miss a post by adding Caffeinated to your Inbox
Reading this book contributed to these challenges:
Related Posts