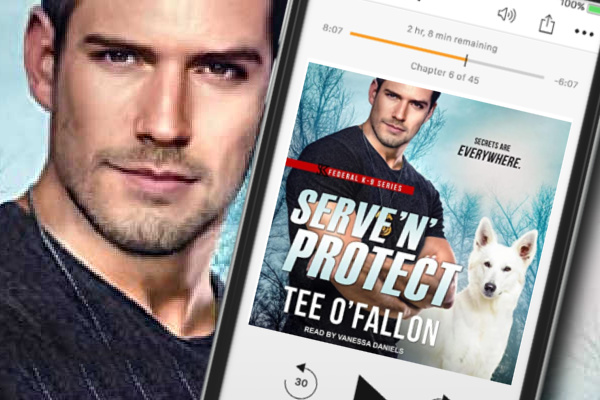 I love the romantic suspense genre, especially when there is a K-9 unit. Serve 'N' Protect By Tee O'Fallon, is the fifth in the Federal K-9 series and delivered from a slow-burning romance to suspense. Narrated by Vanessa Daniels, a wounded secret service officer finds love.
Serve 'N' Protect
by Tee O'Fallon
Series: Federal K-9 #5
Narrator: Vanessa Daniels
Length: 10 hours and 3 minutes
Genres: Romantic Suspense
Source: Publisher
Purchase*: Amazon | Audible *affiliate
Rating:

Heat Level:

Narration: 4 cups Speed: 1.3x

Ambushed and left for dead, U.S. Secret Service K-9 Officer Markus York is on the mend and laying low in a safe house while his team tracks down his attacker. But Markus isn't good at sitting still. Even with his K-9, Ghost, for company, he gets restless and decides now is the perfect time to do some repairs around the house…and inadvertently tears open his wounds.

Fresh out of a bad relationship that ended after a car accident left her with limited mobility, freelance accountant Cassidy Morgan has sworn off men. At least, that's the plan. Until a frantically barking dog leads her to a neighbor's house where she finds a mysterious man out cold and bleeding on the floor...and mumbling things like "no, they'll find me" when she tries to call an ambulance.

Yeah, that's not at all concerning.

Despite Markus's surly attitude, Cassidy senses there's something else at work beneath his rugged, keep-your-distance exterior. Whatever it is, it's sexy as hell.

With someone still trying to kill him, Markus doesn't want an innocent to get hurt, let alone take care of him.

If only his dog wasn't crazy in love with her.

If only the chemistry between Markus and Cassidy didn't explode whenever they were in the same room.

If only Cassidy wasn't a target now, too.
I have been loving the Federal K-9 series and while I enjoyed reading the first three books; I switched over to the audiobooks narrated by Vanessa Daniels and I've been loving them.
Serve 'N' Protect, centers on Markus, Ghost, his K-9, and Cassidy, their next-door neighbor. Markus, a secret service agent was recently wounded and another agent was killed. His captain has hidden him off the grid while he recovering. He's staying at a friend's unoccupied house while his friends investigate.
Cassidy was in a car accident that changed her life. She has been working from home and walking with a cane, something her doctors never thought she'd do. She notices activity next door, but it isn't until a dog frantically barks at her door that she investigates.
O'Fallon delivered a slow-burning romance surrounded by suspense, as our characters healed, grew and discovered something more. It was a mix of sweet, sexy, growing pains, and plenty of swoons.
The author wove several threads of suspense from the mystery of who hurt Markus and whether they still want him dead, to finding Cassidy in unexpected danger.
Ghost was fantastic. O'Fallon makes the dogs an integral part of the story, from their personalities to the way they are useful during action packed scenes.
I love Markus's teammates and how they helped him through not only the case, but working out his relationship. Both he and Cassidy have some baggage. Markus will mess up before it's all over and I felt sorry for him even as I wanted to shake him. Thankfully, the drama wasn't dragged out, and we saw true character growth. I loved Cassidy's family and how they were involved.
Vanessa Daniels' narration made listening a pleasure. She captured the characters' tone and personality, making the banter delightful as she enhancing the suspenseful aspects.
Each of the books/audios in the Federal K-9 series work as a standalone, but you'll appreciate getting to know the team and can avoid relationship spoilers by reading them in the order of their release. I of course, recommend listening to them!
Serve 'N' Protect By Tee O'Fallon was another worthy addition to the Federal K-9 series. Swoons, danger and a dog named Ghost will keep you listening. #audiobook #VanessaDaniels #NewRelease #FederalK9
Click To Tweet

Stay Caffeinated!
Never miss a post by adding Caffeinated to your Inbox
Reading this book contributed to these challenges:
Related Posts