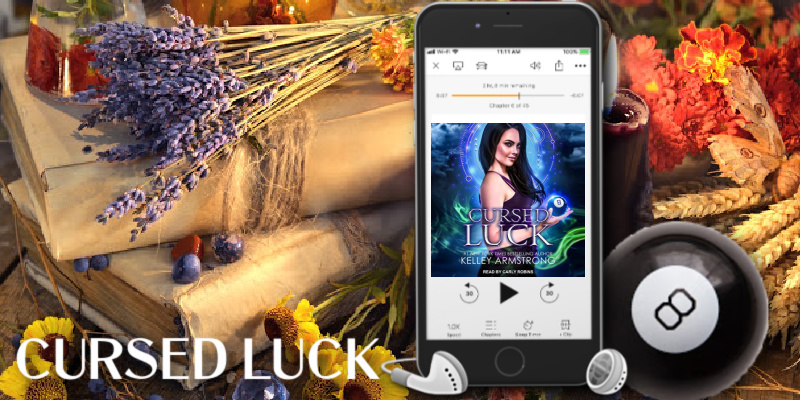 The first in the Cursed Luck series, Cursed Luck by Kelley Armstrong, delivered plenty of suspense as the author introduced the world, characters and magical elements. See why you need to add this one to your listening list.
Cursed Luck
by Kelley Armstrong
Series: Cursed Luck #1
Narrator: Carly Robins
Length: 12 hours and 20 minutes
Genres: Urban Fantasy
Source: Publisher
Purchase*: Amazon | Audible *affiliate
Rating:

Narration: 5 cups Speed: 1.4x

Kennedy Bennett comes from a long line of curse weavers. For centuries, her family has plied their trade in Unstable, Massachusetts, a quirky small town that's welcomed paranormal practitioners since the dawn of spiritualism. Kennedy has recently struck out on her own, opening an antiques shop in Boston, where her speciality is uncursing and reselling hexed objects.

Then Aiden Connolly walks into her life with an offer she really should refuse. The scion of a wealthy family of luck workers, Aiden has a scheme to get his hands on the most famous cursed object of all: the mythical Necklace of Harmonia. He's not the only one after the necklace, though. And he's not the only one looking for a curse weaver to fix it. Kennedy's sisters are kidnapped, she finds herself plunged into the underbelly of the magical world where even Aidan soon finds himself in over his head.
Cursed Luck by Kelley Armstrong narrated by Carly Robins is the first audiobook in the Cursed Luck series. The series surrounds the Bennett sisters; curse weavers from Unstable, Massachusett. Kennedy Bennett left and set up an antique shop in Boston, where she removes curses from hexed objects. Hired to remove a curse, Kennedy soon faces danger as she races to save her sisters. Along the way she will discover some things about herself.
This urban fantasy with its small-town cozy vibe and different practitioners quickly pulled me in. When Aidan Connolly, a wealthy luck worker, walks into her shop, Kennedy immediately wants to send him packing. But this handsome, arrogant man pulls her in and upends her life.
I loved the different magic practitioners and must admit antiquity shops and cursed objects are personal favorites. In Cursed Luck, the mythical Necklace of Harmonia reemerges and Aiden isn't the only one looking for it. He wants Kennedy to remove the curse, but so do others. This creates a power play with kidnapping, manipulation, and plenty of danger.
When Kennedy's sisters are kidnapped, she must decide if she will work with Aiden or handle things on her own. Aiden at first appeared very sure of himself and arrogant. In fact, he perfectly matched the persona of privilege. However, we quickly see through that facade, as does Kennedy. Which pushed the physical attraction initially felt back into play, giving us a sweet, awkward and genuine romantic element.
Kennedy is stubborn, talented, independent and adores her siblings even if they drive her crazy. She agrees to work with Aiden to help him with his goal and to save her sisters. Armstrong created plenty of players, some villains, and other simple seekers of the necklace.
The case of the necklace and kidnappings wrap up in this first in the series, but the romance looks like it will play out over the series. Kennedy makes some life-altering decisions and I am curious to see where the series takes us.
Carly Robins delivered a stellar performance as the narrator. She brought Kennedy and Aiden to life. Her voices for secondary characters, particularly the villains, enhanced the story. I started listening at normal speed before finally settling in at 1.4x.

Stay Caffeinated!
Never miss a post by adding Caffeinated to your Inbox
Reading this book contributed to these challenges:
Related Posts