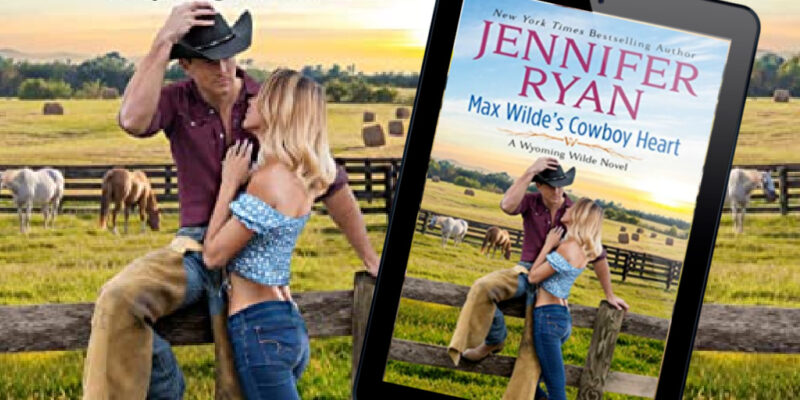 Jennifer Ryan takes us back to the Wyoming Wilde series with the third standalone romance, Max Wilde's Cowboy Heart. When his ex-girlfriend is in danger, Max gets a second chance to get his girl. If he doesn't muck it up. Suspense, swoons and family interference await you.
Max Wilde's Cowboy Heart
by Jennifer Ryan
Series: Wyoming Wilde #3
Genres: Contemporary Romance
Source: Publisher
Purchase*: Amazon | Audible *affiliate
Rating:

Heat Level:

New York Times bestselling author Jennifer Ryan returns to the Wyoming Wilde series as the third Wilde brother finds himself entangled with his ex-girlfriend after she's witness to a murder and the killer's next target. Perfect for fans of authors like Maisey Yates, Joanne Kennedy and Carolyn Brown as well as Diana Palmer, Linda Lael Miller, and BJ Daniels.

They're tough, tenacious, and sometimes tormented; they're the Wildes of Wyoming, three brothers whose family ties are as strong as their wills.

And when Max Wilde reunites with his lost love, he'll do anything to keep her safe and in his arms...

Max Wilde lived up to his last name and then some. Years ago, he fell hard and fast for Kenna Baker, thinking they had a love that would last for all time. When a horrible misunderstanding drove them apart, Max thought his chance to find the kind of love his brothers have is gone forever. He changed his bad boy ways, but he never got over the one who got away.

Now, their lives have collided once again, as Kenna is the only witness to a murder and needs a place to hide while in protective custody. Max is determined to keep her safe on the ranch, and also maintain an emotional distance, but as they spend more time together, the lies and half-truths that once drove them apart are also uncovered, bringing them closer than ever.

Kenna has always laid claim to Max's heart--and soul--but will he be able to save her...and their love...before it's too late?
Each of the books in the Wyoming Wilde series features a Wilde brother and their romance. While they work as a standalone, this book does contain mild spoilers regarding the other siblings.
Years ago, a terrible misunderstanding and tons of miscommunication drove Max and Kenna Baker apart. When his brother, a local law officer, informs Max that Kenna is in the hospital, he drives there to be by her side. When he learns she is in danger, he takes her home to his ranch. The story that unfolds had suspense and offered a delicious second chance romance.
Kenna, a schoolteacher, is sweet, and I felt sorry for her. She messed up and knows it and now she is in this awkward position. From the start we know she still has feelings for Max. Max wants to protect her, but feels rejected and angry about their breakup. These two had a lot of fences to mend and I found myself all in. Despite wanting to smack them both on the back of the head, Gibbs (NCIS TV SERIES) style when all was revealed.
The suspense angle was interesting from Kenna's brother being involved to the players. In this case, that story was served as a side and the catalyst for reuniting our couple in this forced proximity romance. Family meddling and farm life added to the tale and gave it the perfect small-town charm I love.
Fans of second chance romances, grumpy/sunshine romances and small-town romances will want to scoop Max Widle's Cowboy Heart up.

Stay Caffeinated!
Never miss a post by adding Caffeinated to your Inbox
Reading this book contributed to these challenges:
Related Posts