Chase Wilde Comes Home by Jennifer Ryan is the first book in the Wyoming Wilde series featuring the stories of brothers. A romantic suspense with strong characters and plenty of swoons. Second chances and tough topics made this heartfelt.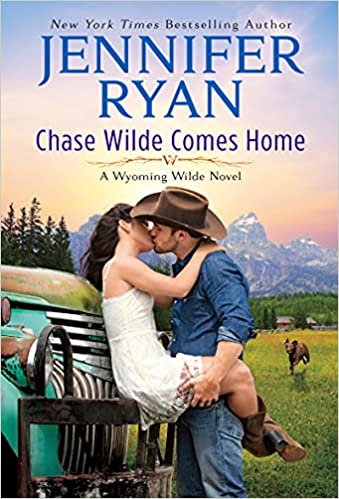 Chase Wilde Comes Home
by Jennifer Ryan
Series: Wyoming Wilde #1
Genres: Contemporary Romance
Source: Publisher
Purchase*: Amazon | Audible *affiliate
Rating:

Heat Level:

They're tough, tender, and sometimes tormented; they're the Wildes of Wyoming, three brothers whose family ties are as strong as their wills.

Chase Wilde never expected to fall in love, especially with Shelby Payne. Years before, one passionate night had drawn these two lost souls together. Then Chase left on deployment with the Army, while Shelby raised their baby alone. Now he's back, a wounded warrior determined to turn his life around. Shelby knows what it's like to lose everything, including her own family. So she offers him a bargain: if he can prove himself to be the man he says he is, she will let him into their daughter's life...and maybe even into hers.

Chase knows it will take a lot to prove to Shelby that there's more between them than the single night they spent together. She's everything he's ever wanted, including the voice of reason he needs to reconcile his past and be the man he wants to be for them both. But just as their lives come together, she's torn away from him by a dangerous person from her past, and saving her means saving himself . . . because he can't live without her.
This story opens with a warning from the author. The main characters are broken and striving to be the best they can be. They have baggage and some topics, while well done may cause triggers. If you are concerned, please click View Spoiler » Rape, PTSD, Substance Abuse, Abuse « Hide Spoiler
I was emotionally invested in this story from page one. I know someone who became addicted, went through recovery and struggles every day to remain clean, forgive themselves and be the best person they can.
Chase joined the service to help his family, and it cost him dearly. When we meet Chase, he is packing to leave rehab. I fell for Chase almost from the start. He is a man who served his country, worked hard to protect his family and sacrificed. He is surprised when Shelby picks him up.
Shelby and Chase spent one beautiful night together before he left to serve, and it is one he has thought of often. That one night gave birth to a precious gift, a daughter. While Chase was away, he did everything he could to support them. Now that he is clean, he hopes to be a part of their lives.
I adored Shelby with her kind heart, fierce momma bear attitude and her ability to see the good in people, despite growing up tarnished by her parents. What she endures pulled at my heartstrings and felt relevant.
The romance was sweet and one you'll root for. I worried Chase needed to stand on his own before committing to a relationship, but Ryan handled it well with therapy and terrific support. Chase was determined and I couldn't help but cheer them all on.
There is a suspenseful thread that builds throughout the story. We get chapters from the threat that allows us into their deranged mind. It was well done and kept me engaged as I pondered all the potential outcomes.
Chase Wilde Comes Home was the perfect start to the Wyoming Wilde series and I am already looking forward to the next brother's book.
Chase Wilde Comes Home by Jennifer Ryan delivered a heartfelt, swoon-worthy, suspenseful start to The Wyoming Wilde series. #Romance #Suspense #Western #NewRelease
Click To Tweet

Stay Caffeinated!
Never miss a post by adding Caffeinated to your Inbox
Related Posts