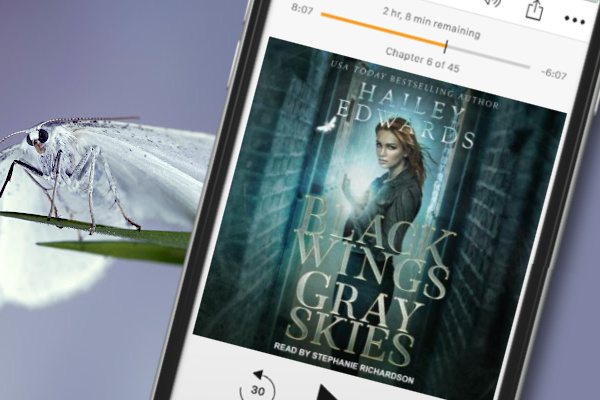 Narrated by Stephanie Richardson, Black Wings, Gray Skies by Hailey Edwards is the fourth audiobook in the Black Hat Bureau urban fantasy series. The team is searching for the supernaturals hunting and killing young children. Suspense, reveals, snark and romance await you….
Black Wings, Gray Skies
by Hailey Edwards
Series: Black Hat Bureau #4
Narrator: Stephanie Richardson
Genres: Urban Fantasy
Source: Publisher
Purchase*: Amazon | Audible *affiliate
Rating:

Heat Level:
Monsters with a taste for children are nothing new, but fairy tales never mentioned this nightmarish predator. Rue has her hands full tracking the creature hunting the streets of Charleston, but a call from home divides her attention—and her loyalties.

A stranger has come to Hollis Apothecary, asking questions that prickle the hairs on her nape, but she can't abandon the victims based only on a bad feeling. The pit in her stomach only grows when the stranger takes a hostage and makes his demands. He wants to talk to Rue, face to face. Or else. What he has to say will change her life, and her perception of her past, forever.
Rue, Clay, Asa and Colby are investigating the killings of young children. The murders are brutal and definitely paranormal. Edwards introduces a new boogie man from Gullah folklore. It was creepy and dark. I will leave you to discover what it is, does, and how it attacks its victims.
In case you are new to the series and curious…. Rue is trying very hard to be a white witch after years in the Black Hat Bureau run by her grandfather. Clay is a golem and was/is her partner and mentor. Asa is a fae demon and Colby is her familiar and the reason she left the bureau.
While we get suspense, danger and some overall series reveals, we also saw development between Asa and Rue. It was hilarious, distracting and ok, endearing. Clay and Colby added to the story with aid, teasing and discovery.
What makes this series are Rue and the motley crew of friends and family she has assembled. While not my favorite, I quickly devoured Black Wings, Gray Skies and look forward to the next audiobook.
Stephanie Richardson continues to narrate and has become the voice of this team. Her voices from Asa's demon side to Clay's personality have made listening a must. Each character and creature we encounter is giving a unique voice to match their personality. I totally recommend listening to this series.
*kindleunlimited
Black Wings, Gray Skies by Hailey Edwards delivers a Gullah folklore boogieman, suspense, snark and romance. #Audiobookreview #StephanieRichardson #BlackHatBureau #UrbanFantasy
Click To Tweet

Stay Caffeinated!
Never miss a post by adding Caffeinated to your Inbox
Reading this book contributed to these challenges:
Related Posts