I listened to Remarkably Bright Creatures by Shelby Van Pelt for two reasons. The first, it mentioned it was perfect for fans of A Man Called Ove, and the second reason was my curiosity about the octopus. This brilliant, moving debut hooked me as it connected lives and introduced me to an unforgettable character named Marcellus.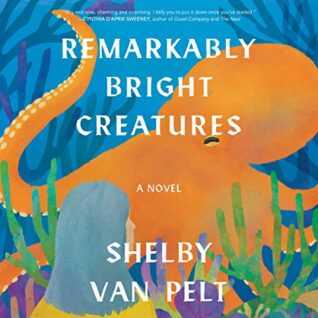 Remarkably Bright Creatures
by Shelby Van Pelt
Narrator: Marin Ireland, Michael Urie
Length: 11 hours and 16 minutes
Genres: Literary Fiction
Source: Publisher
Purchase*: Amazon | Audible *affiliate
Rating:

Narration: 4.5 cups Speed: 1.3x

For fans of A Man Called Ove, a charming, witty and compulsively readable exploration of friendship, reckoning, and hope, tracing a widow's unlikely connection with a giant Pacific octopus.

After Tova Sullivan's husband died, she began working the night shift at the Sowell Bay Aquarium, mopping floors and tidying up. Keeping busy has always helped her cope, which she's been doing since her eighteen-year-old son, Erik, mysteriously vanished on a boat in Puget Sound over thirty years ago.

Tova becomes acquainted with curmudgeonly Marcellus, a giant Pacific octopus living at the aquarium. Marcellus knows more than anyone can imagine but wouldn't dream of lifting one of his eight arms for his human captors--until he forms a remarkable friendship with Tova.

Ever the detective, Marcellus deduces what happened the night Tova's son disappeared. And now Marcellus must use every trick his old invertebrate body can muster to unearth the truth for her before it's too late.

Shelby Van Pelt's debut novel is a gentle reminder that sometimes taking a hard look at the past can help uncover a future that once felt impossible.
Narrated by Marin Ireland and Michael Urie, the author pulled me into the story as she introduced us to the three main characters.
Tova Sullivan recently lost her husband and works nights cleaning the Sowell Bay Aquarium. It helps mourn the loss of both her husband and her son Eric, who mysteriously disappeared on a boat in Puget Sound over thirty years ago.
Marcellus, a giant Pacific octopus living at the aquarium who is nearing the end of his life span.
Cameron, a young man searching for the father he never knew as he struggles to find his place in the world.
I absolutely loved this story from the narration to the voice the author gave these characters. Each has their own point of view, even our sixty-pound curmudgeon Marcellus. I think his voice was my favorite. I'd like to believe this story was entirely true.
The story touches on friendship, love, loss and the threads that bind us. Tova Sullivan felt as real as you are I, from her heartache to obsessive cleaning skills. As the listener, I shared in her pain, laughed at the antics of Marcellus and her friendship with young Cameron. Her worries about being a burden to her friends and the love she has for her cat and the animals at the aquarium endeared her to me. I was able to connect with her on different levels.
Cameron's story starts out with him seeking his dues, but we see the young man find his purpose and a place. Not before many trials, errors, and disappointments. His relationship with Tova grows through the aquarium as she mentors him. Tova sees the best in Cameron and helps him demand the same from himself.
Ah, Marcellus, I adored this grumpy, clever octopus and his story tugged at my heartstrings. The friendship that grows between him and Tova felt genuine, as did his voice throughout the story. Octopuses are quite clever and I've always found them quite fascinating. My grandchildren and I have studied about them and look for ours at our local zoo. Most of the facts presented in the story were familiar to me, but the author shared a few new tidbits and allowed me to see them in a whole new life.
It is hard to imagine that Remarkably Bright Creatures is Van Pelt's debut novel and I am excited to see what the author shares next. The novel and audiobook release May 3, 2022. I highly recommend picking up the audio version.
Marin Ireland and Michael Urie's narration gave voice to these characters and added additional depth and emotion to this moving tale. Ireland is a narrator I've enjoyed previously and Urie nailed the voice of Marcellus perfectly.
Fans of A Man Called Ove, will find themselves falling in love with Marcellus and Remarkably Bright Creatures. This is a story perfect for gifting to just about anyone on your list.
Early Review: Remarkably Bright Creatures by Shelby Van Pelt, narrated by Marin Ireland and Michael Urie delivered a brilliant, touching story you'll want to listen to again and again. #audiobook #earlyaudiobookreview
Click To Tweet

Stay Caffeinated!
Never miss a post by adding Caffeinated to your Inbox
Reading this book contributed to these challenges:
Related Posts