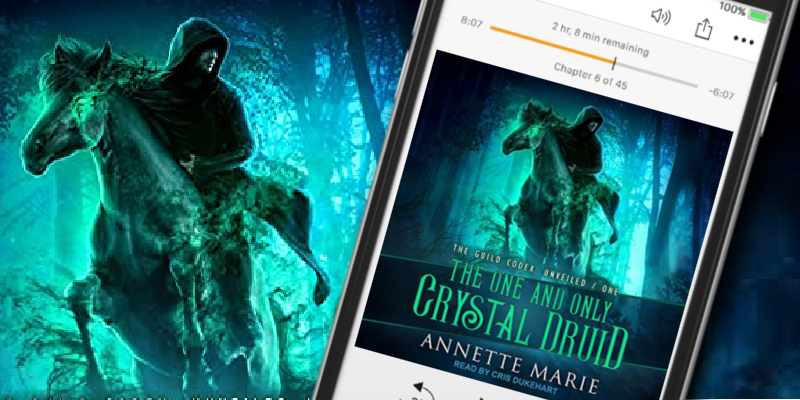 Narrated by Cris Dukehart, The One and Only Crystal Druid by Anette Marie is the first in the Guild Codex series, Unveiled. I love this world and was so excited that Zak was getting his own story. My only complaint is that I would have liked his point of view…but there is always the next audio!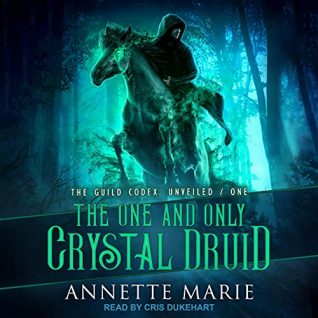 The One and Only Crystal Druid
by Annette Marie
Series: The Guild Codex: Unveiled #1
Narrator: Cris Dukehart
Length: 8 hours and 12 minutes
Genres: Urban Fantasy
Source: Publisher
Purchase*: Amazon | Audible *affiliate
Rating:

Narration: 5 cups Speed: 1.3x

I'm not your average girl.

My best friend is my switchblade. My favorite hobby is using it on the cruel, the abusive, and anyone who gets on my bad side. I'm a convicted murderer with a chip on my shoulder and a dangerous lack of restraint.

And then there's Zak.

His rap sheet makes mine look tame. The bounty on his head is worth more money than I'll ever make, and the deadly fae that shadow his every step wield more power than I'll ever know.

He's the Crystal Druid, and his first mistake was setting foot on my turf. His second was saving my life.

And his final mistake will be failing to realize that however dark, however ruthless, however broken he is . . .
Zak has made appearances throughout the Guild Codex universe and he has always been mysterious, a little snarky and hunted by law enforcement. However, he has always lent a hand and many in the world count him as a friend or ally. I was stoked to see him get his own series/romance.
The story begins when we meet Saber Rose. Unlike some of our other female protagonists, Saber is a little prickly. She has some anger issues and is a bit of a vigilante. Her coven is standoffish towards her, and we soon discover she is on probation for murder. You'd think I didn't like Saber, but the truth is that once Marie shed some light on her history, her behavior made sense. I ended up loving her. Rikr, Saber's fae familiar, was cool, and I think you will find its abilities interesting.
The meet between Zak and Saber was an interesting one. The two exchanged barbs, and their relationship was filled with snarky banter and mistrust from the get go. They also had some chemistry, and once they clicked, it all felt genuine. I loved how it was practically weapons drawn and almost kissing in the next breath. Their chemistry was sizzling, and I held my breath, waiting for them to go up in flames. I was not disappointed.
Listeners will get to see a vulnerable side of Zak that has been hinted at. He is our misunderstood bad-boy. It feels like a pivotal time for him and that maybe his interactions with guild members and others have him seeking change.
I actually read this before Hellbound Guilds & Other Misdirections (Warped #2) and was surprised to see Kit make an appearance. So if you are listening to both series, be sure to listen to Warped #2 first.
Something is murdering fae, and together Saber and Zak will attempt to put a stop to it. Reveals, twists and oh my gawds await you. I was blown away by some things we discovered. As always, I was amazed by the stories and how the author blends the stories within the world. The author does things seamlessly and continues to offer unique characters and situations.
The ending left me excited for the next audio, The Long-Forgotten Winter King, coming in 2021. I cannot wait for more of this dark ride!
Cris Dukehart narrates and as always does a splendid job giving voice to the characters while capturing the humor & chemistry. I would have loved if the story had been told from Zak's point of view and hope we see some in the future.
*Available through Kindle Unlimited.

Stay Caffeinated!
Never miss a post by adding Caffeinated to your Inbox
Reading this book contributed to these challenges:
Related Posts