Narrated by Cris Dukehart and Tim Campbell, The Twice-Scorned Lady of Shadow by Annette Marie continues the story of Saber and Zak. Listeners are rewarded with answers, suspense and romance…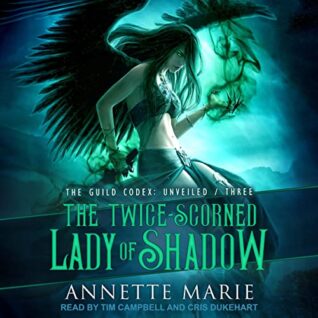 The Twice-Scorned Lady of Shadow
by Annette Marie
Series: The Guild Codex: Unveiled #3
Narrator: Cris Dukehart, Tim Campbell
Length: 7 hours and 37 minutes
Purchase*: Amazon | Audible *affiliate
Rating:

Narration: 5 cups Speed: 1.3x

I'm learning to embrace who and what I am, but there's one thing I can't face: the night Zak betrayed me. But even with the mysteries of our shared past hanging between us, I can't turn Zak away when he asks for my help.

Powerful fae are going missing, and when he tried to investigate, Lallakai vanished too. Now he wants me to venture with him into the territory of the Shadow Court, but its bloodthirsty courtiers don't welcome meddling druids.

Danger is gathering around us, seen and unseen. As we uncover incomprehensible clues about the missing fae, we realize this nightmare runs deeper than we imagined, and unveiling it means delving into the past-our past.

If I abandon Zak now, he'll never make it out alive. But if I stay at his side, if I face the truth of that night, it will destroy us both.
This story picks up after the previous installment and Saber is continuing the conditions of her probation and coming to terms with who she truly is. We see Saber work with the animals at the rescue where she lives and get to tagalong to her first meeting and the Crow & Hammer. Fans of the Guild Codex world will enjoy seeing familiar faces, especially Tori.
When Echo and Lallakei go missing, Zak appears at the Crow & Hammer and I loved being witness to Saber's reaction. Of course Saber agrees to give aid; after all, Zak helped her and Rikr.
The tale that unfolds was brilliant, from the Court of Shadows to betrayals. The story is told in alternating POVs. In Zak's, we learn what happened when he left Sabar ten years ago. I felt for Zak and was glad to see Saber be supportive. We keep seeing growth in her. She really has come a long way from the prickly heroine we first met.
Cris Dukehart narrates and is joined by Tim Campbell, who provides Zak's point of view. Both did a wonderful job of capturing the characters' emotions and personalities. This series/world is perfectly suited to audio and I cannot imagine not listening to them.
The story ends with a cliffhanger and fair warning; it's a doozy. I don't mind telling you it left me worried about the characters and downright angry at one in particular. The audiobook for The Unbreakable Bladesong Druid cannot come soon enough.
The Twice-Scorned Lady of Shadow by Annette Marie delivered answers, action and more in the Unveiled series. #audiobookreview #ChrisDukehart #TimCampbell #UrbanFantasy @TantorAudio
Click To Tweet

Stay Caffeinated!
Never miss a post by adding Caffeinated to your Inbox
Reading this book contributed to these challenges:
Related Posts