I have read most of Hailey Edwards series and was excited to try this new series on audio. Narrated by Stephanie Richardson, Black Hat, White Witch is the first the Black Hat Bureau urban fantasy series. Come see why I had such a witchy good time with these characters and story.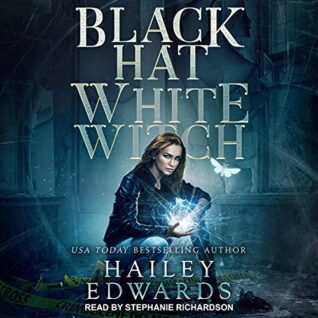 Black Hat, White Witch
by Hailey Edwards
Series: Black Hat Bureau #1
Narrator: Stephanie Richardson
Genres: Urban Fantasy
Source: Publisher
Purchase*: Amazon | Audible *affiliate
Rating:

Narration: 4.5 cups Speed: 1.3x

Remember that old line about how the only way out of the organization is in a pine box?

Well, Rue Hollis spent ten years thinking she had escaped the Black Hat Bureau, no coffin required.

Then her former partner had to go and shatter the illusion by showing up on her doorstep with grim tidings. As much as Rue wants to kick him to the curb, she agrees to hear him out for old times' sake, and what he says chills her to the bone.

The Silver Stag was the most notorious paranormal serial killer in modern history, and Rue brought him down. Now a copycat has picked up where the Stag left off, and the Bureau wants her on the case. She beat the Stag once. They think she can do it again. But they don't know she's given up black magic, and she's not about to tell them. White witches are prey, and Rue is the hunter, not the hunted. Always.

But can she take down the protégé of the man who almost beat her at her black witch best?

If she wants to keep her new town, her new home, her new life, then she has no choice but to find out.
Five Caffeinated Reasons to listen to Black Hat, White Witch
Rue Hollis lives in Samford, Alabama and runs the Hollis Apothecary. Rue is a witch who has spent 10 years hiding from the agency she once worked for. She has made a home for herself and her familiar Colby Timms, a moth the size of a cat. All of that changes when her partner shows up on her doorstep informing her that there is a copycat killer of the Silver Stag. Before going into hiding, Rue took down the notorious killer who kidnapped young girls, Colby was one of them. And right away I was hooked.
Unique characters are one of Edwards' gifts and I loved Rue and Colby immediately, not to mention Clay, her handsome ex-partner and Asa, his new non-human partner. Delightful banter, snark and respect made for an exciting listen.
The world-building is strong as we learn along the way, from Rue's history and reasons for going into hiding to the last case she worked. The Black Hat Bureau was intriguing and I am looking forward to more cases.
The case was intriguing, with plenty of twists and unexpected happenings. I love when a storyline hooks you and the author pulled me in from the start. Is this the work of one killer or a team? Can they stop him before it's too late? Has this killer lured them away from the one that got away?
The narration was fantastic! Stephanie Richardson created unique voices for each of the characters, making listening a pleasure. I loved how she captured the snark, intense situations and gave voice to Colby.

Stay Caffeinated!
Never miss a post by adding Caffeinated to your Inbox
Reading this book contributed to these challenges:
Related Posts