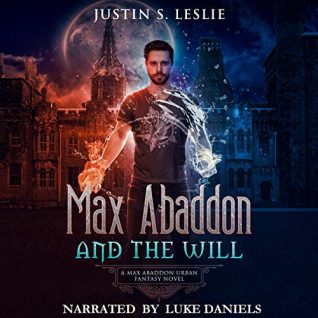 Max Abaddon and the Will
by Justin Leslie
Series: Max Abaddon #1
Narrator: Luke Daniels
Length: 9 hours and 46 minutes
Genres: Urban Fantasy
Source: Purchase
Purchase*: Amazon | Audible *affiliate
Rating:

Narration: 5 cups Speed: 1.3x

The first novel in the thrilling new urban fantasy adventure series Max Abaddon, by Justin S. Leslie.

An unambitious, unemployed bachelor with a penchant for drinking, Max Abaddon inherits an extraordinary gift from his recently deceased grandfather. Now a young hero with new magical powers, Max must embrace his calling and help this hidden world in its war with a murderous darkness.

Suddenly in a position where he's learning about magical and mythical beings, Max's third decade of life is starting off in a direction he never would have imagined. Max is discovering a magical new world while it slowly overtakes his old one.

Meanwhile, dark players emerge from the shadows with a plot to disrupt the delicate balance between the natural and the supernatural. To help his new friends, Max must accept his responsibility, get a grip on his new powers, and be careful of who he trusts in this gripping murder mystery set in Florida.
Narrated by Luke Daniels, Max Abaddon and the Will by Justin Leslie is the first urban fantasy audiobook in the Max Abaddon series. Fresh & humorous with fantastic world building, it hooked me from the start.
Luke Daniels does a lot of readings on his Facebook/Instagram feeds, and I have discovered some really cool urban fantasy and science fiction series through him.
In Max Abaddon and the Will, we travel to sunny Florida, where we meet Max Abaddon before his thirtieth birthday. Unemployed after leaving the military, Max is hungover and at a crossroads in his life when he receives a call that his grandfather has bequeathed him something.
That something turns out to be a home with unusual secrets and a diary about his thirtieth birthday. Magic and mythical creatures are real, and the world is in danger. From Elven wine to portal stones, this audiobook was fantastic!
The world building was fresh, creative, humorous and suspenseful. The characters from human to not so human had depth, held my interest and have me wanting to know more. The house is magical itself, with hidden chambers, libraries, and spell labs.
The series is available in kindle unlimited and there are currently 3 books released. This is the first audiobook, but the next will be coming in 2021. I plan of grabbing them for audio and recommend you do as well.
Luke Daniels is the perfect narrator to handle these distinct characters and their personalities. From pixies to disengaged vampires, he added another layer of depth to this stellar tale.
Narrated by Luke Daniels, Max Abaddon and the Will by Justin Leslie offered a fresh & humorous #UrbanFantasy with fantastic world building #audiobook #MaxAbaddon #MustListen
Click To Tweet
Reading this book contributed to these challenges:
Related Posts