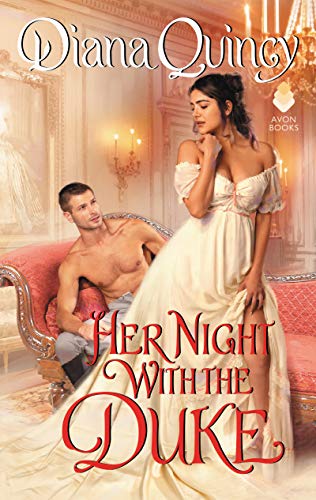 Her Night with the Duke
by Diana Quincy
Series: Clandestine Affairs #1
Genres: Historical Romance
Source: Publisher
Purchase*: Amazon | Audible *affiliate
Rating:

Heat Level:
Desire knows no reason...

When Lady Delilah Chambers finds herself stranded at a country inn on a rain-swept evening, she's forced to fend off a group of ruffians with the help of a handsome gentleman. Irresistibly drawn to each other, Leela and the stranger spend one reckless night in each others' arms—and then go their separate ways. But, the very next day, Leela receives the shock of her life when she meets the duke who is set on wedding her beloved stepdaughter.

When it finds two destined hearts...

One night isn't enough with a woman as fierce, fiery, and brilliant as Leela. Elliot Townsend, Duke of Huntington, cannot believe his good fortune when their chance encounter leads to an unforgettable evening of passion. Yet Hunt's luck runs out when he is introduced to his prospective mother-in-law. Dowagers aren't supposed to look like this...

Leela and Hunt are determined to keep each other at arm's length, which should be easy enough for two intelligent adults with reputations to uphold. The problem is, all logic is lost when it comes to a passion that refuses to be ignored
Her Night with the Duke by Diana Quincy is the first in the Clandestine Affairs series. An exotic, headstrong female and an uptight Duke share an encounter that changes all the rules.
I have enjoyed previous historical romances by Diana Quincy and delighted in discovering a new series with Avon Romance. Passion, twists and a forbidden romance swept me away.
Lady Delilah Chambers is forced to seek shelter at a country inn during a rainstorm. When there are no rooms left, Elliot Townsend, Duke of Huntington gives up his suite. Leela (Delilah) offers to let him dine with her. This results in a night of passion.
Hunt (Duke Huntington) is traveling to meet the young woman he intends to marry to fulfill his ducal duties. Leela is returning to the homestead of her late husband after travels. Things take a twist when the intended young bride turns out to be her stepdaughter.
I loved Lady Delilah. She is the daughter of the Mad Marquess. They considered him mad for marrying Delilah's mother, the Arab woman of a shopkeeper. Delilah embraced her father's traditions and married an Earl. Only after she became the dowager did she find happiness. She has spent her time traveling and writing. She is feisty, loves her step-daughter and has a plan, or at least she thought she did.
The Duke or Hunt walks the straight and narrow, avoiding scandal and trying to be proper before the ton. All to repair the damage to the family name wrought by his older brother.
I was a little concerned about the forbidden romance, particularly because it involved Delilah's family. However, Quincy developed an addictive storyline with passion, intrigue and a touch of suspense. There were characters I loathed and others I adored, including Victoria, Delilah's stepdaughter, who appeared meek and ended up surprising me.
Headstrong, passionate characters, and a feisty heroine who isn't intimated kept me up into reading into the wee hours. I love that Delilah didn't settle and spoke her mind. We saw tremendous growth in Hunt, and his actions made my heart burst.
Fans of unique, headstrong female characters will delight in this forbidden romance. I am excited to see what the next book in the Clandestine Affairs series brings!
An exotic, headstrong female and an uptight Duke share an encounter that changes all the rules in Her Night with the Duke by Diana Quincy. #NewRelease #AvonRomance #ClandestineAffairs
Click To Tweet
Related Posts