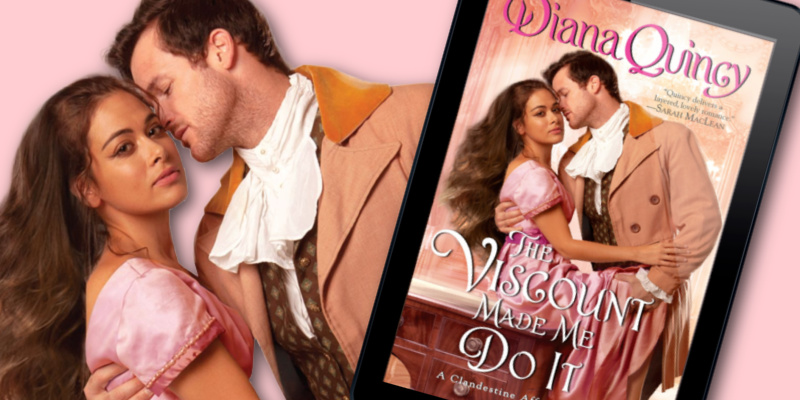 I enjoy slipping into one of Diane Quincy's historical romances and was delighted to return to the Clandestine Affairs series with the second novel; The Viscount Made Me Do It. Read on to see why I found an Arab female bonesetter and a sexy, outcast Viscount so enchanting. A touch of suspense, culture and swoons await you.
The Viscount Made Me Do It
by Diana Quincy
Series: Clandestine Affairs #2
Genres: Historical Romance
Source: Publisher
Purchase*: Amazon | Audible *affiliate
Rating:

Heat Level:
Diana Quincy returns with the second novel in the Clandestine Affairs series with a steamy romance about a London bonesetter of Arab descent who is dangerously attracted to her viscount client.

A seduction that could ruin everything...

Hanna Zaydan has fought to become London's finest bonesetter, but her darkly appealing new patient threatens to destroy everything she's worked so hard for. With each appointment, the daughter of foreign merchants is slowly seduced by the mysterious former soldier. She's smart enough to know Griff is after more than he'll reveal, but whatever it is, the bonesetter's growing desire for the man just might tempt her to give it to him.

An attraction that cannot be denied...

Rumors that he killed his own parents have followed Thomas Ellis, Viscount Griffin, practically since he was a boy. More than a decade after the tragedy, Griff receives a tip about his parents' killer... one that takes him straight to a beautiful bonesetter. Griff is convinced Hanna is a fraud, but she stirs genuine feelings in him that he thought had perished along with his family.

Hanna has a gift for fixing fractured people, but can she also mend a broken heart? More importantly, will Griff let her?
In The Viscount Made Me Do It, Thomas Ellis, Viscount Griffin is in a tea shop after unsuccessfully determining who sent his dead mother's ring to him from the local post. As he is sipping his tea in walks Hanna Zaydan wearing his mother's necklace. When she walks directly to the table behind him, he realizes Hanna is a bonesetter. This gives him an idea. Using his war injury he visits the bonesetter and the tale that unfolds was delightful.
First, I found the tidbits and story surrounding bonesetters fascinating. I loved that this was a skill Hanna learned from her father and he his. Of course, the medical profession, consisting mostly of men during this time period, believed bone setters were charlatans.
Hanna lives in a mostly Arabic community in London and her grandmother and brothers are upset that she isn't seeking a husband. Hanna dreams of opening her on clinics and is determined. Griffin thinks she is a charlatan too, but Hanna soon proves him wrong.
The mystery surrounding the necklace and ring brought suspense, danger, and allowed the romance to develop. The story was well-paced. Despite, the chemistry between them, the romance was delivered as a slow burn until it sizzled.
The Viscount Made Me Do It delivered all the elements I enjoy Diana Quincy's historical fiction laced with romance and suspense. Her stories make the perfect book to curl up with. I look forward to the next book in the series. You can grab the first one, Her Night With A Duke at retailers everywhere. Each book has its own romance and will stand on its own.

Stay Caffeinated!
Never miss a post by adding Caffeinated to your Inbox
Related Posts