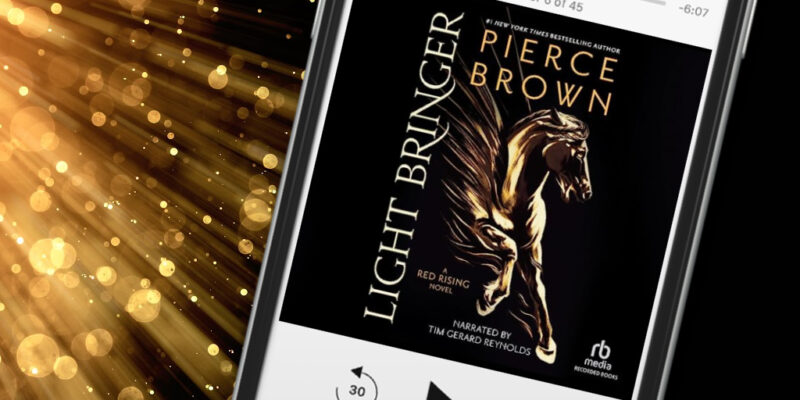 I love the Red Rising Saga and Light Bringer by Pierce Brown was one of my most anticipated books/audiobooks. Brown did not disappoint, and I listened as I read along. This series and these characters bring forth every emotion. The story left me spent and eager for the next novel. Check out my thoughts.
Light Bringer
by Pierce Brown
Series: Red Rising #6
Narrator: Tim Gerard Reynolds
Length: 30 hours and 8 minutes
Genres: Fantasy
Source: Publisher, Purchase
Purchase*: Amazon | Audible *affiliate
Rating:

Narration: 4.5 cups Speed: 1.45x

NEW YORK TIMES BESTSELLER • Darrow returns as Pierce Brown's New York Times bestselling Red Rising series continues in the thrilling sequel to Dark Age.

The Reaper is a legend, more myth than man: the savior of worlds, the leader of the Rising, the breaker of chains.

But the Reaper is also Darrow, born of the red soil of Mars: a husband, a father, a friend.

Marooned far from home after a devastating defeat on the battlefields of Mercury, Darrow longs to return to his wife and sovereign, Virginia, to defend Mars from its bloodthirsty would-be conqueror Lysander.

Lysander longs to destroy the Rising and restore the supremacy of Gold, and will raze the worlds to realize his ambitions.

The worlds once needed the Reaper. But now they need Darrow, and Darrow needs the people he loves—Virginia, Cassius, Sevro—in order to defend the Republic.

So begins Darrow's long voyage home, an interplanetary adventure where old friends will reunite, new alliances will be forged, and rivals will clash on the battlefield.

Because Eo's dream is still alive—and after the dark age will come a new age: of light, of victory, of hope.

Don't miss any of Pierce Brown's Red Rising Saga:
RED RISING • GOLDEN SON • MORNING STAR • IRON GOLD • DARK AGE • LIGHT BRINGER
Headphones on and with my hardcover copy in hand, I curled up with Light Bringer and prepared for Darrow's journey home. Narrated by Tim Gerard Reynolds, this science fiction fantasy takes us back to the roots of the saga. While I missed seeing characters, Brown knock it out of the park.
From glorious battle scenes to emotional moments, Light Bringer brings the focus back on Darrow, The Reaper. Told in four parts as we traverse the galaxy, we spent our time between Lysander and Darrow (and crew.) I walked away from this, knowing Darrow and others more intimately. I felt their pain, fears, sacrifices, friendships, loss and hopes.
Was it worth the four year wait after Dark Ages? Abso-freakin-loutely. While not as gut-wrenching and nail-biting as the Dark Ages, it delivered all that I hoped for, and more. Brown scaled the story down and focused on these two men who have journeyed so far. The world and the war Brown has created comes to life in vivid 3D. He hits home on the sacrifices, the greed, the sheep and the loss. His characters have a genuineness to them and consistently stay true to themselves as they evolve and grow. I feel as if I know them and share their experiences and emotions. I should mention that I also feel enraged by the actions of some, from self-serving greed to the hierarchy and trappings of the colors.
The last section held me in its grip and damn it, Brown had me weeping. I cannot wait for Red God, the next novel in the saga. I desperately hope it isn't another four year wait, but you can bet I will be pre-ordering the novel & audiobook as soon as they go up for sale.
I love reading the books and began the series that way, but the audio adds an element to the characters and story that I enjoy. Tim Gerard Reynolds did a great job capturing the emotions of these characters and the scenes.
Read along as Tim Gerald Reynolds brings Light Bringer by Pierce Brown to life. #RedRisingSaga #SciFi #Fantasy #autobuy #mustlisten #NewRelease
Click To Tweet

Stay Caffeinated!
Never miss a post by adding Caffeinated to your Inbox
Reading this book contributed to these challenges:
Related Posts