The Mai Hayashi urban fantasy series is set in the same world as the Black Dog world. Stone-Cold Fox is the first novella in the series by Hailey Edwards. A weekend of fun and games at the Fan Expo becomes anything but, when a fae seeking revenge against her father, claims her as his own. Suspense, twists and romance await you….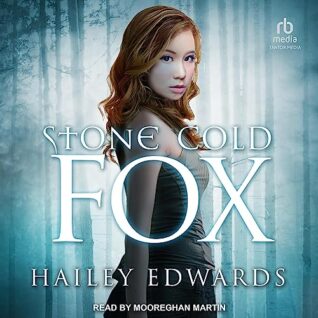 Stone-Cold Fox
by Hailey Edwards
Series: Mai Hayashi #1
Narrator: Mooreghan Martin
Length: 3 hours and 11 minutes
Genres: Urban Fantasy
Source: Publisher
Purchase*: Amazon | Audible *affiliate
Rating:

Narration: 3 cups Speed: 1.5x

Mai's plans for a weekend of cosplay fun and games at Fan Expo come to a screeching halt when a smokin' hot fae with a vendetta against her father decides the best revenge is claiming her for his own.

Her father cost Ryuu everything: his home, his family…and his mate. Ryuu wants his pound of flesh, and he's willing to take it out of Mai's hide, bite by sensuous bite.

While she's quick to bare her teeth and snap at Ryuu's gentling hand, she sheathes her claws once he offers her secrets about her life and her father that rock the foundation of her world.

Caught between Ryuu's tender persistence and her father's iron will, Mai's not sure who to trust, but before it's all over this kitsune will show them both why she's one stone-cold fox.
The audiobook is narrated by Mooreghan Martin, who does a pleasant enough job, but Mai's voice and Thierry's voice were too similar. Thierry is Mai's best friend and has her back throughout the story.
I recommend you listen to the Black Dog series first, since we first meet Mai in Dog with a Bone. Thierry and Mai are enjoying some cosplay when she notices a man and feels drawn to him. Things quickly take a turn when he knocks out her BFF and kidnaps her. We soon learn that the two share a past.
Despite the short length, I was pulled into the history of the Kitsune culture, the betrayals and the twists. Without having listened to the Black Dog series, I am not sure I would have been as satisfied. The length hurt this, as it didn't allow enough time for me to become invested in the romance despite their history. I am also concerned that this was released in 2015 and I don't see a second novel.
As much as I love Hailey Edwards, I am not at all sure if I will continue with books tied to the Black Dog world.

Stay Caffeinated!
Never miss a post by adding Caffeinated to your Inbox
Reading this book contributed to these challenges:
Related Posts