My journey with the October Daye urban fantasy series continues on audio with Ashes of Honor by Seanan McGuire. Narrated by Mary Robinette Kowal, Toby will travel through many worlds to save the changeling daughter of her fellow knight, Etienne. Suspenseful, dangerous and addictive, I couldn't set this one down.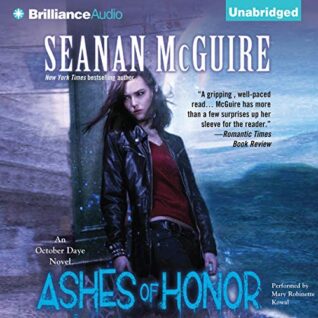 Ashes of Honor
by Seanan McGuire
Series: October Daye #6
Narrator: Mary Robinette Kowal
Length: 12 hours and 26 minutes
Genres: Urban Fantasy
Source: Purchase
Purchase*: Amazon | Audible *affiliate
Rating:

Narration: 5 cups Speed: 1.5x

It's been almost a year since October "Toby" Daye averted a war, gave up a county, and suffered personal losses that have left her wishing for a good day's sleep. She's tried to focus on her responsibilities—training Quentin, upholding her position as Sylvester's knight, and paying the bills—but she can't help feeling like her world is crumbling around her, and her increasingly reckless behavior is beginning to worry even her staunchest supporters.

To make matters worse, Toby's just been asked to find another missing child…only this time it's the changeling daughter of her fellow knight, Etienne, who didn't even know he was a father until the girl went missing. Her name is Chelsea. She's a teleporter, like her father. She's also the kind of changeling the old stories warn about, the ones with all the strength and none of the control. She's opening doors that were never meant to be opened, releasing dangers that were sealed away centuries before—and there's a good chance she could destroy Faerie if she isn't stopped.

Now Toby must find Chelsea before time runs out, racing against an unknown deadline and through unknown worlds as she and her allies try to avert disaster. But danger is also stirring in the Court of Cats, and Tybalt may need Toby's help with the biggest challenge he's ever faced.

Toby thought the last year was bad. She has no idea.
Ashes of Honor takes place about a year after the tragic events of One Sea Salt, and Toby is having a difficult time. She'll have to set her grief aside, because one of her fellow nights, Etienne needs help to find his daughter; one her human mother kept from him. She'll team up with Tybalt, who is having his own share of problems with the Court of Cats.
Confessions, relationship developments and abandoned worlds await you in this riveting, action-packed tale. I confess I devoured Ashes of Honor and ate up moments between Toby and Tybalt even as we dealt with cats and wicked fae.
Chelsea, the changeling, is an untrained teleporter, like her father. Can Toby stop her before she ruins the fae world? Will she survive the painful reminders of her own daughter? Will the young cat prince's father tear the Court of Cats apart? The suspense was delightful. We see tremendous growth in Toby even as she sacrifices for others. She is a coffee drinking kickass heroine you cannot help but root for.
We'll see her friends come to her aid once again. I love this motley crew of fae. It was interesting spending time with Etienne and learning his history and that of the Duke of Shadowed Hall.
Fans of urban fantasy, fae and action-packed mysteries will want to start the October Daye series from the beginning. I highly recommend listening to the audiobooks. Mary Robinette Kowal brings voice to each of the characters, both male and female, adding another layer of enjoyment to an already brilliant tale.

Stay Caffeinated!
Never miss a post by adding Caffeinated to your Inbox
Reading this book contributed to these challenges:
Related Posts