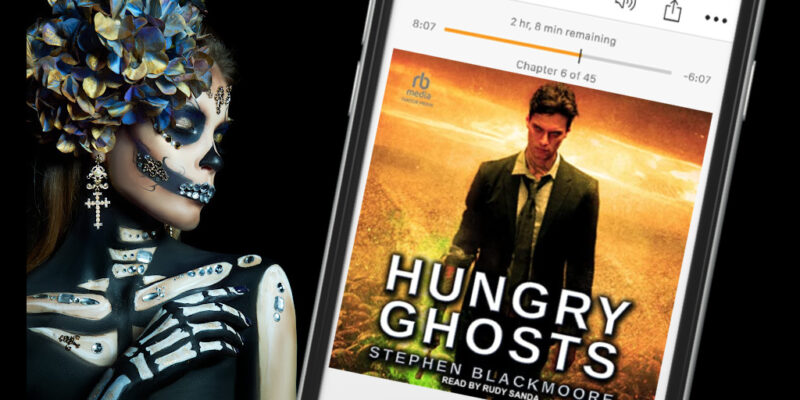 Hungry Ghosts by Stephen Blackmoore is the third Eric Carter audiobook. Narrated by Rudy Sanda, it shares the last confrontation with the Queen of Death. Grab a cup of coffee and travel with us to the Aztec land of the dead.
Hungry Ghosts
by Stephen Blackmoore
Series: Eric Carter #3
Narrator: Rudy Sanda
Length: 9 hours and 15 minutes
Genres: Urban Fantasy
Source: Publisher
Purchase*: Amazon | Audible *affiliate
Rating:

Narration: 5 cups Speed: 1.5x

Stephen Blackmoore's dark urban fantasy series follows necromancer Eric Carter through a world of vengeful gods and goddesses, mysterious murders, and restless ghosts.

Necromancer Eric Carter's problems keep getting bigger. Bad enough he's the unwilling husband to the patron saint of death, Santa Muerte, but now her ex, the Aztec King of the dead, Mictlantecuhtli, has come back—and it turns out that Carter and he are swapping places. As Mictlantecuhtli breaks loose of his prison of jade, Carter is slowly turning to stone.

To make matters worse, both gods are trying to get Carter to assassinate the other. But only one of them can be telling him the truth and he can't trust either one. Carter's solution? Kill them both.

If he wants to get out of this situation with his soul intact, he'll have to go to Mictlan, the Aztec land of the dead, and take down a couple of death gods while facing down the worst trials the place has to offer him: his own sins.
In Hungry Ghosts, as with most urban fantasy it is best to begin at the start. Eric is slowly turning to jade, and it seems both Santa Muerte and her ex, the Aztec King of the Dead, want him to nix the other. Eric isn't sure who to believe, but he is racing against the clock. Each time he taps into the powers he's been given, he loses a little more of himself. Now that he has the weapon, he'll need to travel to Aztec land of the dead.
This was a clever tale and my favorite of the trilogy involving Santa Muerte. I love the way the author blends old gods, necromancy, ghosts and more into his tale. While I was vaguely familiar with Santa Muerte, I found the Aztec land of the dead and Eric's journey fascinating.
The mystery of why the Queen of the Dead set things into motion and what she ultimately wants was intriguing. We see character growth from Eric. Oh, he is still jaded, but perhaps he's forgiven himself a little. The build up to the end kept me listening. I was impressed with how it all unfolded. We are given a bit of an epilogue that left enough of a hook me into wanting more. I'll be curious to see what Eric does next in Fire Season.
Rudy Sanda did a stellar job of capturing the tone and characters of this series. He is perfect as the voice of Eric bringing forth his gruff personality, doubts, fears and anger.

Stay Caffeinated!
Never miss a post by adding Caffeinated to your Inbox
Reading this book contributed to these challenges:
Related Posts