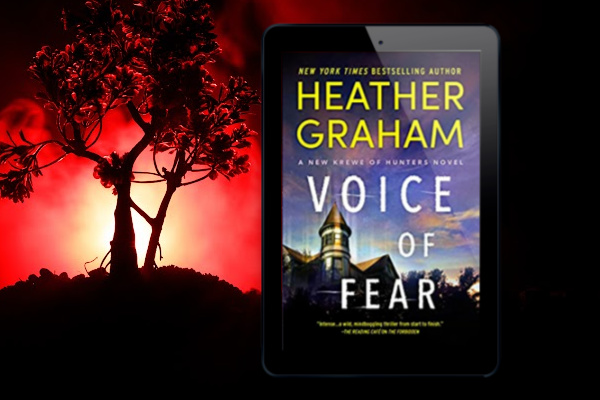 I was eager to dive into Voice of Fear by Heather Graham, not just for Patrick Law's story but to see the case involving human trafficking and those of a cop who is still searching for a victim, even in death.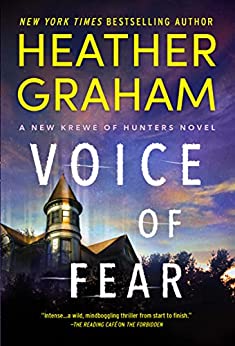 Voice of Fear
by Heather Graham
Series: Krewe of Hunters #38
Genres: Paranormal, Romantic Suspense
Source: Publisher
Purchase*: Amazon | Audible *affiliate
Rating:

Heat Level:
A killer is looking to silence them, once and for all.

FBI agent Jordan Wallace is close to cracking the human trafficking case she's been working, when she does the one thing she should never do: let her guard down. The botched undercover mission is semisalvaged by the last-minute appearance of criminal psychologist Patrick Law, but Jordan can't imagine making a worse first impression. Especially when she's partnered with Patrick moving forward.

Patrick's innate ability to get inside a criminal's head is an asset for the Krewe of Hunters. But Jordan wishes she could protect her own thoughts from her new partner. Patrick assures her that both she and her thoughts are safe with him, but Jordan's less sure about her heart. Letting someone have her back has never been her strong suit, but with a dangerous killer still at large, trusting in Patrick might be the only thing keeping them alive.
Sound of Darkness, Aura of Night and Voice of Fear are all novels in the Krewe of Hunters series, but all involve the case surrounding the Embracer and the Law siblings (triplets) who have unique abilities.
This story belongs to Patrick Law, a criminal psychologist and a consultant for the Krewe of Hunters. He helped in the previous novels and this time has his dog, an Irish Wolfhound, with him. We are introduced to FBI Special Agent Jordan Wallace when she is captured by human traffickers while undercover. She is rescued by Patrick and agents after deceased officer Archie alerts him to the danger.
The Krewe is still looking for John Smith, whom they believe is the head of the organization. The tale that unfolds has Patrick and Jordan working together along with the previous couples as they try to interrogate suspects, save victims, and cut off the head of the snake.
As always, Graham delivered plenty of danger and they get into several intense situations. Sparks fly and simmer as these two connect. I devoured the book in two sittings. The romance felt genuine, and I liked both characters; professionally and as individuals. It was great seeing a guy who respected his partner's abilities and supported her ideas.
The story shed light on human trafficking and the inner workings of some networks. John Smith's network was disturbing and how he caught people up from crew to victims was chilling.
I was glad to see the case wrap up and get closer to several threads and character lines. I am looking forward to seeing where the Krewe of Hunters goes next.

Stay Caffeinated!
Never miss a post by adding Caffeinated to your Inbox
Related Posts