Cursed at Dawn by Heather Graham is the third novel in the Blackbird Trilogy featuring an international FBI Krewe team with agents from around the world. Stephan Dante has escaped from prison and it's up to the team to catch the madman.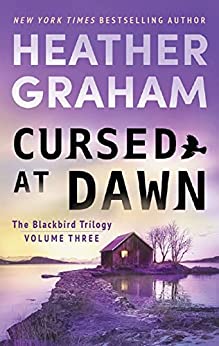 Cursed at Dawn
by Heather Graham
Series: Blackbird Trilogy #3
Genres: Mystery, Paranormal
Source: Publisher
Purchase*: Amazon *affiliate
Rating:
Dracula lives—and he's hunting for his bride.

Vampires may not walk among us, but FBI agents Della Hamilton and Mason Carter know real monsters exist. They've witnessed firsthand the worst humankind has to offer. They're still catching their breaths after the apprehension of two such monstrous killers when they're met with horrific news. Stephan Dante, the self-proclaimed king of the vampires, has escaped from prison, followed only by a trail of blood.

All too familiar with Dante's cruelty, Della and Mason know the clock is ticking. But as Dante claims more victims, a chilling message arrives. The vampire killer seeks his eternal bride—Della herself. Playing into Dante's desires might be the only way to stop the carnage once and for all, assuming they can outwit him. Della is confident the agents have the upper hand, but Mason knows every gamble runs the risk of not paying off, and this time, the consequences could be deadly.
Dante has escaped and he's headed to Scotland. FBI Agents Della and Mason along with their international team known as Blackbird give chase. This trilogy has been a lot of fun as I couch surfed all over from England to New Orleans and Scotland.
Stephan Dante believes he is the king of vampires. He recruits followers and tricks or threatens others to do his bidding. They land in Scotland only to discover Dante has killed again. This time at a private school during a production of Snow White.
The team has their work cut out from them and will receive aid from beyond. Graham did a lovely job with pacing and building suspense. Those who helped him revealed how diabolical Dante is. His fascination for Della scares Mason, and he has to trust her as an agent.
I loved the history and lores dabbled throughout as they looked for Dante's hiding places and worked to save victims. We learned about the Black Plague and conditions during the period as we explored tunnels and crypts.
The romance which is served as a side, balancing the dark and the light, felt genuine and wasn't distracting from the overall mystery thread. The crew splits up and our primary focus is Della & Mason. We do learn that others on the team can speak to the dead.
We meet two new agents, which gives me hope we will see more of the Blackbird Unit. The trilogy wrapped up strong, as did the romantic thread.
Cursed at Dawn by Heather Graham wrapped up the Blackbird Trilogy delivering a suspenseful ending to the series with hopes that we will see new books featuring the Blackbird Unit. #bookreview.
Click To Tweet

Stay Caffeinated!
Never miss a post by adding Caffeinated to your Inbox
Related Posts