Midnight Dunes by Laura Griffin is the third novel in the Texas Murder Files and will work as a standalone. Midnight Dunes brings murder to Lost Beach, Texas, and our heroine discovers she is renting the victim's residence. Danger, swoons and intrigue await you in this engaging romantic suspense.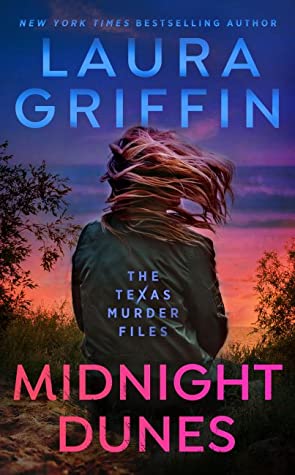 Midnight Dunes
by Laura Griffin
Series: The Texas Murder Files #3
Genres: Romantic Suspense
Source: Publisher
Purchase*: Amazon | Audible *affiliate
Rating:

Heat Level:
When the shocking discovery of a murdered woman's body disturbs the tranquility of tourist season, the police detective in charge of the puzzling case must work alongside the new filmmaker in town to pursue every lead in the new romantic thriller from New York Times bestselling author Laura Griffin.

After a scandal derails her television reporting career, Macey Burns comes looking for a change of pace in Lost Beach, Texas. She's ready to focus on her first passion—documentary filmmaking—and has a new job working for the island's tourism board, shooting footage of the idyllic beachside community. Her plans for a relaxing rebound are dashed when she realizes the cottage she's renting belonged to the woman whose body was just found in the sand dunes.

Detective Owen Breda is under intense pressure to solve this murder. Violent crimes are rising in his small town, and he can't stand to see anyone else hurt…especially not the beautiful documentarian who keeps showing up at the precinct.

With the clock ticking, cameras rolling, and body count climbing, Macey and Owen must use all their resources to find the killer without getting caught in the crosshairs.
Each of the books in the Texas Murder files work as a standalone and features one case and a side of romance. Macey Burns has arrived after a scandal forced her to leave her last job. She's sworn off men and is working on a documentary for the local tourism board. Her first encounter with Detective Owen Breda was bizarre and left her shaken.
Her seaside cottage isn't quite what she expected, and the town is in the spotlight when the body of a missing female is found in the dunes near to Macey's rental cottage.
The case was interesting without many leads, but when someone attempts to break into Macey's cottage, things heat up. Griffin weaved an interesting case with red herrings and carefully threaded clues that built up the suspense until the killer was revealed. I thought it was well done with a solid motive. The way the author placed Macey in danger felt realistic and I was engaged from beginning to end.
The romance was a slow burn until it wasn't. Macey has hang-ups from her previous relationship and Owen wasn't very clear. Their first meet is a prime example, and I found it odd. I felt he should have been aware and advised Macey who he was. Maybe it's just me? I'd love to hear what you think.
Overall, this was another enjoyable romantic suspense, and I look forward to the author's next book. Fans of murder-mysteries, law enforcement and romantic suspense will enjoy the Texas Murder Files.
Midnight Dunes by Laura Griffin delivered a suspenseful tale in the seaside town of Lost Beach Texas in the latest #TexasMurderFiles #NewRelease #RomanticSuspense #BookReview
Click To Tweet

Stay Caffeinated!
Never miss a post by adding Caffeinated to your Inbox
Related Posts