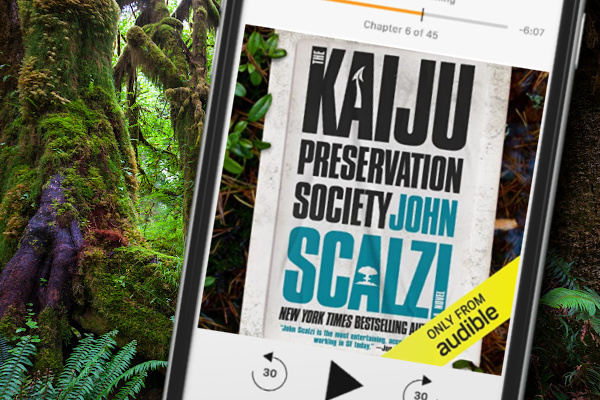 I always have a good time listening to John Scalzi's novels on audio and was excited to dive into The Kaiju Preservation Society, narrated by Wil Wheaton. Scalzi did not disappoint. I laughed, cheered and wondered what if….
The Kaiju Preservation Society
by John Scalzi
Narrator: Wil Wheaton
Length: 8 hours and 2 minutes
Genres: Fantasy, Science Fiction
Source: Purchase
Purchase*: Amazon | Audible *affiliate
Rating:

Narration: 5 cups Speed: 1.3x

When COVID-19 sweeps through New York City, Jamie Gray is stuck as a dead-end driver for food delivery apps. That is, until Jamie makes a delivery to an old acquaintance, Tom, who works at what he calls "an animal rights organization." Tom's team needs a last-minute grunt to handle things on their next field visit. Jamie, eager to do anything, immediately signs on.

What Tom doesn't tell Jamie is that the animals his team cares for are not here on Earth. Not our Earth, at at least. In an alternate dimension, massive dinosaur-like creatures named Kaiju roam a warm and human-free world. They're the universe's largest and most dangerous panda and they're in trouble.

It's not just the Kaiju Preservation Society whose found their way to the alternate world. Others have, too. And their carelessness could cause millions back on our Earth to d
First things first, be sure and read the author's note (or as I did, listen) at the end of this novel. I hear you, Mr. Scalzi, and this story was exactly what I needed it. So thank you.
This story takes place during at the beginning of Covid-19 when the world shut down and some people lost their jobs. It tells the story of Jamie Gray, who is let go from a upstart firm in New York City and an unimaginable opportunity that is presented to him while working as a driver for a food app. The story that unfolds takes us to an alternate Earth, where large animals roam the planet.
I had such a good time with this story and Wil Wheaton captured the humor and personality of the main protagonist, Jamie Gray, perfectly, as well as secondary characters. Some you will admire and others you'll want to feed to those large animals. Did I mention they remind Jamie of Godzilla?
The characters are authentic, the rights of passage for newcomers and the camaraderie between the team members, particularly in this isolated situation, were fantastic, humorous, and well, like family.
Imagine different alternate versions of our Earth. Some are developed and others are not. This alternate universe touches ours, and in some places, there are soft spots. This is where the society enters and study the Kaiju. Jamie has joined the team and will do a six-month stay before going home for six months. It was amazing, hilarious and fed my inner nerd.
Of course, all of this requires funding and with that come humans who want to make a profit and we all know what that means. Some suspense, twists and just desserts await you as Jamie and his group of friends/colleagues work to protect the Kaiju and save our Earth.
The story is vintage Scalzi, so of course there is a message and I hope folks are listening. It's also filled with nerdy jokes, science fiction references, pop-culture references and a few nods to some classics.
Wil Wheaton gave a stellar performance, hitting all the notes of this pop song! I love seeing this author & narrator paired as they complement each other.
The Kaiju Preservation Society, was the perfect feel good, light listen and it still has me smiling.
Like your favorite song on the radio, The Kaiju Preservation Society by John Scalzi, narrated by Wil Wheaton will leave you smiling. #audiobook #newrelease #scifi #fantasy #mustlisten #audiobookreview
Click To Tweet

Stay Caffeinated!
Never miss a post by adding Caffeinated to your Inbox
Reading this book contributed to these challenges:
Related Posts