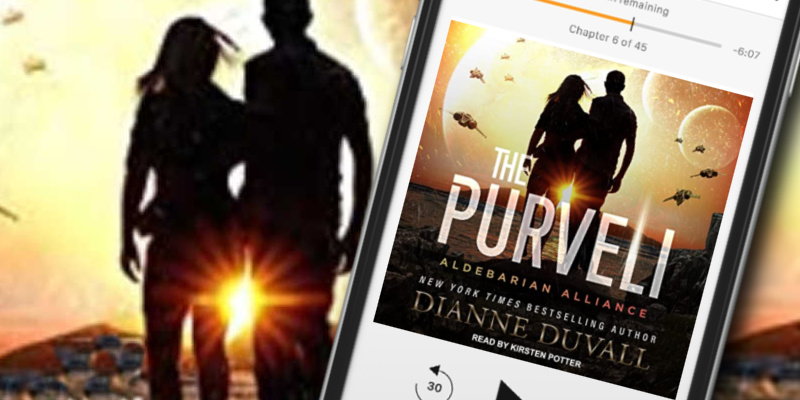 The Purveli by Dianne Duvall is the third audiobook in the science fiction romance series the Aldebarian Alliance. Narrated by Kristen Potter. Duvall delivers another suspenseful tale filled with danger, uncharted planets and undeniable romance.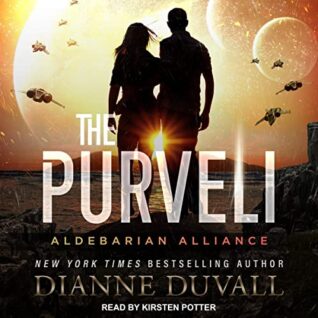 The Purveli
by Dianne Duvall
Series: Aldebarian Alliance #3
Narrator: Kirsten Potter
Length: 10 hours and 59 minutes
Genres: Science Fiction
Source: Publisher, Purchase
Purchase*: Amazon | Audible *affiliate
Rating:

Heat Level:


Narration: 5 cups Speed: 1.3x

New York Times bestselling author Dianne Duvall brings readers the next stand-alone audiobook in her thrilling new sci-fi romance series full of action, humor, and happily-ever-afters.
Ava has always been different. Born with strong telepathic abilities, she lives a very isolated life until she is offered a job with an obscure network that aids powerful Immortal Guardians in their quest to protect humanity from the psychotic vampires who prey upon them. Suddenly, she doesn't feel so different. For the first time in her life, Ava has found a place where she belongs. She's happy. Life is good. And when her employers invite her to join a group of other gifted ones and a handful of Immortal Guardians on a journey to another planet, it becomes absolutely fantastic.

In no time at all, she is speeding across the galaxy aboard a Lasaran warship manned by two amazing alien races. It's the dream of a lifetime... until a vicious attack by a mutual enemy of Lasara and Earth lands her alone in an escape pod with no habitable planet in sight and only one ship within range: one that carries the enemy who wants to know why the bioengineered virus they released on Earth long ago didn't exterminate humanity and leave the planet ripe for their claiming.

Jak'ri doesn't know how long he has been a prisoner aboard the Cebaun, but he fears the enemy's twisted experiments will soon lead them to a virus that will eradicate the Purveli people. Despair grips him until a female from Earth is taken captive and reaches out to him telepathically. The gift that Ava said caused her such misery in the past soon becomes his salvation as the two of them form a fast friendship. Determined to distract each other from the horrors of their existence, they immerse themselves in telepathic communion during the day, then seek solace and adventure together in shared dreams. As their friendship deepens into love, the two hatch a daring plot to escape their captors. But the enemy will not let them go without a fight.

Can Ava and Jak'ri stand against so many and emerge victorious?
Duvall takes the gifted ones off planet in this series and I've been loving it. This story belongs to gifted-one, Ava, a strong telepathic who has been captured by the group who bio-engineered the virus released on Earth long ago. Despite the torture, she finds solace with another prisoner and his brother. Can they escape? Can they find happiness?
While this series is a spinoff of the Immortal Guardians, listeners will have no trouble picking this series up. I think this would work well enough as a standalone, but strongly recommend you begin with book one, The Larsaran.
A mortal enemy of the Larsara and Earth find Ava in her escape pod and bring her aboard their ship the Cebaun. When they discover she is human, they immediately begin (torturing) testing her. They want to discover why the virus they unleashed on Earth failed.
Jak'ri and his brother are also prisoners aboard the ship. They too are being experimented upon as their enemy tries to create a virus to wipe out the Purveli people. When an Earth woman is taken prisoner, who can reach out to him telepathically and share a dreamscape with him, he finds the will to live another day.
The tale that unfolds is dark, and things seem hopeless for Ava and the others. Their shared dream and communications offer an escape from their harsh reality and allowed a friendship and bond to form. I loved their moments together in the dreamscape and dreaded when testing took place.
Duvall had me emotionally connected to Ava & Jak'ri. I felt their pain and wished for them to escape. I admit I fretted, especially when Ava became ill.
The second part of the story was intense and fascinating as we explored an unknown planet. It also allowed our couple to take things beyond their dreams. Duvall has a wonderful imagination and the world she created was fascinating, as were the Purveli people. I love the Immortal Guardians and taking things off planet with gifted ones was brilliant. I cannot wait for the next audiobook.
Kristen Potter narrates, and I could listen to her all day. Her unique character voices to the way she expresses the characters' emotions amped up the suspense. Her tone and pacing adds another layer to this brilliant storyline.
Fans of sci-fi romance, off planet adventure and suspense will delight in this newest installment. Duvall's characters are rich, complex and likeable. Her world building and writing style whisk the listener away to new worlds.
The Purveli by Dianne Duvall takes us off planet with another suspenseful & swoon-worthy sci-fi romance #AldebarianAlliance #KristenPotter #NewRelease #MustListen
Click To Tweet

Stay Caffeinated!
Never miss a post by adding Caffeinated to your Inbox
Reading this book contributed to these challenges:
Related Posts