Dannika Dark is an autobuy author for me and I've listened to all of her books on audio. Afterlife is the tenth book in the Crossbreed series and it did not disappoint! From the romance to the case involving an increase in Breed deaths, I was all in. Grab a cup of iced coffee and see why I loved this audiobook, series and author…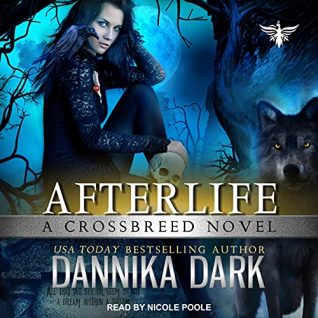 Afterlife
by Dannika Dark
Series: Crossbreed #10
Narrator: Nicole Poole
Length: 12 hours
Genres: Urban Fantasy
Source: Publisher
Purchase*: Amazon | Audible *affiliate
Rating:

Heat Level:

Narration: 5 cups Speed: 1.3x

Another addicting installment of the USA Today bestselling Crossbreed series.

Only a week after solving their last case, Raven is itching for a new assignment. In her downtime, she's focusing on the two most important men in her life: her father and Christian. But there's no rest for the wicked.

When an old friend seeks Raven's expertise on a delicate matter, Viktor reluctantly accepts the case. But without evidence of a crime, they might have no choice but to walk away, even if that means countless bodies filling the graveyard. Dark secrets, evil forces, and an unexpected visitor will keep you on the edge of your seat.

If only the dead could talk.
Afterlife and the Crossbreed series take place in the same world as Dark's other series creating the Mageriverse. The series you'll find there are the Mageri, Seven, Black Arrowhead, and Crossbreed series. While it isn't necessary to read all the series to enjoy the Crossbreed series, we meet a sexy vampire for the first time in the Mageri series.
Raven is a member of Keystone, a secret organization that investigates and hunts down breed outlaws. This time an old friend seeks Raven's expertise. Viktor reluctantly accepts the case, off the books, but it soon leads them down a dark path as bodies pile up and a pattern emerges. Is someone killing off members of their community and can Raven and the gang prove it before it's too late?
This was intense storyline as we visited different breed communities and asked questions regarding the deaths. All seem to be accidental, but the numbers don't add up. Raven and Blue conduct most of the interviews and run into trouble. I found myself fully invested and enjoyed seeing the two of them work together. The suspense builds as does the danger. Before it's all done, the team will commit a covert operation that could end Keystone if they are caught. Eep!
Side threads involving Crush, Blue and Christian added interest and built on the overall story arc/world. I laughed at the gift Raven got her dad. It contained many humorous and heartwarming scenes that further endeared me to the characters.
Dannika Dark continues to deliver intense storylines that hold me captive. With each new story we facedown evil, learn more about our motley crew and enjoy heated moments with Raven & Christian, laugh in the dining hall with the gang and enjoy antics from Crush, Raven's human Dad.
I loved the side thread involving their covert rescue operation, and the outcome had me grinning from ear to ear. I loved the way spirit was involved. Dark never misses a chance to highlight members skills and showcase each members strengths and vulnerabilities. Her characters are flawed and genuine.
Nicole Poole narrates all the Dark's novels and has become the voice of each Raven, Christian and the rest of the Keystone members. From accents to tone she has brought these characters and the author's words to life. Her voice and pacing pull you into the story, allowing you to feel everything from snark to horror.
? Afterlife by Dannika Dark narrated by Nicole Pool delivered a suspenseful case with plenty of sides. #MustListen #Audiobook #NewRelease
Click To Tweet

Stay Caffeinated!
Never miss a post by adding Caffeinated to your Inbox
Reading this book contributed to these challenges:
Related Posts