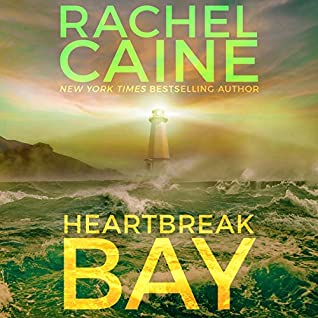 Heartbreak Bay
by Rachel Caine
Series: Stillhouse Lake #5
Narrator: Emily Sutton-Smith, Dan John Miller, Tovah Ott
Length: 11 hours and 29 minutes
Genres: Suspense Thriller
Source: Publisher
Purchase*: Amazon | Audible *affiliate
Rating:

Narration: 5 cups Speed: 1.3x

They're hunting a killer so silent, so invisible, that his unspeakable crimes are the only proof he exists.

A car submerged in a remote pond. The bodies of two girls strapped into their seats. The mystery of their mother, vanished without a trace, leads Gwen Proctor and Kezia Claremont into dangerous territory.

On the surface, Gwen's life is good - two children approaching adulthood, a committed partner, and a harrowing past dead and gone. But that past is attracting the attention of someone invisible...and unstoppable. Trouble's just beginning. So is the body count in this backwoods Tennessee town.

As threats mount and Gwen's hunted by an enemy who pulls all the strings, Kezia has her back. But working to solve these vicious and unreasonable crimes will expose them both to a killer they can't for the life of them see coming.
This was a bittersweet listen, as this is the last work from the late Rachel Caine. Heartbreak Bay is the fifth novel in the Stillhouse Lake series. Gwen and her family will once again have to face down danger as judgement day looms.
Gwen Proctor assists Kezia Claremont when a car is found submerged with two young girls strapped inside. Sam helps a young man come to terms with the loss of his sister as Gwen searches for clues regarding deliveries to their home. Trouble is coming and Gwen will need to keep her wits about her.
This series is always fresh, and Heartbreak Bay was no exception. Most of the story is from the perspectives of Gwen and Kezia, with a few chapters dedicated to Sam.
Caine is a fantastic storyteller, and the missing persons, double murder case Kezia is working on takes her and Gwen down a dark corridor. I loved how she weaved several story threads into this thrilling tale. The suspense and twists as I made connections were heart pounding.
Gwen is clever, and Kezia is like a dog with a bone once she snags a case. The two worked well together, and even though the story was more focused on them, Sam's thread proved to significant..
Emily Sutton-Smith, Dan John Miller, and Tovah Ott narrate the story. I have always loved that each perspective has their own narrator, and the narrator selection has been stellar. I've listened to the entire series and recommend the format. The story lends itself perfectly to audio and the narrators enhance the suspense, emotions and thrills.
Narrated by Emily Sutton-Smith, Dan John Miller, and Tovah Ott, Heartbreak Bay by Rachel Caine delivered a suspenseful thriller. #StillhouseLake #audiobook #mustlisten
Click To Tweet
*The entire series is available in Kindle Unlimited and the audio is included.
Reading this book contributed to these challenges:
Related Posts