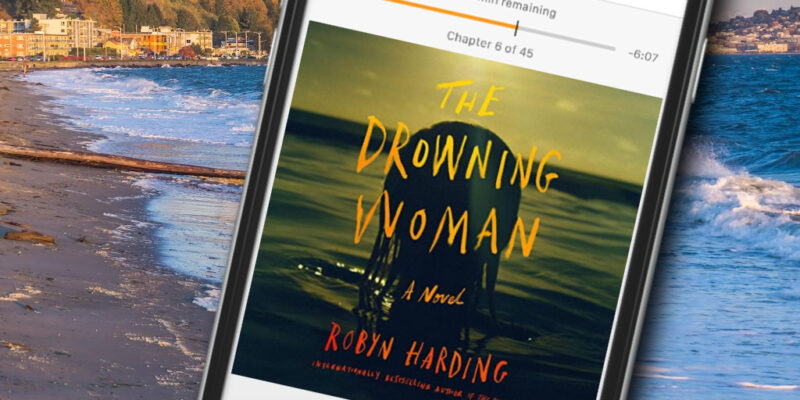 The Drowning Woman by Robyn Harding delivered a suspense thriller that kept me on edge from beginning to end. Narrated by Brittany Wilkerson & Henriette Zoutomou you'll want to grab this one.
The Drowning Woman
by Robyn Harding
Narrator: Brittany Wilkerson, Henriette Zoutomou
Length: 9 hours and 38 minutes
Genres: Suspense Thriller
Source: Publisher
Purchase*: Amazon | Audible *affiliate
Rating:

Narration: 4 cups Speed: 1.5x

From the bestselling author of The Party comes a deliciously twisted story of friendship, retribution, and betrayal following a homeless woman fleeing a dangerous past—and the wealthy society wife she saves.

Lee Gulliver never thought she'd find herself living on the streets—no one ever does—but when her restaurant fails, and she falls deeper into debt, she leaves her old life behind with nothing but her clothes and her Toyota Corolla. In Seattle, she parks in a secluded spot by the beach to lay low and plan her next move—until early one morning, she sees a sobbing woman throw herself into the ocean. Lee hauls the woman back to the surface, but instead of appreciation, she is met with fury. The drowning woman, Hazel, tells her that she wanted to die, that she's trapped in a toxic, abusive marriage, that she's a prisoner in her own home. Lee has thwarted her one chance to escape her life.

Out of options, Hazel retreats to her gilded cage, and Lee thinks she's seen the last of her, until her unexpected return the next morning. Bonded by disparate but difficult circumstances, the women soon strike up a close and unlikely friendship. And then one day, Hazel makes a shocking request: she wants Lee to help her disappear. It'll be easy, Hazel assures her, but Lee soon learns that nothing is as it seems, and that Hazel may not be the friend Lee thought she was.
Do you ever get anxiety when listening or reading to a book? The Drowning Woman is told from the perspectives of two women. Lee Gulliver and Hazel, a woman she pulls her from the ocean. The events that unfold after these two meet had me on edge.
Lee Gulliver, is a homeless chef who sleeps in her car and is working to rebuild her life after the shutdown of 2020, ruined her business. She is also hiding from a shady moneylender and has moved to Seattle. Hazel, on the other comes from a life of privilege but lives with a controlling husband who demands full submission.
The two become friends of sorts. Hazel sneaks food to Lee and the two share their stories. That is when Hazel asks Lee for help to escape her life. In the meantime, Lee is starting a budding romance and feels as if thing are looking up…but all is not as it seems.
The author did a fantastic job of building the suspense and provided just enough detail to have me on edge. Sometimes I stopped listening just to catch my breath. Twists and turns kept me listening. The story was well paced and slowly built until I found I could not stop listening.
Brittany Wilkerson & Henriette Zoutomou did a great job with the narrations. I was glad the publisher chose two narrators as it made switching points of view seamless.
Fans of murder-mysteries and suspense thrillers will want to grab this one. I highly recommend the audio version.
Looking for your next suspense thriller? Check out The Drowning Woman by Robyn Harding. Narrated by Brittany Wilkerson & Henriette Zoutomou, it's a twisty tale you won't be able to set down. #audiobookreview
Click To Tweet

Stay Caffeinated!
Never miss a post by adding Caffeinated to your Inbox
Reading this book contributed to these challenges:
Related Posts