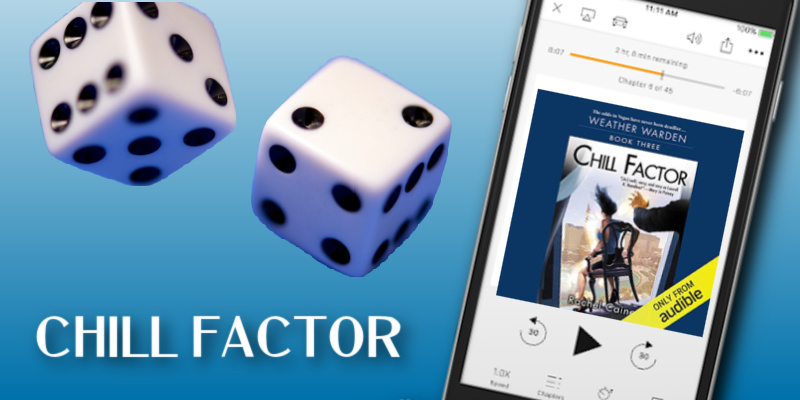 Each year I select one audio series from my backlist to devour, and I am currently enjoying the Weather Warden series by the late Rachel Caine. Chill Factor delivered an intense installment that had me clenching my fists, swiping at tears and screaming for justice.
Chill Factor
by Rachel Caine
Series: Weather Warden #3
Narrator: Dina Pearlman
Length: 9 hours and 35 minutes
Genres: Urban Fantasy
Source: Purchase
Purchase*: Amazon | Audible *affiliate
Rating:

Heat Level:


Narration: 4 cups Speed: 1.3x

GAMBLING WITH HER LIFE

In Rachel Caine's Ill Wind and Heat Stroke, Weather Warden extraordinaire Joanne Baldwin, who protects the human race from monster storms, was killed, reborn as a Djinn, and then restored to her original form. She's been through a lot -- and stuck her neck out many times -- to save innocent lives. Now she's rolling the dice to stop an infinitely powerful, deeply disturbed kid from destroying the world....

A teenager named Kevin has holed up in style at a Vegas hotel with the most powerful Djinn in the world, planning who knows what kind of mischief. The Wardens' senior leadership is dead, Djinn are disappearing, and a secret society wants to help Joanne destroy Kevin, even if doing so kills her (again). But everybody in Vegas has a game going, and Joanne has to learn the rules fast because the stakes have never been higher -- and all hell is about to break loose....
Narrated by Dina Pearlman, Chill Factor by Rachel Caine, is the third audiobook in the Weather Warden series, and it was intense. Hold on to your hats, it's about to get windy. Kevin has Vegas on lockdown, Djinn are going missing and our girl has a secret.
I quickly learned that our weather warden, Joanne Baldwin, and her Djinn David never catch a break. Kevin has Vegas locked down while he lives it up, living on the strip with Jonathan, the most powerful Djinn in the world. And he is at Kevin's beckoning command.
When Weather Wardens Paul, Marrion and other show up at Joanne's hotel she knows there is trouble and oh boy…. what happens to Joanne and David had me screaming, but then Lewis and his shenanigans send Joanne smack dab into the middle of Vegas where she will have to contain Kevin and get him to hand over Jonathan's bottle. To complicate matters, she will have to do it without David.
Caine took me on one hell of a ride. We met another group similar to the Wardens called the Ma'at who claim to want balance. We learn Joanne has a secret and watch things go all to hell. Don't start this unless you have a clear schedule, wine, tissues and chocolate. Damn. I hate the weather wardens, and the Ma'at aren't much better.
Power plays, evil villains and Joanne linking them created a tale that was non-stop action with loss, double crosses, and Joanne left to clean up the mess. For me the series keeps getting better and has me emotionally invested even as it rips out my heart and makes me want to slap a few characters in the face.
The audio was produced in 2010 and all I can say is, "We've come a long way, baby." The sound quality and production isn't the best, but Dina Pearlman does a brilliant job at bringing these characters and their emotions to life through tone, pacing, and character voices.
? Chill Factor by Rachel Caine narrated by Dina Pearlman delivered an intense, nonstop action installment in the Weather Warden series. #audiobook #urbanfantasy
Click To Tweet

Stay Caffeinated!
Never miss a post by adding Caffeinated to your Inbox
Reading this book contributed to these challenges:
Related Posts