Cowboys, romance, friendship, small-town community, and plenty of suspense. The perfect elements for an evening curled up with a book. A Cowboy Kind of Love by Donna Grant delivered just that. Check out my thoughts and see why I enjoy the Heart of Texas series.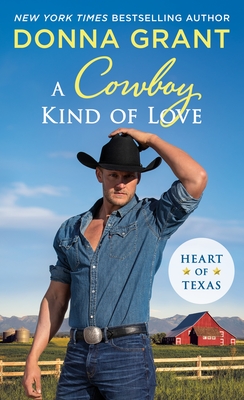 A Cowboy Kind of Love
by Donna Grant
Series: Heart of Texas #6
Genres: Romantic Suspense
Source: Publisher
Purchase*: Amazon | Audible *affiliate
Rating:

Heat Level:
Who wants to rodeo again?

Jace Wilder has been rebuilding his life since the love of his life, Taryn, up and left town unexpectedly. But when she mysteriously returns, Jace's dependable world comes crashing down. Taryn is hiding a dangerous secret, and no matter how hard he tries, Jace can't stay away―especially when Taryn is at risk. And especially when the attraction he thought he'd buried long ago is back and hotter than ever. Will he be able to trust Taryn again?

Taryn Hillman's world fell apart one horrifying night, and it's never been the same since. When she sees a small chance at untangling herself, she takes it, though it means returning to Clearview – and seeing Jace again. But when he vows to protect her, will Taryn take a chance, and this time, never let him go?
A Cowboy Kind of Love by Donna Grant is the sixth novel in the Heart of Texas series. This romantic suspense offered plenty of heat and surprises.
This story belongs to Jace Wilder, and while this is sixth in a series, each book has its own storyline and romance.
Jace is a former Marine Raider, who had his heart broken when the girl he planned to marry left without so much as a goodbye. With the help of his friends he has been trying to move on with his life… but there have been stumbling blocks, like the anniversary of the night they first met. When Taryn Hillman returns, she comes seeking help and the story she tells has Jace calling his friends.
I loved returning to Clearview, Texas and seeing the men and women whose stories I know. Jace is a sweetie who has had a tough time. This second chance romance pulled at your heartstrings. Taryn's story for leaving is a dark one, and she and her sister are in grave danger.
It was fun seeing the gang come together to aid Jace and Tarayn. Grant delivered plenty of suspense and did so while throwing in twists, secrets and jaw dropping discoveries.
Despite the incredibly fast-paced tempo of this story, Grant made this second chance romance feel genuine. She delivered heat, tender moments and allowed the reader to feel connected.
Topics addressed include PTSD, drug lords, trafficking, and special ops. I am looking forward to returning to Clearview for more stories.
A Cowboy Kind of Love Donna Grant delivered suspense, swoons and a second chance romance that will melt your heart. #HeartOfTexas #Romance #Suspense #Cowboys
Click To Tweet

Stay Caffeinated!
Never miss a post by adding Caffeinated to your Inbox
Related Posts