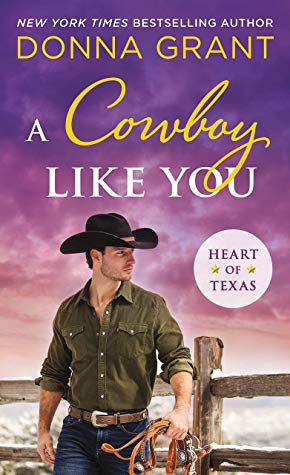 A Cowboy Like You
by Donna Grant
Series: Heart of Texas #4
Genres: Contemporary Romance
Source: Publisher
Purchase*: Amazon *affiliate
Rating:

Heat Level:

In the Heart of Texas, a heartthrob cowboy may get his second chance at love…

Danny Oldman, the handsome Lone Star sheriff, is still single. He tells himself, and anyone who asks, that he is married to his job―and what matters most is keeping the people of his beloved Texas hometown safe. The truth? Danny still hasn't gotten over his high school crush. She moved away after graduation and took Danny's heart with her.

Skylar Long never thought she would have to flee Houston and return home―where it all began for her. But that's what happened after the man of her dreams turned out to be an actual nightmare. Now, Skylar is desperate to escape her obsessive boyfriend. Nothing shocks her more than seeing Danny again and realizing that their long-ago attraction is more powerful than ever. But can she and Danny find a way to fight against Skylar's wealthy, powerful ex who is dead set on tearing them apart?
A Cowboy Like You by Donna Grant is the fourth novel in the Heart of Texas and takes place around the holiday season. For fans of the series, Sheriff Danny Oldman gets his story. Suspenseful with a side dish of romance, Grant delivered a page-turner.
While each of the books in this series are contained and feature a romance with an HEA, you'll want to meet all the folks in this small Texan town.
Danny is as loyal and as dependable as the day is long. He is also lonely and maybe spending a little too much time alone with a bottle of cheap whiskey at night. While he enjoys a takeout meal at a local lookout point, a car pulls in and with it trouble. Thankfully, he is there to stop a violent altercation and save a young woman…who turns out to be Skylar Long. The girl he had a crush on throughout high school.
Skylar is trying to leave an abusive relationship and Danny sets out to help her. Danny reaches out to Clayton to offer Skylar a safe place to hide while the law does its part to protect her.
The tale that unfolds sheds light on the darker sides of domestic violence, families with power and could have been pulled from some of today's national headlines.
Swoons, danger, friendships and some intense moments made for an addictive read. While the outcome may have been predictable, the twists and turns along the way kept me flipping the pages.
The romance moved quickly as romantic suspense stories do, but Grant had me falling for it and their chemistry felt genuine. Their shared past and friendships helped round out the story.
Fans of the series will get to see key characters, and there are more whose stories I am hoping we get to read. I'd gladly spend time with them and love coming to visit the Easton ranch.
Reading this book contributed to these challenges:
Related Posts