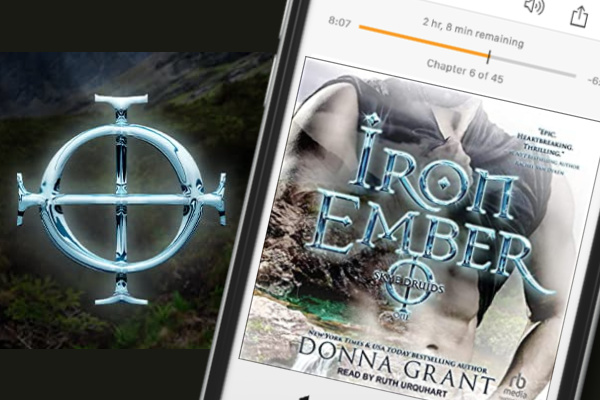 Narrated by Ruth Urquhart, Iron Ember by Donna Grant is the first audiobook in the Skye Druids paranormal series. Elodie MacLean returns to Skye, a place she swore she'd never return to after tragedy struck. She's lost her magic and someone is killing druids in this first installment….
Iron Ember
by Donna Grant
Series: Skye Druids #1
Narrator: Ruth Urquhart
Length: 9 hours and 27 minutes
Genres: Paranormal Romance
Source: Publisher
Purchase*: Amazon | Audible *affiliate
Rating:

Heat Level:


Narration: 4.5 cups Speed: 1.3x

Delve into the thrilling first installment of the all-new Skye Druids series by New York Times bestselling author Donna Grant, where magic reigns and danger abounds.

Skye isn't just an island. It's a home. A refuge. But not to Elodie MacLean. Not anymore. Tragedy tore her world apart and then took the one thing she felt made her whole. She vowed she'd never return, but that's exactly where she ends up. Now, surrounded by the ghosts of her past, Elodie must navigate her version of Hell and try to make peace with herself and her family. But someone or something doesn't want her on Skye, and she finds herself attacked—and this time not by her personal demons.

Scott Ryan has a mission: uncover who has been killing Druids and why. When his quest takes him to the beautiful Isle of Skye, he doesn't think anything could captivate him more than the land itself—until he lays eyes on the breathtaking and confident beauty his leader sent him to find. However, it's clear that she has trust issues, and he can't reveal his plans—at least, not yet. But he's always been sure of his ability to sway a person, and she's a challenge he's more than happy to accept, especially when he finds he will do anything to protect her.

With so much history and so many secrets, victory is anything but guaranteed for the couple and their allies. And the forces at work, those who wish to rule the Scottish isle and all those who reside there, have a plan that nobody will see coming
I have read and enjoyed Grant's contemporary Heart of Texas series, so I thought I'd try one of Druid series. Iron Ember is first in a new series, and I decided this would be a good place to start. It kind of reminded me of Nora Roberts, and I slipped in.
Skye is an island and refuge for Druids. After tragedy struck, Elodie MacLean left the island and never planned to return. She returns to prepare her family home for sale with the help of her sister, but it seems something doesn't want Elodie there or to unlock secrets regarding her lost gift and more…
Elodie isn't exactly loveable, but I admired her for facing her past and admitting her own shortcomings. My opinion of Elodie softened as I learned more about her past and saw her interact with Scott Ryan.
Scott Ryan has been tasked with finding out who is killing druids and that brings him to the island. Here he finds beauty and danger. Scott hails from Edinburgh, Scotland, where druids are also dying. He is hoping he can convince Elodie to join his crusade. I enjoyed getting his point of view and found him to be a worthy hero.
Can a girl with serious trust issues open up about her past and trust not just Scott but others on the island before it's too late? I for one, needed to find out and quickly found myself drawn to the island and the secrets it holds. Will the ancient ones aid them?
The romance was complicated by omissions but felt genuine, and I enjoyed watching Elodie open up and trust. We get plenty of mystery and suspense as we learn about Elodie's magic, the danger and history.
I learned after listening that this is a spinoff to her other series involving druids and while it works as a standalone; I am curious about the history and want to explore them, particularly ones containing characters that crossover. If you have read/listen to them, let me know where I should start.
Ruth Urquhart narrated and does a lovely job with the accents and tones of the storyline. I've listened to her before and thought she was well suited for this series.
Iron Ember by Donna Grant delivered romance, suspense and mystery in this first in series. #SkyeDruids #ParanormalRomance #audiobookreview #RuthUrguhart #TantorAudio
Click To Tweet

Stay Caffeinated!
Never miss a post by adding Caffeinated to your Inbox
Reading this book contributed to these challenges:
Related Posts