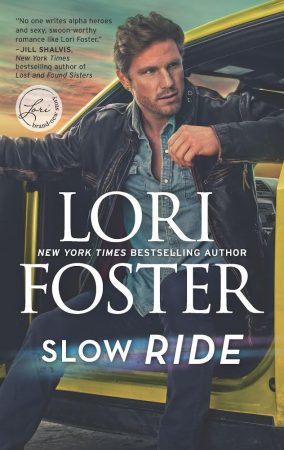 Slow Ride
by Lori Foster
Series: Road to Love #2
Genres: Contemporary Romance
Source: Publisher
Purchase*: Amazon | Audible *affiliate
Rating:

Heat Level:

You can't put the brakes on love…

Ronnie Ashford needs a distraction. In the morning, she has to offer arrogant, conventional Jack Crews a job and convince him not to take it. She doesn't need anyone's help, thank you very much. But tonight is all about the tall, sexy stranger who just walked in the bar—and all the delicious trouble they could get into together. Too bad just as things are heating up between them, he whispers the three little words that destroy everything: "I'm Jack Crews."

Jack is determined to connect with fiery Ronnie—in bed and out of it—but her terms are clear. If he takes the job, helping her acquire prized artifacts for her mysterious bosses, anything between them is strictly off-limits. Somehow he has to convince a woman who's never felt like she belonged that she's found her place—with him. And with the danger sparking hotter than the fire between them, it's going to be one unforgettable trip…
Slow Ride by Lori Foster is the second novel in her Road to Love romantic suspense series featuring two brothers and their family and friends. After reading an excerpt in the back of book one, I was excited for Jack Crews and Ronnie Ashford's romance. Foster did not disappoint.
Coffee Dates with Slow Ride
First Date: Ronnie Ashford hasn't led a blessed life, but she loves her job working for eccentric twins who collect oddities. After a scare during a purchase the twins want her to hire muscle and tomorrow morning she has an interview with Jack Crews. Tonight she just wants to get lost so she can get a good night's sleep, free from the nightmares that plague her. Jack and his brother own a transportation company but he has spent the day rehabbing his new homestead and grabs a beer and some food at the town's only pub. When he walks in Ronnie decides that the rugged hunk is exactly the distraction she needs. No names. just a night of bliss. All hopes of a good night sleep end when Ronnie realizes he is Jack Crews. And just like that I am hooked! The story follows the same formula as Drivin to Distraction, but the ride was a good one!
Second Date: Jack has a meeting with a Ron Ashford this morning but he cannot stop thinking about the feisty blonde who slipped away last night. She isn't his type but has gotten under his skin. Ronnie steals herself for their encounter and oh man was this second date fun. I loved the banter, the manipulation and the twists. Ronnie doesn't want or need help, or at least that is her outward persona and I enjoyed watching the walls around her facade crumble. Foster introduces a suspenseful thread and provided one heck of a backstory.
Third Date: Sizzling hot chemistry gave way to more as they work together. When it looks like someone is targeting Ronnie, Jack steps up to protect her. I loved that despite the fast pace; the romance felt like a slow-burn, with character growth, trust building and firsts. The suspense built as Foster threw some twists our way and I devoured the second half of their story in one sitting.
Sexy, suspenseful and heartfelt you'll want to let Foster take you on a Slow Ride.
[bctt tweet="Sexy, suspenseful and heartfelt you'll want to let Lori Foster take you on a Slow Ride. #NewRelease #RoadtoLove #mustread #romanticsuspense " username="kimbacaffeinate"]
Reading this book contributed to these challenges:
Related Posts