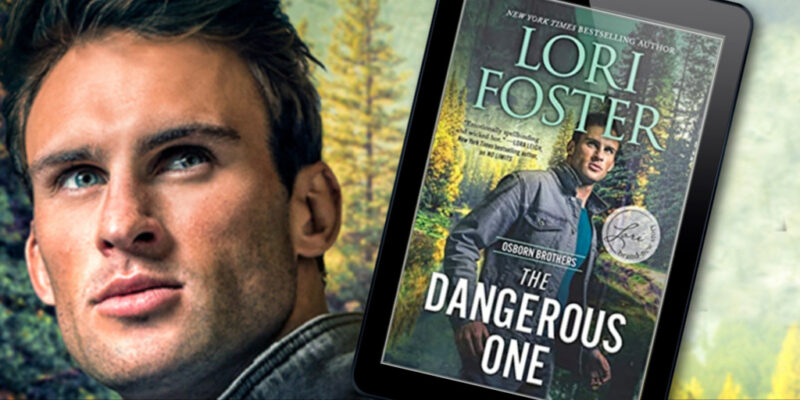 The Dangerous One by Lori Foster is the first in the Osborn Brothers and has ties to her previous series, the McKenzies of Ridge Trail. You'll want to curl up with this suspenseful romance as Foster delivers a swoon-worthy tale.
The Dangerous One
by Lori Foster
Series: Osborn Brothers #1
Genres: Romantic Suspense
Source: Publisher
Purchase*: Amazon | Audible *affiliate
Rating:

Heat Level:

Alone is good. Alone with her is…better.

Hunter Osborn left his family, his friends and his job as a park ranger after uncovering a disturbing crime scene. Haunted by nightmares and dark thoughts, Hunter relocated to a small cabin outside of Ridge Trail, Colorado, where he lives off the land (and mostly off the grid). To pay the bills, he works on classic cars, keeping his interactions with others to a minimum.

Still, Hunter can spot trouble from a mile away, and when he encounters Jodi Bentley, he knows she's trouble of the most tempting kind—even more tempting when she moves into the run-down cabin next door. But when Jodi's own past comes knocking, Hunter gets drawn out of his own darkness and into hers.
Former park ranger, Hunter Osborn, left his career and family in the aftermath of a tragic event. He loves the isolation of his land and business affords him. It's just him and his dog. That is, until Jodi Bentley buys the run down cabin next door. Jodi is running from her past too and the tale that unfolds delivers a slow-burning romance and suspenseful tale.
I loved this tale from the onset. Jodi is all spunk and attitude. Hunter sees the troubled woman beneath her snark. If you've read the McKenzies of Ridge Trail, then you know Jodi, but don't let that stop you if you haven't. Foster does a great job of giving her back history without spoiling the other series. However, I recommend you add them to your reading pile. They are one of my favorites.
The tale that unfolds was filled with sweet and sexy moments as both Hunter & Jodi let down their guard and let the other in. In between, we deal with trouble as a local criminal was using Jodi's abandoned property to hide things… things he wants back. The suspense angle was well done and allowed Hunter to meet Jodi's adoptive family.
We also get to meet Hunter's brother as we learn what happened to Hunter. I adored Memphis. We get some hints about his story and I look forward to it. Turbo, Hunter's rescue dog, was a scene stealer and you'll want to hug him.
Foster writes characters you connect with and form bonds with. I am looking forward to the next Osborn novel and hope we see more of the McKenzies.

Stay Caffeinated!
Never miss a post by adding Caffeinated to your Inbox
Related Posts