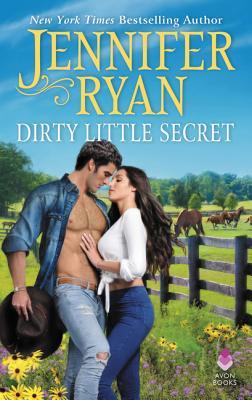 Dirty Little Secret
by Jennifer Ryan
Series: Wild Rose Ranch #1
Genres: Contemporary Romance
Source: Publisher
Purchase*: Amazon | Audible *affiliate
Rating:

Heat Level:
Meet the women from Wild Rose Ranch—and the men who want them—in New York Times Bestselling Author Jennifer Ryan's breathtaking series of romance and scandal . . .

Noah Cordero is a modern-day cowboy who loves three things: ranching, his younger sister, and his step-father. John Cordero groomed Noah to take over the Montana spread where he learned to ride and work the land. But when John unexpectedly dies, he leaves half the ranch to a woman Noah doesn't even know.

Roxy shares Noah's last name, but not his blood. Estranged from her father, haunted by regrets, and eager to escape her notorious mother's past, she is forced to fulfill her father's last wishes. Inheriting means sharing a home with infuriating, challenging, and oh-so-tempting Noah. But John didn't just make her owner of his ranch and guardian to her sister, his hidden sideline is her worst nightmare—she's the new owner of the notorious Nevada brothel called Wild Rose Ranch where she grew up.

As their strictly business relationship starts to turn to true love, Roxy begins to wonder, what will happen when Noah discovers her dirty little secret?
Dirty Little Secret by Jennifer Ryan is the first novel in the Wild Rose Ranch series that will focus on sisters. The sisters are not blood related but circumstances have made them closer than blood relatives. This story belongs to Roxy Cordero, and it was an addictive read I devoured in a single day.
Dirty Little Secret was an addictive tale with, headstrong characters and plenty of surprises.  It was the perfect start to the Wild Rose Ranch series
Set in Montana, Ryan introduces us to Roxy during a barrel racing competition. We soon learn her biological father is in the stands. While he supports her he has never claimed her. Roxy lives at the Wild Rose Ranch an infamous brothel house. When the unthinkable happens it turns her world upside down….
Coffee Dates with Dirty Little Secret
First Date: Noah Cordero and is teenage sister thought of John Cordero as their father, even though DNA would state otherwise. When John unexpectedly dies it surprises them to learn that John had a biological daughter, and he has left half of the ranch to her. From the onset Ryan pulled me in. None are related, but a family they must form and the terms of the will fan the chemistry that already exists between Noah and Roxy. I am not a fan of stories involving step-brothers etc, but this is not like that at all. So have no fear. Outside threats, character growth, lessons, laughter and swoons await you.
Second Date: I love strong women who overcome enormous obstacles and Roxy is impressive from her skills on a horse to financial management. She has had to grow up fast and while some may have faltered it drove her to succeed. What she doesn't have is a lot of trust or faith in others, so it was interesting seeing her slip into this arrangement and watch her open up. Secondary characters from sisters to villains added interests and helped move the romance along. I enjoyed the banter, stumbles and delicious heat that developed.
Third Date: The last part of the book was intense as it not only set up the beginnings of the next Wild Rose sister but a suspenseful plot unfolded that had me flipping the pages. Ryan really outdid herself from the pacing to character development. I felt connected and cannot wait to return. My third date with Dirty Little Secret left me smiling. 
[bctt tweet="Dirty Little Secret by Jennifer Ryan is an addictive, swoon-worthy and suspenseful first in the Wild Rose Ranch series #Mustread #cowboys #romance " username="kimbacaffeinate"]
Reading this book contributed to these challenges:
Related Posts