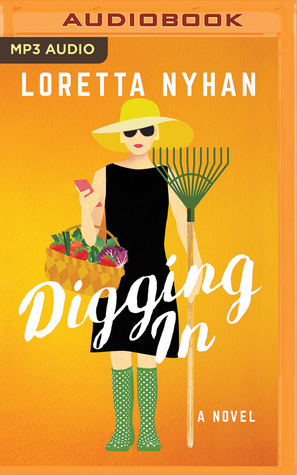 Digging In
by Loretta Nyhan
Narrator: Mary Robinette Kowal
Length: 7 hours and 17 minutes
Genres: Chick-Lit
Source: Publisher
Purchase*: Amazon | Audible *affiliate
Rating:

Narration: 4 cups
In author Loretta Nyhan's warm, witty, and wonderful novel, a widow discovers an unexpected chance to start over—right in her own backyard.

Paige Moresco found her true love in eighth grade—and lost him two years ago. Since his death, she's been sleepwalking through life, barely holding on for the sake of her teenage son. Her house is a wreck, the grass is overrun with weeds, and she's at risk of losing her job. As Paige stares at her neglected lawn, she knows she's hit rock bottom. So she does something entirely unexpected: she begins to dig.

As the hole gets bigger, Paige decides to turn her entire yard into a vegetable garden. The neighbors in her tidy gated community are more than a little alarmed. Paige knows nothing about gardening, and she's boldly flouting neighborhood-association bylaws. But with the help of new friends, a charming local cop, and the transformative power of the soil, Paige starts to see potential in the chaos of her life. Something big is beginning to take root—both in her garden and in herself.
Digging In: A Novel by Loretta Nyhan is perfect for fans of The Garden Of Small Beginnings by Abbi Waxman. Digging In is a rich story filled with gardening, neighbors, new friendships and healing. Narrated by Mary Robinette Kowal I quickly became caught up in this heartwarming and captivating story that mirrors the author's own journey after the unthinkable happens.
I was slightly worried I would need truffles for this story. I've been married thirty years and cannot even begin to fathom life without my mate. While Nyhan did make me tear up she also had me rooting for Paige Moresco, her son Trey, and the secondary characters we met along the way. I laughed, got angry, cheered and smiled as Paige began her journey by digging holes in her backyard and upsetting the balance in her suburban community. Her curmudgeonly neighbor added humor, frustrations and a bit of a mystery. A local police officer called in over complaints about Paige's backyard offers something a little more.
The writing is wonderful with a flow that pulls the reader in and holds them captive. This translated beautifully into audio. Mary Robinette Kowal captured Paige, the tone, and emotions of the story.
Paige's husband passed two years ago and she and her senior high school son, Trey are simply moving through their days and not really living. When her boss shakes things up at the advertising company where she has been employed for the past seventeen years it sets her already fragile world spinning. One night after a little too much win she begins digging up her backyard. She has no purpose other than she likes the feel of the earth in her fingers, but slowly through work, strangers, and need we witness Paige transform along with her backyard.
One of my favorite quotes from the book that applies to so much more than gardening:
"That's the beauty of a garden," she said. "Some stuff works, some stuff doesn't, and some stuff you think isn't working ends up producing the following year. Keeps you living in a constant state of suspense, so whatever comes, you're grateful for it."
Digging In is the type of story that stays with you, offers life lessons and makes you appreciate all the little things each day brings. It's the perfect book for listening while you garden or packing along for a day at the beach. Just add wine and chocolate.
[bctt tweet="Digging In by Loretta Nyhan offered a rich story filled with gardening, neighbors, new friendships and healing. Narrated by Mary Robinette Kowal I became caught up in this heartwarming and captivating story #iloveaudio" username="kimbacaffeinate"]
Reading this book contributed to these challenges:
Related Posts